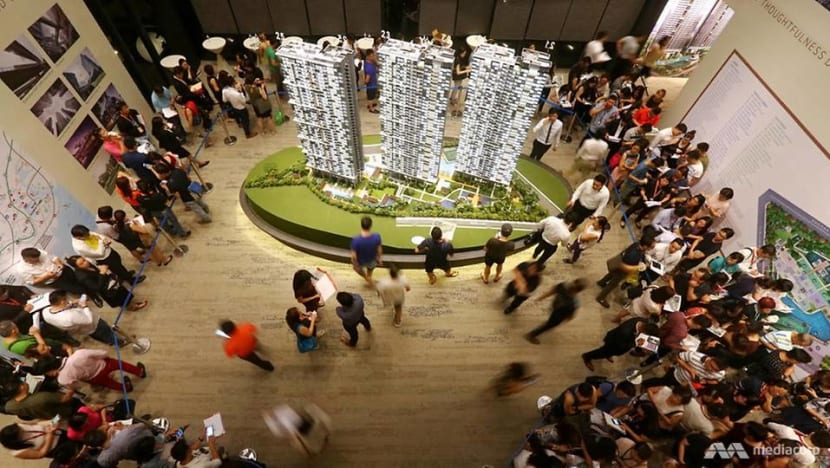 SINGAPORE: Private home prices in Singapore rose 7.9 per cent in 2018, compared with a 1.1 per cent rise the year before, according to flash estimates from the Urban Redevelopment Authority (URA) on Wednesday (Jan 2).
However, the rise appeared to have slowed significantly after the Government introduced more measures in July to cool the red-hot market. 
Private home prices slowed to a 0.5 per cent increase in the third quarter of 2018, and fell 0.1 per cent in the fourth quarter, URA's estimates showed.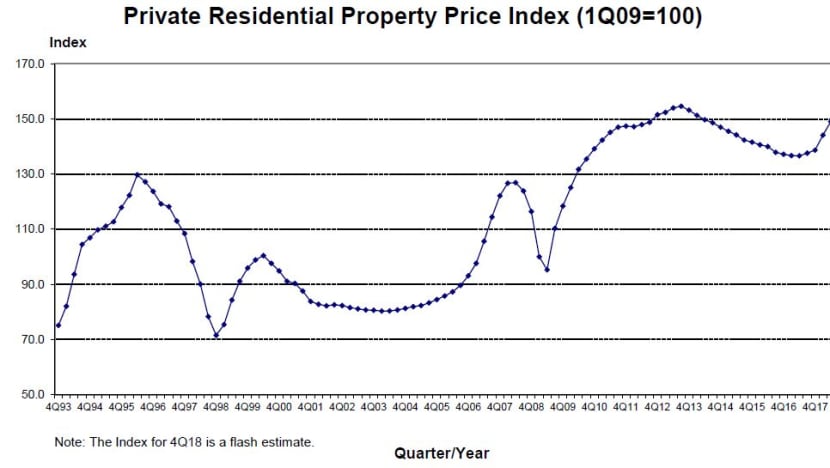 Prices of non-landed private homes in the Core Central Region (CCR) decreased by 1.5 per cent, compared to an increase of 1.3 per cent in the third quarter. Prices in the Rest of Central Region (RCR) rose by 1.8 per cent during the same period, while prices in the Outside Central Region (OCR) increased by 0.8 per cent.
For the whole of 2018, prices in CCR, RCR and OCR increased by 6.2 per cent, 7.4 per cent and 9.5 per cent, respectively.
"The moderate price increases seen in the RCR and OCR were possibly due to the impact from new project launches such as Parc Esta, Kent Ridge Hill Residences, Whistler Grand and Arena Residences," said ERA Realty's key executive officer Eugene Lim.
Mr Lim said he expects prices to hold steady in 2019, with a large number of new launches lined up over the year.
"Developers, while mindful to price realistically in order to move sales, are not under significant pressure to cut prices. As such, while price increases may slow, we do not expect significant downward pressure in the near term," he said.
However, Mr Lim cautioned that uncertainties such as trade tensions and cross-border disputes with Malaysia may challenge any bullish intent.
PropNex Realty CEO Ismail Gafoor said he expects private home prices to rise 1 to 2 per cent this year as a result of various factors such as en bloc sales and higher land bids. 

OrangeTee's head of research and consultancy Christine Sun said prices of new private homes in upcoming launches are unlikely to dip significantly as developers have bought these land parcels at relatively high prices during the recent collective sales cycle.
"Therefore, we expect prices to continue stabilising, possibly rising at a slower pace of between 1 and 3 per cent for the whole of 2019," she added. 
JLL Singapore's senior director of research and consultancy Ong Teck Hui said private home prices are expected to "flatline with a downside bias" this year, after taking into account the substantial supply in the pipeline and a price-sensitive market.
URA's flash estimates are compiled based on transaction prices given in contracts submitted for stamp duty payment and survey data on new units sold by developers up until mid-December.

The statistics will be updated on Jan 25 when URA releases the full real estate statistics for the quarter.