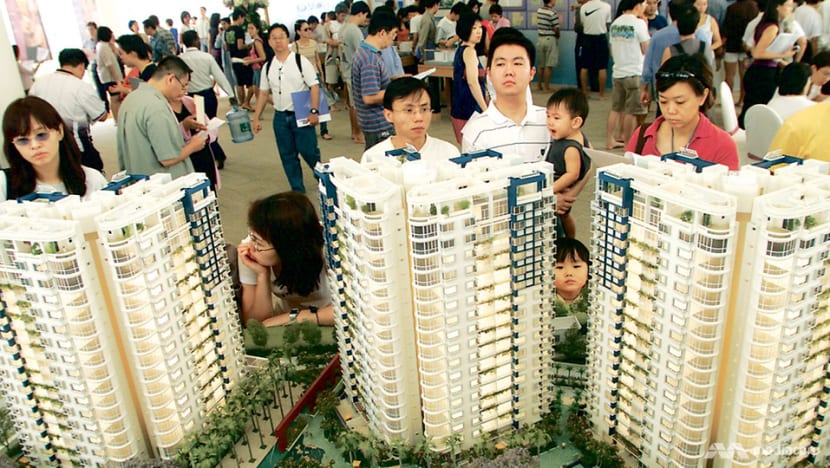 SINGAPORE: The rise of private home prices slowed significantly in the third quarter after the government announced measures to cool the red-hot market, data released by the Urban Redevelopment Authority (URA) on Monday (Oct 1) showed.
Private home prices rose 0.5 per cent in the July to September period, a sharp slowdown from the 3.4 per cent rise in the second quarter and 3.9 per cent rise in the first quarter. 

Prices of non-landed properties rose by 1.2 per cent in the Core Central Region (CCR), compared to the 0.9 per cent increase in the previous quarter.

Meanwhile, prices in the Rest of Central Region (RCR) decreased by 0.8 per cent, after registering an increase of 5.6 per cent in the previous quarter, said URA. 
Prices in Outside Central Region (OCR) increased by 0.1 per cent, after rising 3 per cent increase in the previous quarter. 
The Government announced in July a 5 percentage point hike in Additional Buyer's Stamp Duty (ABSD) rates for citizens and permanent residents (PRs) buying second and subsequent homes, as well as a 5 percentage point tightening for loan-to-value limits for all housing loans granted by financial institutions. 
The measures were made to cool the property market and keep price increases in line with economic fundamentals, authorities said. 

The move came several days after official data showed that private home prices had risen to their highest point in four years in the April to June quarter. 
PropNex Realty CEO Ismail Gafoor said the subdued growth in private property prices last quarter reflects the immediate effects of the cooling measures.
"Moving forward, we do not expect prices to tumble because property developers are 'locked' by the high land bid costs," he said.
ERA Realty Key Executive Officer Eugene Lim said developers are still going ahead with their launches as planned. "We have not seen significant discounts being offered as most of the developers have strong holding power," he added.
Buyers at the top end of the market are still able to afford the increased ABSD rates after the cooling measures, Mr Lim noted.
"For the general investor population who are looking at suburban and city fringe properties, they are likely to take more time to re-evaluate their options, as the additional 5 per cent in ABSD and lowered loan quantum are sizable financial considerations," he added.
Mr Lim said he expects an 8 to 8.5 per cent overall increase in private property prices this year. PropNex's Mr Ismail said he expects the year to end with prices up 8 to 9 per cent, and prices to continue increasing in 2019 but at between 2 and 3 per cent.
The flash estimates for the third quarter are compiled based on transaction prices given in contracts submitted for stamp duty payment and survey data on new units sold by developers up until mid-September.

The statistics will be updated on Oct 26 when URA releases the full real estate statistics for the quarter.