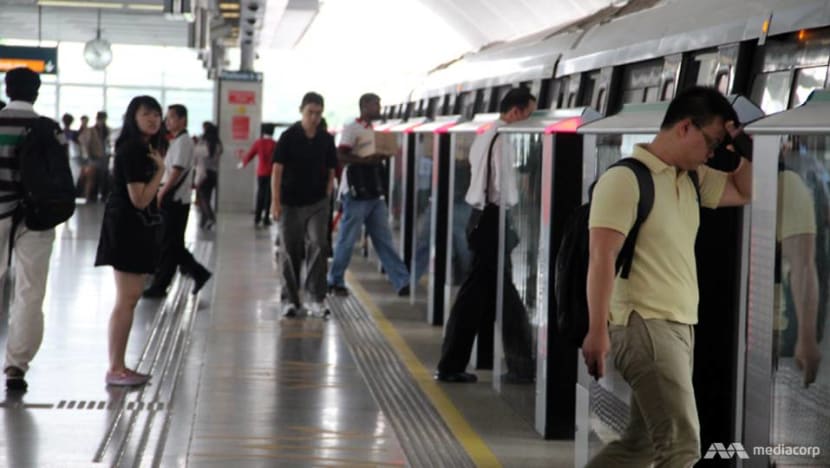 SINGAPORE: The maximum allowable adjustment quantum of 4.3 per cent will be implemented for bus and train fares starting from Dec 29, said the Public Transport Council (PTC) on Tuesday (Oct 30) following the conclusion of its annual transport fare review exercise.
For adults using travel cards, the latest adjustment will translate into an increase of six cents per journey. Single trip tickets for trains and adult cash fares for buses will rise by 10 cents, respectively. 
However, card fare increases for students and senior citizens will be capped at one cent, while the cash fares for these two commuter groups when they travel by bus will remain the same. 
There is also no change to the prices of monthly concession passes for students, senior citizens, full-time national servicemen and adults. 
Meanwhile, as part of a scheme introduced last December, commuters can continue to enjoy a discount of 50 cents when they enter any MRT or LRT station before 7.45am on weekdays. 
"NECESSARY" INCREASE
The PTC said that the fare hike - which follows three consecutive years of fare reductions totalling 8.3 per cent - is "necessary" due to rising costs.
The council cited a 26.2 per cent rebound in energy prices, a 3 per cent increase in the wage index and a 1.5 per cent rise in the core consumer price index.
Apart from that, this year's public transport fare review formula took into account a new component called the network capacity factor (NCF), which measures commuter demand and enhancements and growth in public transport capacity. 
This accounted for 3 per cent in the new fare formula – the biggest among other components. 
Meanwhile, both rail operators have reported "significant losses", the PTC said in its news release. 
"These cost pressures have also been faced by other cities, which have had to raise fares to keep pace with the operating cost pressures." 
PTC said both rail operators had applied for a full fare adjustment of 4.3 per cent. 
In the case of SBS Transit, it said its rail operations have been facing "significant cost pressures" since 2013 as a result of operating the Downtown Line. The increase in headcount, as well as salary adjustments needed to attract and retain staff, led to rising manpower costs, it said. 
Similarly, SMRT faced increasing operating costs for its rail operations. In particular, repair and maintenance costs have risen more than 87 per cent from FY2015 to FY2018, largely due to maintaining and improving the performance of an ageing network. 
In view of these factors, the PTC decided to adjust fares by the full quantum of 4.3 per cent to fill the "rising gap between fare revenue and operating costs", chairman Richard Magnus told reporters at a briefing.
Nevertheless, even with the "marginal" adjustment of 4.3 per cent, the gap "continues to be there", he added. 
In an interview after the briefing, Mr Magnus stressed that the decision to raise public transport fares "was not easy" and the council tried to find a balance between rising costs in operating the public transport system while keeping fare affordability in mind. 
Transport Minister Khaw Boon Wan said that the PTC had a "difficult balancing job" and has made the "unavoidable decision" to raise fares. 
"PTC noted that while wages rose 10 per cent over the last three years, fares have gone down by 8.3 per cent," he wrote in a Facebook post. "The Government will continue to heavily subsidise public transport – S$5 billion for buses, S$4 billion for rail renewal and S$20 billion for expanding the rail network in the next five years."
PTC said the latest adjustment will bump up fare revenue by about S$78.2 million a year.
Bus fare revenues will increase by about S$43.2 million, which will go toward alleviating the annual S$1 billion bus subsidy that the Government is expected to fork out over the next five years, said Mr Magnus.
The annual revenue for SBS Transit Rail and SMRT Trains will also go up by S$10.9 million and S$24.1 million, respectively. 
But both operators, as part of the latest review, will be required to contribute 5 per cent of the expected increase in fare revenue to the Public Transport Fund.
TARGETED ASSISTANCE
In a separate release, the Ministry of Transport said the Government will help to keep transport fares affordable for lower wage workers and people with disabilities. 
As such, fare increases for both groups will be capped to one cent, while the price of the monthly concession pass for persons with disabilities will remain unchanged. 
The Government will also draw down S$9 million from the Public Transport Fund to provide needy households with 300,000 public transport vouchers. Each voucher is worth S$30 and can be used to purchase or top up fare cards or buy monthly concession passes. 
This is the largest public transport voucher exercise to date, said the Transport Ministry in a joint news release with the People's Association. 
Referring to these targeted assistance schemes, Mr Magnus said the PTC paid "a lot of attention" to fare affordability while conducting its annual review exercise. 
For instance, the council looked at the Public Transport Affordability Indicator (PTAI), which measures the percentage of household income spent on public transport. 
Since 2007, the average commuter has seen the PTAI drop from 2.9 per cent to 1.9 per cent. Lower-income commuters similarly saw a decrease from 4.1 per cent to 2.7 per cent. 
Mr Magnus also cited surveys done with more than 10,400 commuters between July to August this year, which showed more than seven in 10 found public transport fares in Singapore affordable. 
Six out of 10, meanwhile, said they were willing to pay higher fares so that more vulnerable groups, such as people with disabilities and senior citizens, would be less affected. 
"So we are quite assured, hence we made that decision to give the fare cap adjustment of 4.3 per cent," he said. 
Citing the cap on fare increases for certain commuter groups, Mr Magnus added: "We are trying to spread out the 4.3 per cent across commuter groups … That's how we manage the economic aspects and the social costs." 
When asked if commuters should expect another upward adjustment next year, he answered that it is "almost a no-no" that the next review exercise yields fare reductions, given the movement in energy prices, as well as wage and inflation trends. 
"We need to be able to recognise (that) the environment has changed and the cost of running the public transport has also changed," he said.