SINGAPORE: A Quick-Response (QR) code parking system for shared bicycles will be implemented next year to ensure users do not park indiscriminately, the Land Transport Authority (LTA) announced on Tuesday (Sep 25).
Those who fail to park properly and scan the QR code will be charged S$5 by licensed operators, LTA added in the news release. 
Users who park indiscriminately three times in one year will be banned from using all bicycle-sharing services for up to a year. 
Both the QR code parking system and the ban will begin in January next year, LTA said, adding that it will start to install the QR codes progressively at public bicycle parking spaces from the end of this month.
A public education campaign will also be launched in early October to educate users of shared bicycles on how to end their trips with QR codes.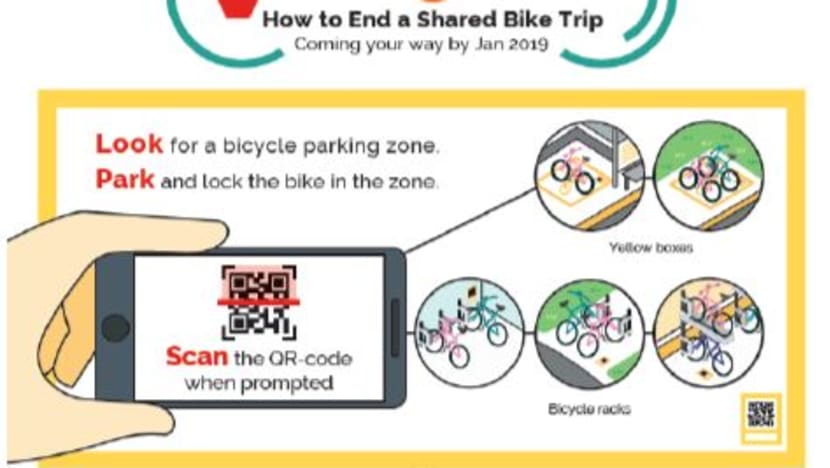 The latest move is part of the new bicycle-sharing licensing regime. The Ministry of Transport had announced in March that LTA will "right-size" the shared bicycle fleet to manage indiscriminate bicycle parking and ensure the efficient use of shared bicycles and limited parking spaces.
By 2020, the number of bicycle parking lots in Singapore will be increased from 207,000 to 267,000, LTA said. About 7,000 lots have been added at locations such as public transport nodes, housing void decks and parks since the beginning of this year.

LTA said that 97 per cent of "key destinations" such as polyclinics, community centres, schools and town centres are now within a five-minute walk from bicycle parking spaces, up from 80 per cent at the start of this year. About 95 per cent of people living in private homes are now within a five-minute walk from bicycle parking lots, up from 90 per cent.
"LTA will continue to work with our partner agencies, private developers and building owners to expand the bicycle parking capacity islandwide, especially at locations with higher demand for bicycle parking," it said.

COMPANIES WELCOME NEW REGULATIONS
Bike-sharing company ofo welcomed the announcement, saying that it was "committed to providing a smooth transition" for its users as the new regulations are implemented.
"We have been in frequent discussions with LTA to examine the best way to implement these new regulations, such as the QR-code geo-fence process, and we believe that these solutions, when comprehensively rolled out, can be a part of an effective solution to ensure that users adopt responsible cycling etiquette," said ofo Singapore general manager Isabelle Neo, in response to queries from Channel NewsAsia.

But as the new changes kick in, users could face additional issues, warned Anywheel strategy manager RJ Seet.
"With this enforcement of responsible parking, we believe users may initially find inconvenience as well as an increase in travel time due to the need of parking in a proper parking area," said Mr Seet. 
Anywheel hopes LTA will increase the number of parking spaces to reduce such inconvenience to users, he said.

Homegrown operator SG Bike said it supported the regulations.
"We believe that this is a necessary step to help bike sharing grow successfully in Singapore, ensuring that users take proper actions to park bicycles responsibly, and bike-sharing operators managing their fleet sizes to be in good conditions for the public to use," said SG Bike marketing director Benjamin Oh.