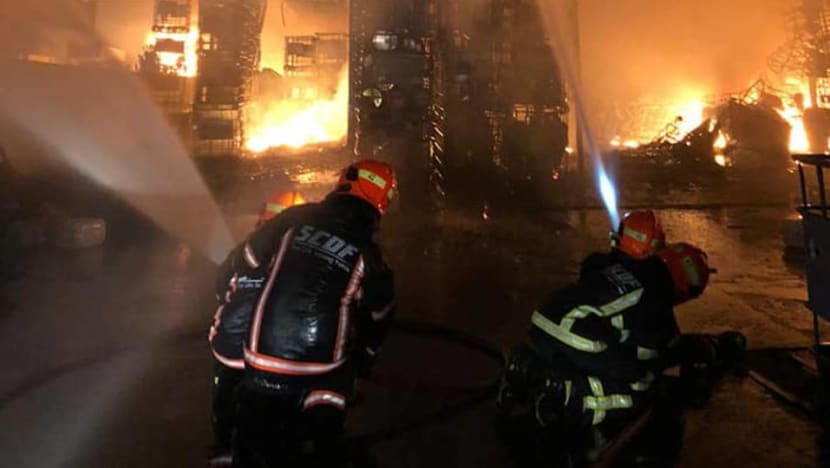 SINGAPORE: Firefighters have contained a blaze at two warehouses in Tuas, the Singapore Civil Defence Force (SCDF) said on Wednesday (Mar 18) afternoon.
SCDF said it was alerted to the fire at Tuas Avenue 13 and Tuas Avenue 18 at about 9.45pm on Tuesday.
"Upon SCDF's arrival, the fire was raging at the premises and was also spreading along the drains," it said in a Facebook post on Tuesday night.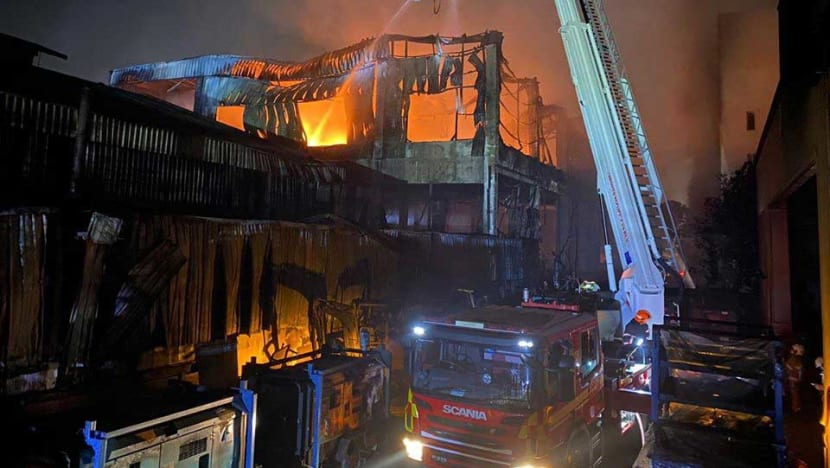 The fire, the size of about one and half football fields, had engulfed a warehouse about five storeys in height. It largely involved drums of flammable substances such as diesel and cleaning agents.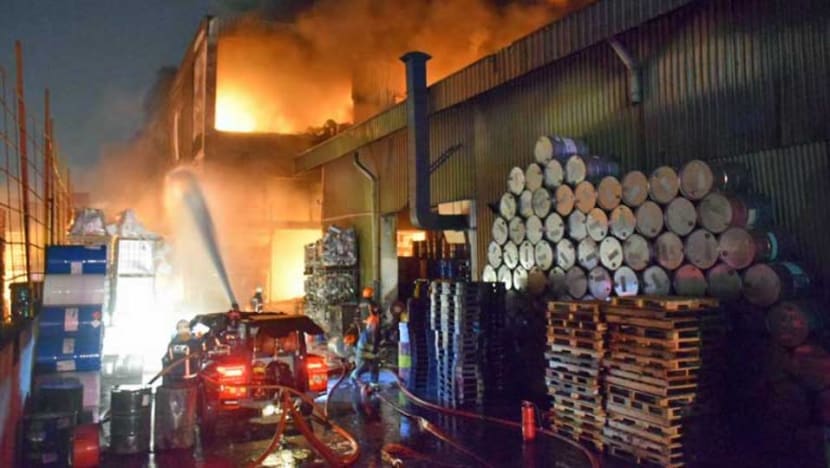 SCDF firefighters were mitigating the blaze with 6 handheld jets, 3 monitors and 2 Unmanned Firefighting Machines (UFMs). An Unmanned Aerial Vehicle (UAV) was also deployed to conduct aerial monitoring of the incident.

A person had been conveyed to Singapore General Hospital for burn injuries.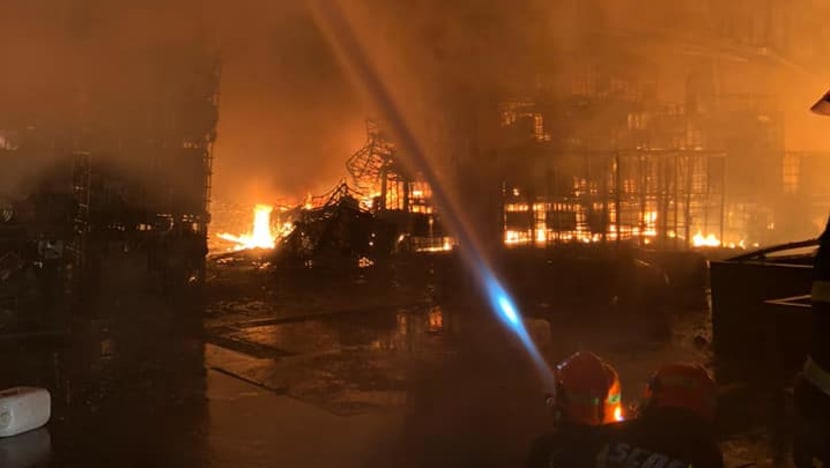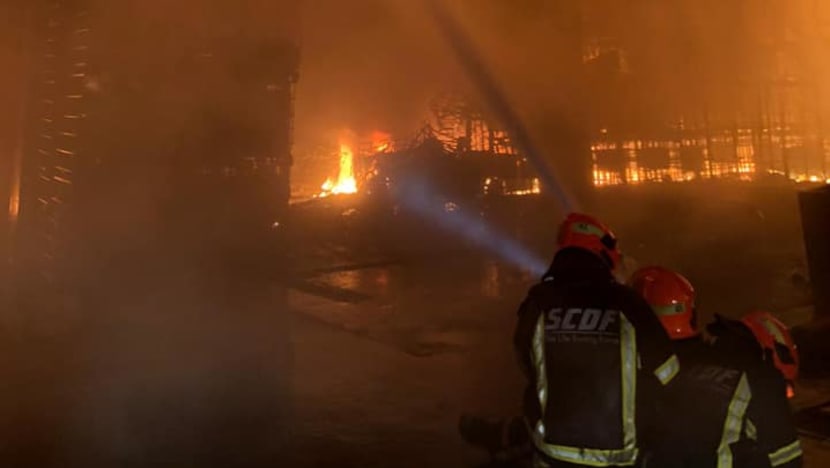 "IMMENSE CHALLENGE"

The fire was brought under control on Wednesday at about 11am after "working tirelessly to battle the blaze", said SCDF in an update, adding that "this is expected to be a prolonged operation".
The fire involved drums of flammable substances, such as diesel and cleaning agents, as well as electronic items and paper products.
"At the height of the fire, a total of 45 emergency vehicles and about 180 firefighters were deployed," said the update.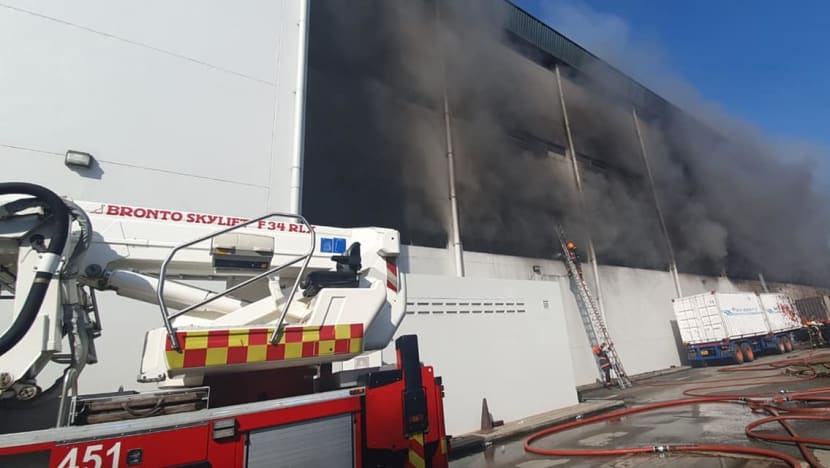 "The firefighters encountered numerous challenges in mitigating the fire," SCDF added. 
"Drums of burning flammable substances stacked vertically up to five storeys posed an immense challenge to the firefighters. 
"In addition, they had to navigate cautiously between narrow aisles of shelves in heavily smoke logged and near-zero visibility conditions. These impeded their quick access to reach the deep-seated pockets of fire."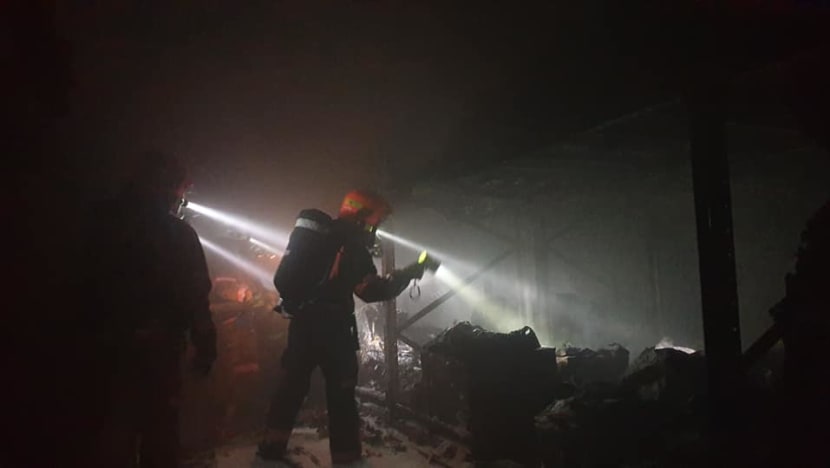 In the update posted at about 1pm, SCDF said it had surrounded and contained the fire with 12 foam jets.
"SCDF's elite Disaster and Assistance Rescue Team (DART) has also been deployed to work hand-in-hand with the firefighters to penetrate and gain access to the seat of fire," it added.