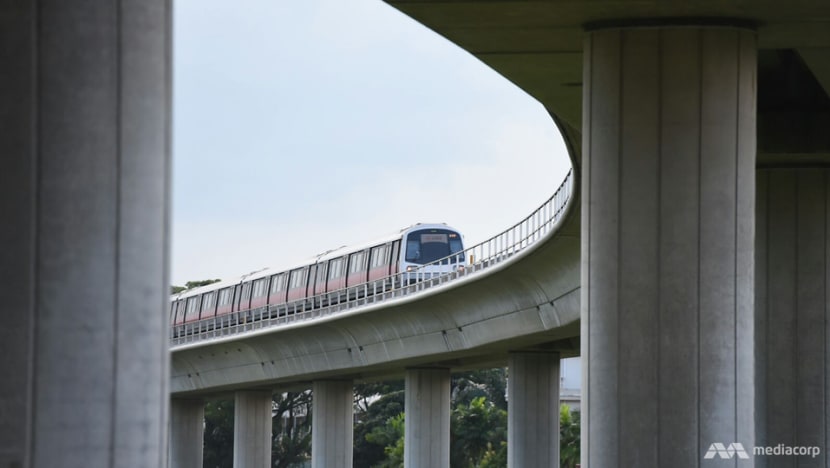 SINGAPORE: Singapore's rail network is on course to meet its reliability target as seen by the improvements it has made this year, Transport Minister Khaw Boon Wan said on Friday (Nov 2).
Speaking at the seventh Joint Forum on Infrastructure Maintenance, Mr Khaw said MRT trains achieved 661,000 train-km between delays over the first three quarters of 2018. 
For the whole of last year, that figure was 180,000 train-km.
The measure, commonly termed Mean Kilometre Between Failure (MKBF), calculates the mean distance travelled before a train fault lasting more than five minutes.

Last year, a new 2020 rail reliability target was set where trains should travel 1 million train-km before there is a delay of more than five minutes.

The Downtown Line and North East Line, both operated by SBS Transit, have already met the target.

Mr Khaw said he was "confident" that the Circle Line and North-South Line, which are operated by SMRT, would cross that target as the teams "have put in enormous efforts and made significant improvements over the last few years". 
He added: "The East-West Line should also be able to catch up soon."
To achieve long-term rail reliability, Mr Khaw said transport authorities are looking to foster long-term relationships with engineering firms and equipment manufacturers that service Singapore's trains.
This would include engineering partners like Alstom, Bombardier, Siemens and Thales.
Mr Khaw said such long-term partnerships would lead to opportunities for businesses as well as jobs for engineers.

SIGNALLING PROJECTS COMPLETED
The North-South and East-West Lines (NSEWL) have also completed their transition to the communications-based train control (CBTC) signalling system, announced Mr Khaw. 
Re-signalling on the East-West Line began in late May.
With this, three major long-term asset renewal projects to make the NSEWL more reliable are complete. These include sleeper and third rail replacements. 
Mr Khaw said the mission is "not yet accomplished", as there are three more aspects to be renewed - power, track circuits and the first-generation trains. 
"Any lapse in execution and we will lose the public confidence that we have painstakingly rebuilt," he said. "We must remain focused on our mission, to move commuters in a safe and reliable manner."
Mr Khaw said the power renewal project involves the replacement of 1,300km of power cables, 250km of fibre optic cables, 206 power transformers, 172 switchboards and 171 substations.
It was previously announced that 66 first-generation NSEWL trains will be replaced from 2021 onwards by Bombardier.
The key point is maintaining consistency after an acceptable quality standard has been achieved, said Mr Khaw. 
"At the end of the day, it's to serve customers," he said. 
"And what they want is to move from point A to B safely, predictably and reliably, and also in an affordable manner."