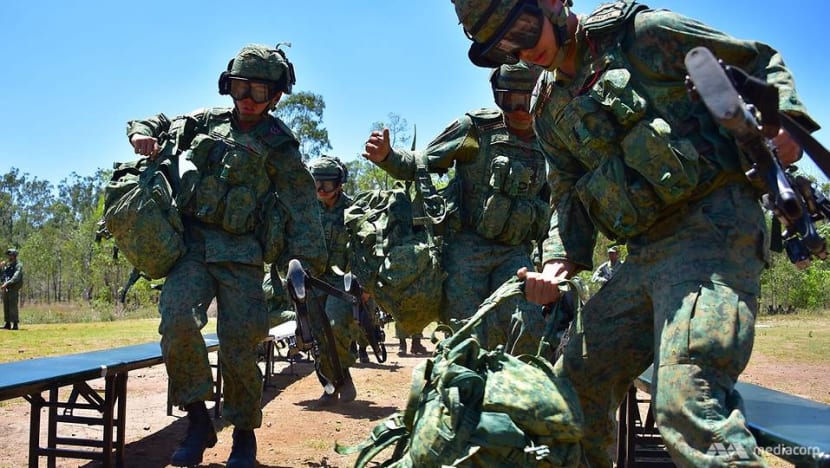 ROCKHAMPTON, Australia: A slew of safety measures recommended by a Committee of Inquiry (COI) in the wake of a full-time national serviceman's (NSF) death has been implemented at this year's Exercise Wallaby between the Singapore Armed Forces (SAF) and the Australian Defence Force (ADF).
The COI was convened to look into the death of 3rd Sergeant (3SG) Gavin Chan during the previous Exercise Wallaby at Shoalwater Bay Training Area in Queensland, Australia in September 2017. A Bionix infantry fighting vehicle he was in had overturned as the driver attempted to reverse from a boulder while 3SG Chan was commanding it at night.
"Units participating in this year's Exercise Wallaby have undergone the required competency and build-up training," said Exercise Wallaby 2018 overall director and Chief Guards Officer Colonel Seet Uei Lim. 
"All vehicle commanders and operators have undergone the mandatory Overseas Advanced Driving Training (ODAT) orientation package, which includes day and night driving across creeks, bridges and off-road terrain."
A Simplified Evacuation Protocol is now in place. 
"The AVPU (Alert, Voice, Pain, Unresponsive) scale was reiterated to all medical staff and personnel to facilitate easier decision-making and reduce the threshold for medical evaluation," Col Seet said.
He added that enhanced cooling measures such as the arm immersion cooling system and purpose-built cooling pads have also been made available to troops participating in the exercise. The SAF had introduced the measures after a 19-year-old NSF died from heat stroke in April. 
Col Seet said these safety measures were implemented so that soldiers could "focus on the mission" and confidently undergo training. 
The issue of training safety was underscored following another death of an NSF involving a Bionix vehicle last Saturday. An army-wide safety timeout was implemented and a review of safety measures was conducted. It was lifted at midnight on Thursday (Nov 8) and training for Exercise Trident – the final phase of Exercise Wallaby has resumed. 
"The Chief of Army is satisfied with the actions we've taken during the safety review and has lifted the safety timeout here in Exercise Trident," said frame commander for Exercise Trident Colonel Xu You Feng. 
"The soldiers are raring to go and we are ready to conduct a realistic, tough and safe finale exercise for Exercise Trident 2018."
The finale on Saturday will see helicopter and ship-to-shore operations involving the Singapore air force, navy and army and the Australian Defence Forces.
This year's Exercise Trident involves more than 1,300 personnel from the SAF and the ADF and features the largest number of participating troops from the ADF since Trident kicked off in 2013. Trident is a signature bilateral exercise featuring battalion-level amphibious operations executed by the SAF and the ADF.
Close to 4,000 SAF personnel are involved in the larger Exercise Wallaby which got under way in September.
Senior Minister of State for Defence Heng Chee How will visit SAF troops at Shoalwater Bay Training Area from Saturday. He will also officiate commemorative events for the 20th and 25th anniversary of the Republic of Singapore Air Force's training in Oakey and Pearce respectively, Singapore's Ministry of Defence said.