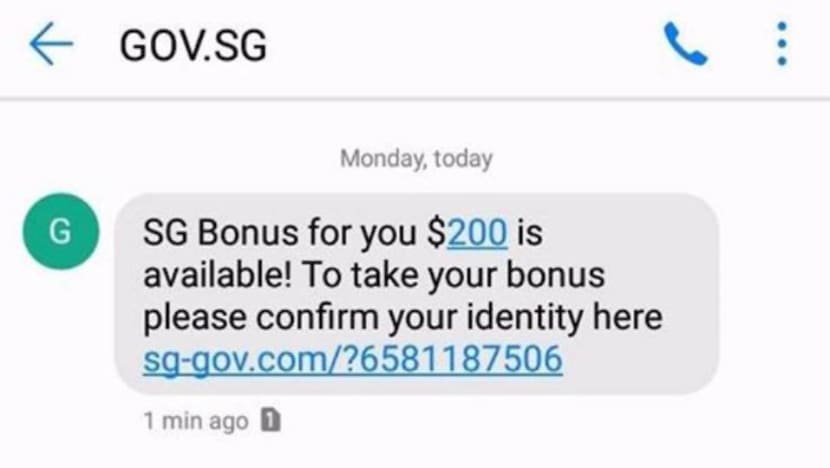 SINGAPORE: As Singaporeans prepare to receive their SG Bonus by December, the Ministry of Finance cautioned the public on Tuesday (Oct 9) in a Facebook post to be wary of fake texts, emails or calls informing them about their payouts. 
The ministry said that Singaporeans who have registered their mobile number with SingPass would have received an SMS notification about their SG Bonus.
However, some members of the public have received bogus text messages on the SG Bonus payout, which they have taken screenshots of and posted online.
One Facebook user posted a sham SG Bonus text that prompts the recipient to confirm their identity by clicking on a link: "SG Bonus for you $200 is available! To take your bonus please confirm your identity here."
Other images of fake texts posted online showed a similar phrasing and format. 
Another social media user Karen Wong posted an image of a fake government website requesting for the user's details. 
The sham website featured the gov.sg logo but had typos in its form, and a URL that ended with ".com" as opposed to government websites' usual ".gov.sg" domain name.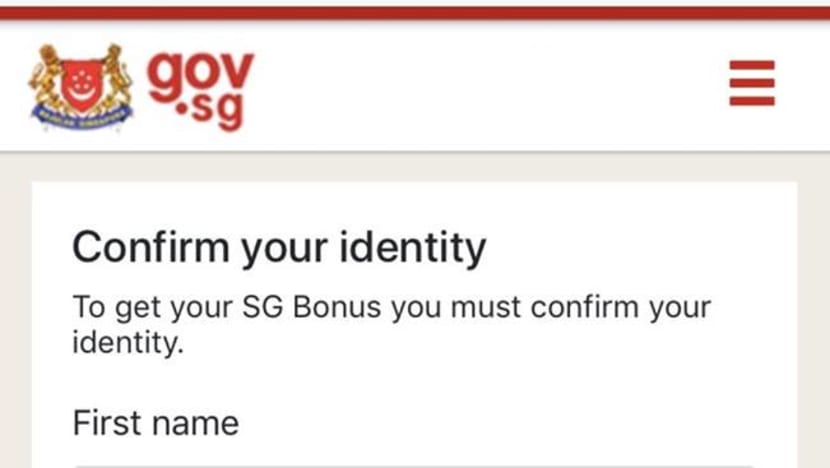 HOW TO TELL REAL NOTIFICATIONS FROM FAKE ONES
The Finance Ministry provided steps for recipients to verify that the SG Bonus texts are sent by the Government.

It said that the genuine text's sender would be either SG-Bonus or SGBonus and that the SMS will not request for information from the recipient. Plus, any link relating to the SG Bonus would begin with "https://www.singaporebudget.gov.sg", said the ministry.
Finally, the recipient's masked NRIC number, showing just the last three digits and letter) will be within the SMS. 

This year, a total of 2.8 million Singaporeans would have begun receiving letters from Oct 2 onwards, informing them of their SG Bonus benefit. The roughly S$700 million in bonuses will be paid out to citizens by December.