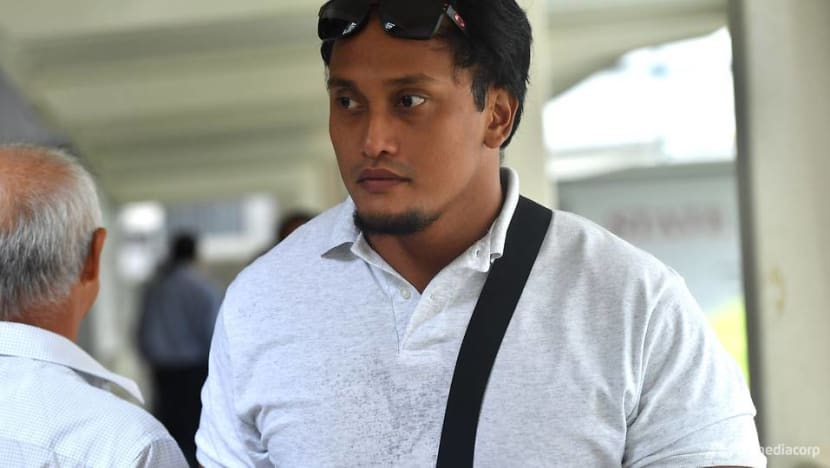 SINGAPORE: One of five Singapore Civil Defence Force (SCDF) officers charged over a ragging incident that led to the death of a full-time national serviceman (NSF) was sentenced to one year and four weeks in jail on Tuesday (Oct 23).
Staff Sergeant Muhammad Nur Fatwa Mahmood, 33, pleaded guilty to causing death by a rash act and abetting the obstruction of justice. 
He is the first among the five men, who were charged in July, to plead guilty and to be sentenced.
Corporal (CPL) Kok Yuen Chin died in May after being found unconscious at the bottom of a 12m-deep fire station pump well which was filled with water at Tuas View Fire Station.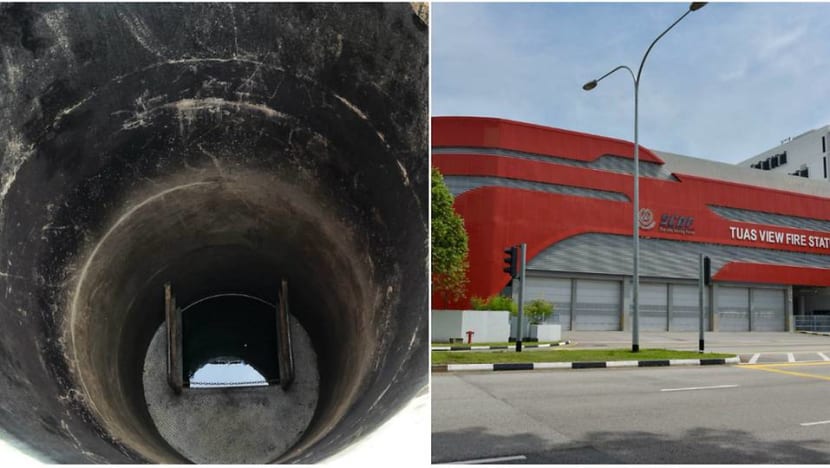 CPL KOK SIGNALLED THAT HE DIDN'T WANT TO PARTICIPATE
The court heard that Fatwa, a hazardous materials specialist and his colleagues, including four others who have been charged, and CPL Kok gathered to celebrate the NSF's completion of National Service, as his Operationally Ready Date (ORD) was in three days.
A plaque and cake were presented to CPL Kok, the court heard. At about 9pm, Fatwa suggested that the NSF participate in an ORD ritual of entering the pump well. Both the ritual and the pump well were referred to as "kolam", according to court documents.
Deputy Public Prosecutor Kumaresan Gohulabalan said that the pump well - deemed dangerous as it was deep and dark- was for training, and not meant for people to enter, other than for the purpose of maintenance. 
The court heard that CPL Kok waved his hands to signal that he did not wish to participate and said: "Don't want, don't want."
However, Fatwa, along with two others carried him towards the pump well. He did not know CPL Kok could not swim. 
"The deceased was struggling while he was being carried and kept saying, 'Jangan Encik, jangan', which means 'Don't Encik, don't' in English," Mr Kumaresan said.
When asked to remove some items including his wallet, boots and clothes, CPL Kok was hesitant, but complied, the court heard.
He then stood at the edge of the pump well as the others egged him on. First Warrant Officer Mohamed Farid Mohd Saleh, 34, then told him to sit down on the edge, and the NSF did so.
CPL Kok had been hesitating for about a minute when Farid commented that it was slow and told Fatwa to push him into the well. It was then that Fatwa "suddenly pushed the deceased forcefully on his back with his right hand", the court heard. 
"The deceased fell into the pump well and submerged straight into the water without surfacing for air," according to court documents.
A few of the officers, including Fatwa, quickly jumped into the pump well to try to locate him, but to no avail. It was only 36 minutes later, after the officers used a fire engine suction pump to remove water from the well, that CPL Kok was located.
Attempts to resuscitate him were not successful and CPL Kok was rushed to hospital where he was pronounced dead. The incident was caught on camera footage.
FATWA MAIN INSTIGATOR: PROSECUTION
In seeking a jail term of at least 14 months for Fatwa, Mr Kumaresan said Fatwa was the "main instigator".
He first suggested that CPL Kok be subjected to the ritual, and initiated carrying him, according to court documents.

Fatwa was of a much higher rank and seniority than CPL Kok, Mr Kumaresan added.
"This is of heightened significance here as CPL Kok was a national serviceman in a regimented hierarchical system and would understandably have felt pressurised with superiors, such as the accused, egging him on to enter the pump well," he said.
He also said that parents entrust the lives of their children to senior officers such as Fatwa in NS.
"Instead of watching out for the deceased who was one of the most junior officers in the team, the accused caused the deceased's untimely demise," he said.

Fatwa was also sentenced for asking for a video of the incident to be deleted from his colleague's mobile phone, which amounted to abetting the obstruction of justice.

HE "MADE A MOMENTARY MISTAKE": DEFENCE
In his mitigation plea, Fatwa's lawyer, Mr Sunil Sudheesan, said that his client is a "good guy who made a momentary mistake".
Fatwa was also remorseful, he added. "He is sincerely remorseful. That must be given weight," he said.
Fatwa was also well-liked, Mr Sunil said. He referred to a letter of testimonials from Fatwa's family and friends.
"Previous persons who served under him are asking this court for mercy," he said.
He added that Fatwa confessed quickly, saying: "He sang the tune of truth."
He also said Fatwa did not want the video to be spread, and that he knew that there would be camera footage of the incident. 
"He should have known better. A life has been senselessly lost," Mr Sunil added. He asked for a sentence of fewer than eight months.
The lawyer painted a picture of men having fun.
"We all horse around when it comes to ORD," he said.
To this, District Judge Kenneth Yap compared the scenario to grooms who go through gatecrashing and are typically made to complete challenging tasks in order to see the bride, but where there is no risk to life.
"There are other ways to celebrate and for men to be boisterous," he said.
What happened was not in a social setting, but in the setting of National Service, for which parents entrust their children in the hands of regulars, he added.
The father of CPL Kok was in tears, his eyes red, at the end of the hearing.
Speaking to reporters outside the courtroom after the sentencing, Mr Kok Meng Hua, 56, said: "My son is not here anymore. No matter what the jail term is, he is not coming back."

FOUR OTHERS CHARGED
Farid has been charged with abetting a rash act causing death.
Lieutenant Chong Chee Boon Kenneth, 37, and First Senior Warrant Officer Nazhan Mohamed Nazi, 40, were both charged with abetting a rash act causing grievous hurt by illegal omission. Nazhan is expected to claim trial.
Staff Sergeant Adighazali Suhaimi, 32, was charged with intentionally obstructing the course of justice.

SCDF has said it will decommission all 19 pump wells located at fire stations, on the recommendation of a Board of Inquiry that was convened to investigate CPL Kok's death.
The decommissioning works, which involve filling up the wells with granite chips and covering them with concrete slabs, are expected to be completed by December this year, SCDF said.
The penalties for causing death by a rash act are a maximum jail term of five years and a fine, while the punishments for causing grievous hurt by a rash act are a maximum jail term of four years and a fine of up to S$10,000.
For obstructing justice, an offender can be jailed for up to seven years and fined.