SYDNEY: A Scoot flight heading to Singapore from Australia's Gold Coast was diverted to Sydney Airport on Monday (Jan 21) after an Australian man caused disruption on board.

Flight TR7 was diverted to Sydney Airport about 1 hour and 20 minutes into its journey.

"During boarding and take-off, the passenger appeared normal. After take-off, he began to disturb surrounding passengers," Scoot said in a statement. 
Surrounding passengers were quickly moved to other seats and cabin crew were instructed not to sell alcohol to the man, according to the airline. 
"A while later, the unruly passenger punched another passenger. Following safety procedure, our crew stepped in to break up the fight and were assisted by other passengers.

The unruly passenger was eventually subdued with two restraining kits, with the help of five passengers," said Scoot. 
A decision was made to return to Sydney, where the man was handed over to local law enforcement. According to the airline, the crew also checked on the passenger who had been assaulted, who confirmed he did not need medical attention.
The airline said that it had arranged for the other passengers to fly on Scoot flight TR13 or Singapore Airlines flights SQ242 and SQ288 that were scheduled to depart from Sydney Airport.
It added that Scoot representatives would be meeting with arriving passengers to provide assistance where necessary.
Scoot told Channel NewsAsia that contrary to an online report, the diversion was not due to the man "self-harming".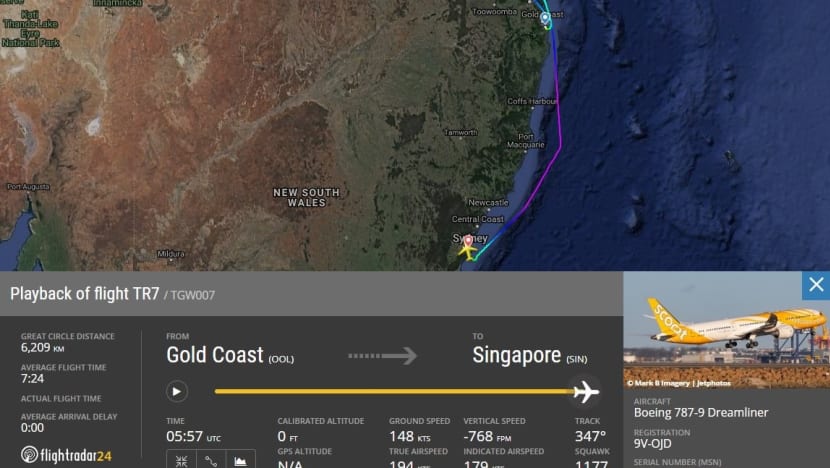 PASSENGER WAS 'CLEARLY INTOXICATED'
A video showing the incident was circulated widely online. 
A passenger could be seen in the video attacking others on board the flight including Mr Michael Cook, who threw a punch on the man's face. 
"I was sitting in the middle row of seats on the plane asleep with an elderly Asian lady sitting next to me. When I woke up she had moved due to the aggressive passenger abusing her," Mr Cook told Channel NewsAsia. 
The man also made "threats" to more passengers who sat behind him.
Mr Cook added: "Not long after, the accused approached my seat and started making threats to kill me and started touching me. 
"I pushed him off and moved to another row of seats, where he then continued to follow me, making the same threats. A punch was thrown and the incident (that) occurred in the footage."
Mr Cook also said that the aggressive passenger was "clearly intoxicated" judging by his "slurring and body language", and that the man "probably shouldn't have been allowed to board the plane in the first place".

He added: "Several times the cabin crew asked the man if he'd like some water, but there was little response (except him mumbling and abuse)."

Scoot thanked Mr Cook for rendering "timely assistance" and offered him a travel voucher worth S$350.