Singapore rolls out unified payment QR code SGQR in latest cashless push
Dubbed the world's first unified payment QR code, the SGQR is compatible with 27 payment schemes, such as PayNow and NETS, and will be deployed over the next six months.
SINGAPORE: A single QR code that is compatible with as many as 27 e-payment solutions was rolled out on Monday (Sep 17), marking the latest step in Singapore's push towards cashless payments. 
Dubbed the first of its kind globally, the Singapore Quick Response Code (SGQR) is an "infrastructure-light technology" that will help to simplify QR e-payments in Singapore for both consumers and merchants, said the Monetary Authority of Singapore (MAS) and Infocomm Media Development Authority (IMDA) in a joint media release.  
The SGQR comes after the set-up of an industry task force last August to look at developing a common QR code for the fragmented e-payment landscape in Singapore. 
Currently, multiple QR codes may be displayed at one store to support various e-payment schemes. This can be confusing for consumers, said the two agencies, but the roll-out of the SGQR will help to change that as only one QR code sticker, alongside the QR payment options accepted by the merchant, will be displayed. 
"Consumers will be able to quickly and easily see if their preferred QR payment option appears on the merchant's SGQR label," said MAS and IMDA in their press release. 
To complete a transaction, customers can log in to the apps of their preferred payment schemes, scan the SGQR code and key in the payment amount.
Describing that as "simple, swift and safe", the two agencies added: "Simplicity and speed of e-payments were identified by MAS as one of the critical challenges impeding adoption of e-payment options in Singapore. As QR payments could be an e-wallet or funded by a credit or debit cards, consumers retain the flexibility in choosing how to fund their QR payments."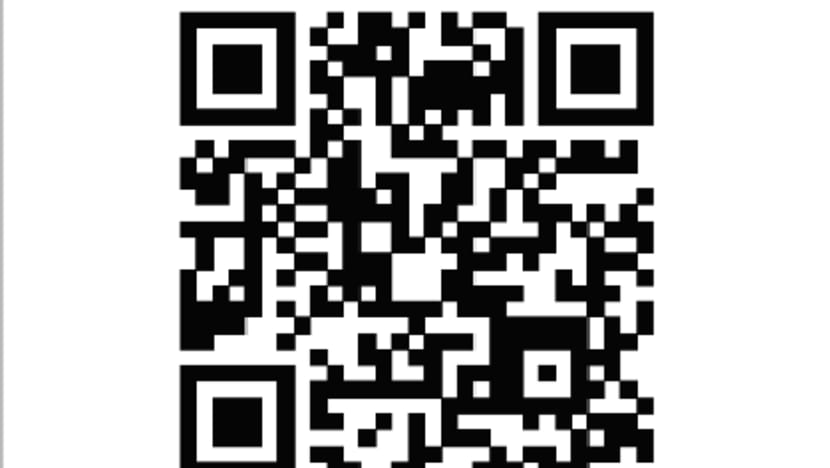 Merchants will also benefit from having "less clutter" and "quicker payments" now that they can do away with displaying multiple QR code stickers, the joint statement said.
Set to be deployed over the next six months, the agencies said about 19,000 QR codes will be replaced with the SGQR labels from later this month, starting with the more than 1,000 merchants in the Central Business District.
The replacement exercise is expected to be completed by the end of this year.
A handful of food and beverage outlets at 100am mall in Tanjong Pagar, such as Toast Box, Subway and bubble tea chain LiHo, were seen displaying the SGQR codes on Monday. 
For Toast Box, the SGQR replaces two QR codes that were previously displayed at the counter. The consolidation has helped to save much-needed space at the counter, according to its spokesperson who is also hoping for e-payments to simplify its business operations.
"Once more people are encouraged to use this, there will be fewer cash transactions which means we won't have to prepare so much loose change and when it comes to closing at the end of the day, it will be faster and with fewer errors," regional general manager Vincent Lim told Channel NewsAsia. 
When asked if the eatery will consider accepting more payment schemes under its SGQR code, Mr Lim said while it is already partnering the bigger players, like NETS and GrabPay, it will monitor customer usage of the new QR code and tweak its strategy where relevant. 
At the adjacent Amara Hotel, the SGQR code will be displayed at its six dining outlets, as well as its mooncake pop-up store at 100am mall. 
Food and beverage manager Peter Yeong said the hotel hopes to tap on burgeoning demand for cashless payments, especially among younger customers. He added that the new initiative is a "win-win" for both consumers and the hotel's front-line staff, as it quickens the payment process. 
Still, during the replacement phase, there will be merchants who may have to display multiple QR codes. For this, the two agencies said consumers can continue to make payments using the existing QR codes via their usual payment app. 
The payment schemes that will be adopting the SGQR include PayNow, NETS, GrabPay, DBS PayLah, Singtel DASH, OCBC Pay AnyOne and AliPay. 
With payment transaction volumes via QR codes increasing steadily over the past year as consumers become more familiar with it, NETS' chief operating officer Jocelyn Ang said the SGQR will make it easier for small merchants to jump on the e-payments bandwagon given that it allows easy acceptance of e-payments via a single QR sticker. 
DBS has similarly reported "explosive growth", with its e-wallet seeing a peak of 1.2 million monthly QR code transactions recently. 
"The launch of SGQR is a very welcome development," said Ms Tan Su Shan, DBS' managing director and group head of consumer banking and wealth management. "We believe the standardisation of QR code standards gives consumers greater freedom in their choice of payment platforms and will further popularise the adoption of e-payments." 
Over at OCBC, digital payments, including QR-code payments, via its OCBC Pay Anyone app have more than tripled over the last year.
Describing SGQR as "another definitive stride" towards digital payments, Mr Pranav Seth, the bank's head of e-business and business transformation, said: "We welcome an interoperable payments system, such as SGQR, that will simplify and unify payments for customers, while diminishing merchant and customer confusion."

"LAST FEW JIGSAW PIECES" OF E-PAYMENT INFRASTRUCTURE
Speaking at the launch on Monday, Education Minister Ong Ye Kung also touched on other initiatives that he described "as the last few jigsaw pieces" to complete the national e-payment infrastructure. 
For one, the Government will open up FAST – the electronics funds transfer service launched in 2014 – to financial technology (fintech) firms and non-bank players.
According to Mr Ong, this marks a "major milestone". 
"If we want the e-payment system in Singapore to be truly open, accessible and competitive, we will have to open up FAST to other non-bank e-wallet payment solutions so that they can interoperate with bank accounts," the minister said, while adding that the United Kingdom and India have already given non-banks with access to the central payment infrastructure to encourage competition. 
Similar initiatives are also in the pipeline in Hong Kong and Malaysia, added Mr Ong, who is also a MAS board member.
For this, Singapore will be forming a DIRECT FAST industry working group to develop the business and technical requirements for non-banks to connect directly to FAST. Apart from banks, non-banks and the MAS, other players, such as Grab, Liquid Group, MatchMove, Razer and TransferWise have also signed up for the working group. 
The Government will also seek expressions of interest to build and operate a FAST aggregator. This will help lower costs by aggregating the technical requirements across a number of players, said Mr Ong. 
Meanwhile, regulation is another area that the Government is looking at. 
This will include the release of user protection guidelines set for the end of this month. The guidelines, among other things, will aim to apportion liability for unauthorised transactions between financial institutions and users. 
For instance, where the unauthorised transaction is caused by the financial institution, it will bear the entire loss. 
For unauthorised transactions caused by a third party and below S$1,000, financial institutions will similarly be liable. 
Where the transaction is above S$1,000, financial institutions will have to investigate the case and decide on a case-by-case basis. 
"This is because transactions above S$1,000 require additional authentication and it is very unlikely that the user will be unaware of it, unless he did not take due care of his account," said Mr Ong.