SIA flights between Singapore and Shanghai departing Apr 11 cancelled due to Chinese city's COVID-19 lockdown
SINGAPORE: Singapore Airlines (SIA) announced on Friday (Apr 8) that two flights between Singapore and Shanghai that are set to depart on Apr 11 have been cancelled.  
In a Facebook post, the airline said that flights SQ830 and SQ833 will not take off due to "operational constraints as a result of the regulatory lockdown measures in Shanghai".
"SIA would like to extend our sincere apologies to the affected customers. We are reaching out to them to offer all necessary assistance and to minimise the inconvenience caused by this disruption," said the airline.
In response to CNA's queries, an SIA spokesperson said that the operational constraints were due to a shortage of manpower required to support operations at Shanghai Pudong International Airport as a result of the lockdown measures.
The spokesperson apologised to affected customers and said the airline is offering customers "all necessary assistance".
Checks by CNA showed that as of 10.50am on Friday, the SIA website was not taking in bookings for the route between Singapore and Shanghai.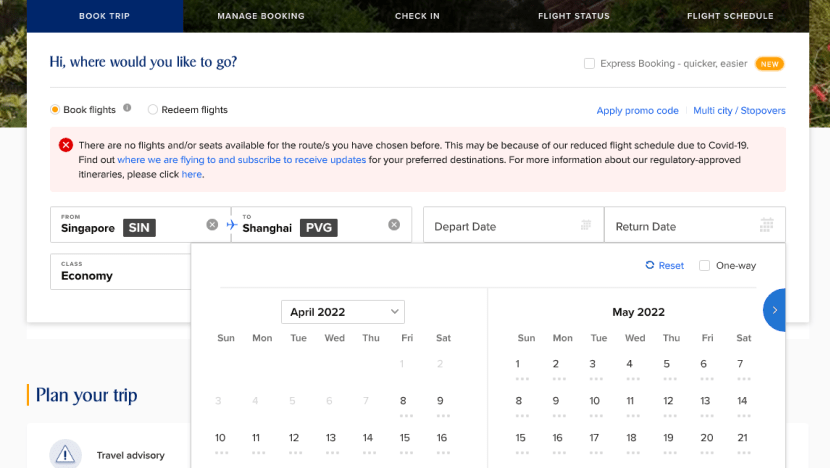 Shanghai announced on Mar 27 that it would lock down the city in two stages to carry out COVID-19 testing over a nine-day period, after it reported a new daily record for asymptomatic infections.
The city of 26 million people, which has been battling a new coronavirus surge, recorded 2,631 new asymptomatic cases on Mar 26. This accounted for nearly 60 per cent of China's new asymptomatic cases that day.
Shanghai authorities ordered everyone to stay at home and said they would carry out COVID-19 testing in the city's eastern and western districts from Mar 28 to Apr 1 and from Apr 1 to Apr 5, respectively.
A new round of testing began after China reported more than 20,000 COVID-19 cases on Wednesday.