Singapore agreed to defer HSR project 'in the spirit of bilateral cooperation': Khaw Boon Wan
Speaking in Parliament on Monday (Oct 1), Mr Khaw said that Singapore could have turned down Malaysia's request to do so, enforced its legal rights on termination and sought compensation from its neighbour.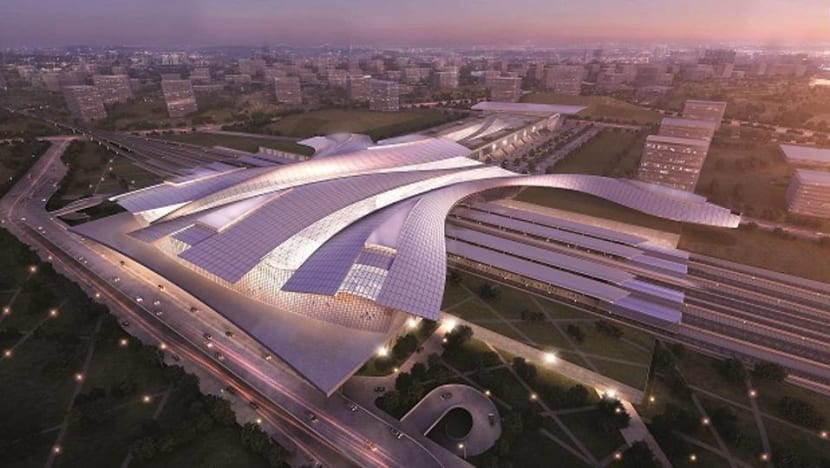 SINGAPORE: Singapore could have turned down Malaysia's request to defer the Kuala Lumpur-Singapore High-Speed Rail (HSR), enforced its legal rights on termination and sought compensation from Malaysia, Transport Minister Khaw Boon Wan said on Monday (Oct 1).
But Singapore decided to work out an "alternative resolution" to the problem "in the spirit of bilateral cooperation", especially since Malaysia has reassured Singapore that it did want to resume the HSR project, albeit after a delay, he told Parliament.
Both countries formally agreed to postpone the construction of the HSR on Sep 5, after the new Malaysian government, through its Minister of Economic Affairs Azmin Ali, made an official request to Singapore to defer the project by three or four years. The HSR express service is now expected to start by Jan 1, 2031, instead of the original commencement date of Dec 31, 2026.

Mr Khaw said that turning down the request would have been fully in accordance with the bilateral agreement signed by both countries in December 2016. "After that, if and when Malaysia was again ready to pursue such a project, we could discuss a new bilateral agreement for it," he said.
The construction of the HSR will be suspended until May 31, 2020 – two years from the formation of the new Malaysian government. Mr Khaw said that beyond two years, the current cost estimates would likely be no longer valid, which would "affect the viability of the project and its business case".
"A longer suspension period would also impact our development plans for the Jurong Lake District, which will host the Singapore HSR Terminus and many transport, commercial, residential and recreational developments," he said.
He added that Malaysia had requested that during the suspension period, both sides discuss the way forward for the project, with the aim of reducing costs. Mr Khaw said that Singapore is open to such discussions, but it is not obliged to accept automatically any proposals offered.
Nonetheless, he said that Singapore will assess any proposal from Malaysia "carefully and objectively".  
SUSPENSION AFFECTS MANY STAKEHOLDERS
Speaking in response to questions from Members of Parliament, Mr Khaw said there will be costs to Singapore in suspending the project. These costs, he said, are abortive, which means they cannot be used for the project after it resumes.
"We have to pay contract breakage costs to contractors for terminating ongoing contracts and to safely wind down operations for the duration of the suspension period," he said. "For example, ongoing excavation works cannot simply be abandoned, and they need to be safely wound down.
"The excavation must be backfilled to render the site safe, and re-excavated once the project resumes, increasing costs."
Malaysia has agreed to reimburse Singapore for the abortive costs of S$15 million, to be paid by end-January 2019, he said. After the ongoing works have been wound down, no new HSR works will be undertaken during the period of suspension.
He added that the suspension of the project also affects many stakeholders, including Singapore's infrastructure company SG HSR. Mr Khaw said the company, which is a wholly-owned subsidiary of the Land Transport Authority (LTA), has hired many employees who have worked on the project.
These employees, he said, will be offered alternative job roles in the LTA.
SG HSR and the LTA, he added, have also informed all their contractors of the project suspension, and are engaging them to discuss further details.
CAN RESOURCES FROM HSR BE DEPLOYED TO EXPEDITE CONSTRUCTION OF JURONG REGION MRT LINE? 
In response to a question from MP Foo Mee Har on whether resources from the delayed HSR project can be deployed to expedite the construction of the Jurong Region MRT Line (JRL), Mr Khaw highlighted the complexity of the JRL project. 
For example, the JRL will run along existing road corridors where there are many underground utilities and services like high-voltage cables and large diameter water pipes. "All these need to be diverted before the JRL construction can commence," he said. 

The JRL, which is Singapore's seventh MRT line, is scheduled to open in three stages between 2026 and 2028. 
The new JRL stations, added Mr Khaw, would also have to be built to "safely and seamlessly" interface with existing stations at Jurong East, Choa Chu Kang and Boon Lay, which are running live operations with heavy commuter loads. 
Some parts of the JRL also have tight construction corridors, Mr Khaw noted. "Extra care needs to be taken for works in these constrained areas so as not to damage or disrupt existing buildings and structures," he said. "There needs to be close coordination with surrounding land and building owners. All this requires time."

"Safety in construction is our top priority," he added. "LTA does not recommend further shortening the construction time even if additional resources are available, but we will try."