SINGAPORE: Nearly 60 travellers from the Indonesian island of Batam arrived in Singapore on Friday (Feb 25) on the first day of the quarantine-free sea vaccinated travel lane (VTL) from Batam to Singapore.
At Tanah Merah Ferry Terminal, travellers were greeted with a warm welcome and a goodie bag containing items such as a fan and a pouch. There was a banner that read "Batamfast welcomes the First Sea VTL guests to Singapore!".
Among the travellers, 21 were Indonesians, according to Mr Chua Choon Leng, general manager of ferry operator Batamfast. 
For Singaporean Steven Lim, who works for a manufacturing company based in Indonesia, this was a prime opportunity to visit his family back home.
The 69-year-old told CNA he was excited when he heard the news about the VTL.
"I actually went back to Singapore in January during Chinese New Year, but at the time, there was no VTL, so I had to be quarantined twice (once in Singapore and again on return to Batam)," said Mr Lim, who has been living in Batam for 17 years. 
"So I decided to take this opportunity to go back to Singapore because this time I don't need to quarantine," he said. "It's really much easier for us to return to Singapore now especially after being away for so long because of COVID-19."
The sea VTL offers a faster way to return home, said Singaporean Emran Zainal.
When the travel arrangement was announced, he was in Batam visiting his wife and daughters, and had planned to return to Singapore via the air VTL. This involved flying from Batam to Jakarta, then from Jakarta to Singapore. 
"I decided to cancel my VTL flight and change to the sea VTL instead because it's so much faster and convenient," he added.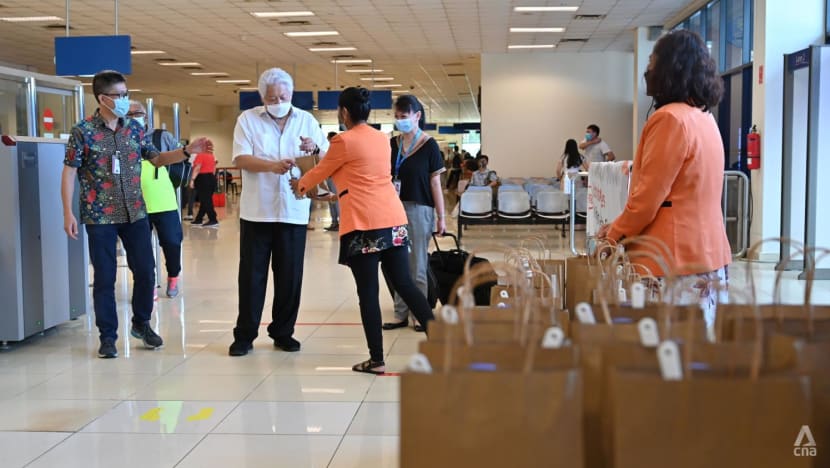 TWO-WAY QUARANTINE-FREE TRAVEL 
Besides Batam, the sea VTL also covers travel between Bintan and Singapore.
Singapore previously announced that for a start, up to 350 travellers from Batam and another 350 from Bintan will be allowed to travel weekly under the VTL to Singapore's Tanah Merah Ferry Terminal.
The designated ferry services between the three terminals will be operated by regional ferry operators Batam Fast and Bintan Resort Ferries.
As for travellers from Singapore to Indonesia, they can do so under a travel bubble that allows them to journey from Tanah Merah Ferry Terminal to Batam's Nongsapura International Ferry Terminal and Bandar Bintan Telani Ferry Terminal in Bintan. 
My colleague Jeremy and I decided to head to Batam a day before the VTL launch, to see what it's like travelling via the two-way quarantine-free arrangement. Here's how it went: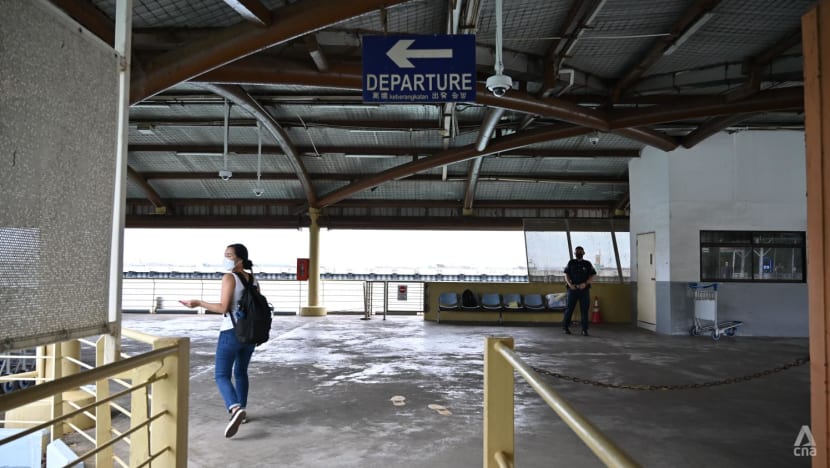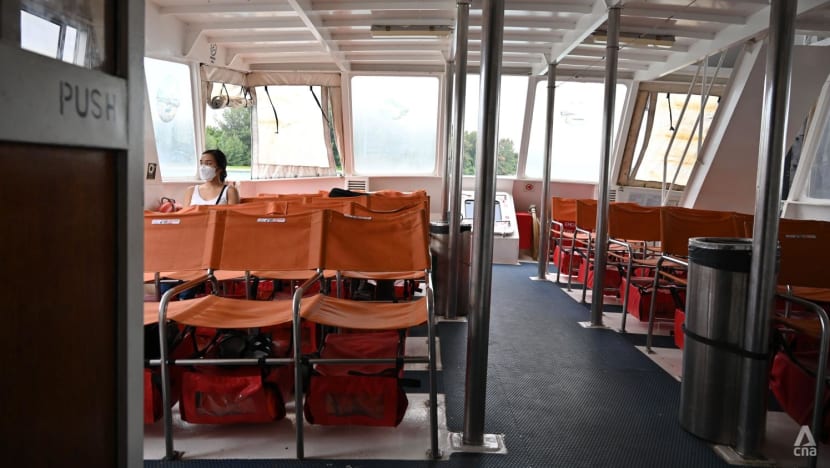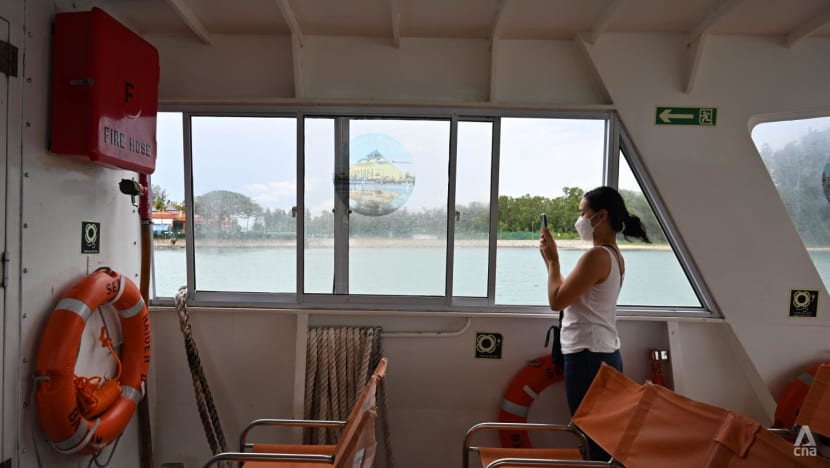 SINGAPORE TO BATAM 
With our ferry scheduled to depart Singapore at 3pm local time, we arrived at Tanah Merah Ferry Terminal at 2pm - giving us plenty of time to spare, or so we thought. 
Despite having planned this trip nearly a week before and reviewing all the documents we needed for travelling, including our vaccination certificates, pre-departure polymerase chain reaction (PCR) test results and proof of a hotel booking in the Nongsa area, we ran into some issues getting our travel insurance with COVID-19 coverage in time. 
The company we had applied to get our insurance was experiencing a "system issue", which resulted in a delay in issuing the insurance certificate. 
As minutes passed, we grew increasingly anxious and nervous that we might not be able to go ahead with our trip since it is a requirement for travellers to show evidence of health insurance with a minimum coverage value of S$30,000. 
This is to help finance COVID-19 handling and medical evacuation towards a referral hospital in the event that travellers test positive upon arrival in Batam. 
But at the 11th hour - just 30 minutes before our ferry was scheduled to depart - we received confirmation of our insurance, collectively heaving a sigh of relief. 
We raced to the departure gates only to find out that our ferry was delayed, as it needed to refuel at a nearby bunker. 
"Can get coffee, it will take a while," said the security guard at the terminal.
It was an hour before we heard the announcement for boarding.
From there, it was a 40-minute boat ride to Batam's Nongsapura Ferry Terminal. It was a pretty standard boat ride, except for the need to scan a QR code on our seat for contact tracing.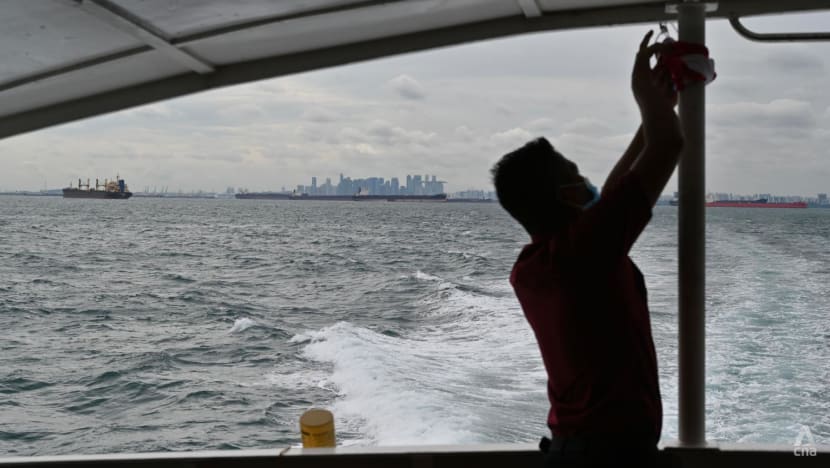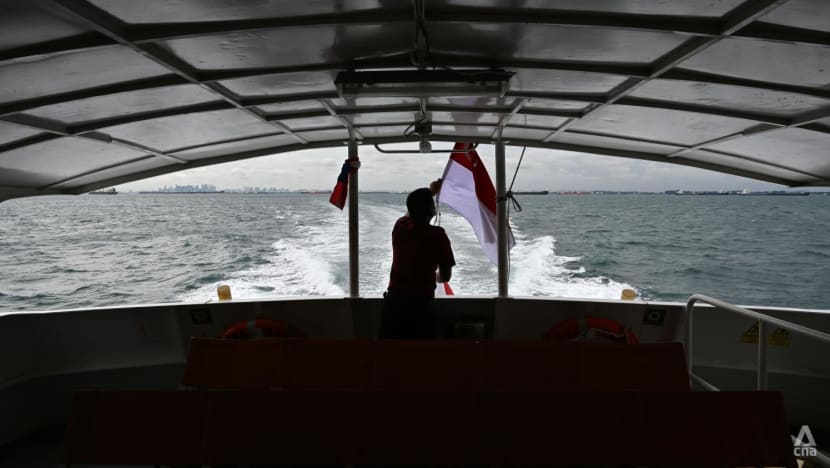 Once we arrived in Batam, we were greeted by staff members at the terminal and instructed to check-in using Indonesia's app for COVID-19 tracing, called PeduliLindungi.
As we had downloaded and completed our profiles on the app prior to our trip, this went smoothly. 
After that, we were ushered into a "document inspection" room, where a staff member checked our vaccination certificates and pre-departure PCR test results. 
Once our documents were reviewed and assessed to be in order, we were then directed to a cubicle where two men - dressed head to toe in personal protective equipment - performed a throat and nasal PCR swab. 
Following that, we were told to stay in a waiting area - a section of the terminal which was infested with mosquitoes - until our PCR test results were ready. 
What was supposed to be a one-hour wait dragged on. The delay was puzzling, especially since there were only four of us who took the test. 
There was a huge sense of relief when the results were finally ready - almost two hours later.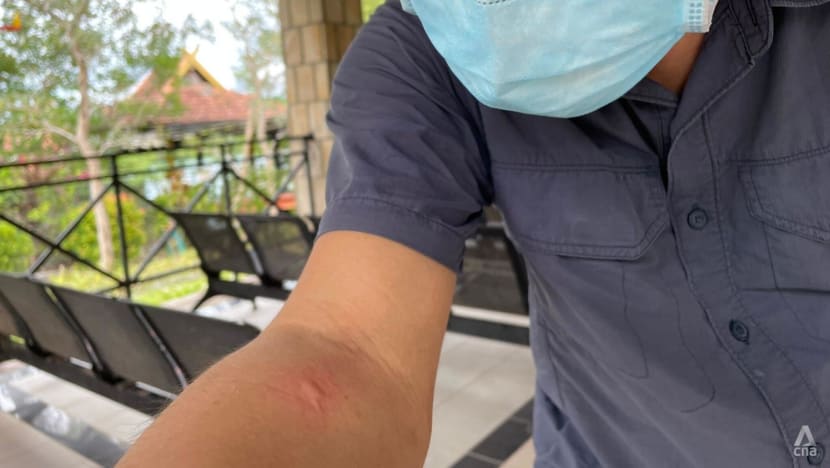 Once we checked in to our hotel, we were told that there were areas that would be out of bounds to us, as part of the hotel's efforts to demarcate areas for foreigners and locals to prevent the two groups from mixing. 
This is in line with COVID-19 regulations under Indonesia's travel bubble. 
We also had to be escorted by the hotel security when going to public areas such as the beach jetty, as there were specific time slots for foreigners and locals. 
We enjoyed the pristine beaches, as well as the warm hospitality shown to us by the hotel in Batam. It was nice to get away for a bit, after being cooped up for so long and being travel-starved.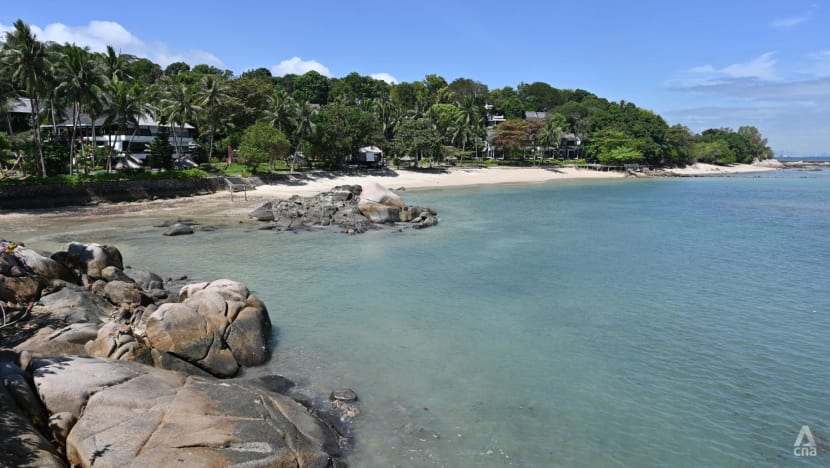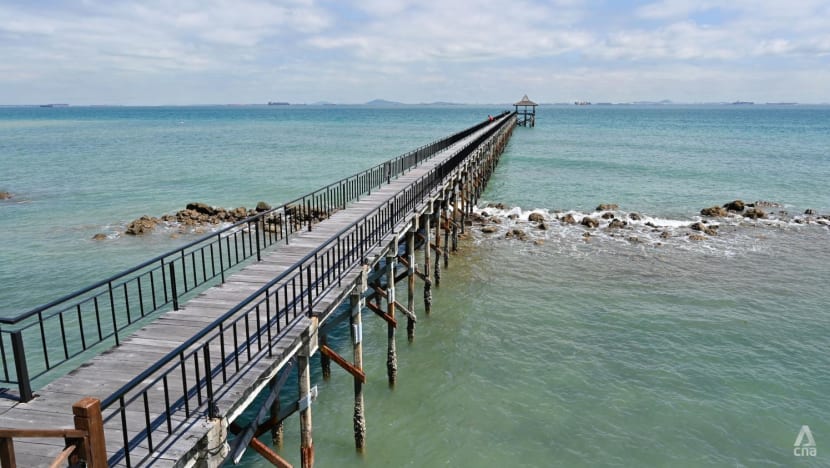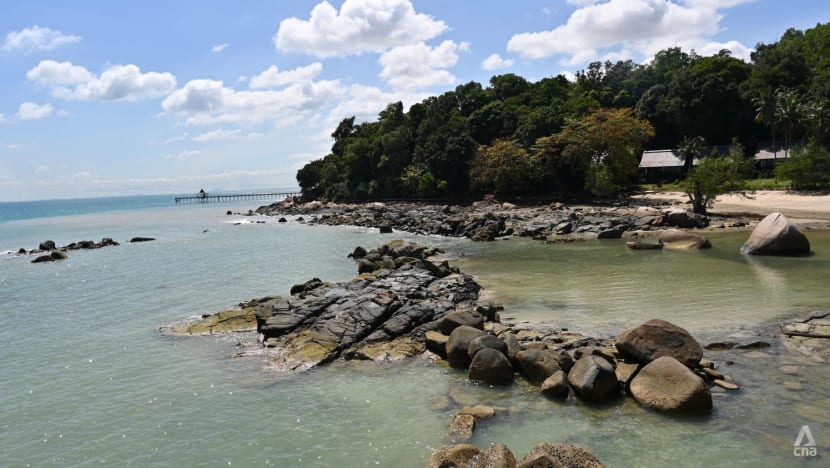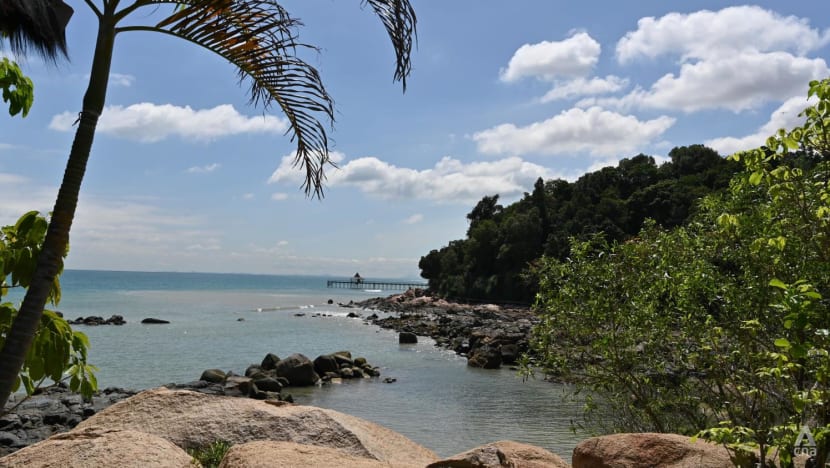 BATAM TO SINGAPORE
The next day, we reached Nongsapura ferry terminal at 11am, two hours before our ferry was scheduled to depart. 
Unsure of what to expect for our return trip and with just one ferry daily travelling to Singapore's Tanah Merah Ferry Terminal from Nongsapura, we decided that it would be wise to go earlier.
 
We weren't the only ones. Dozens of travellers were already at the terminal when we arrived.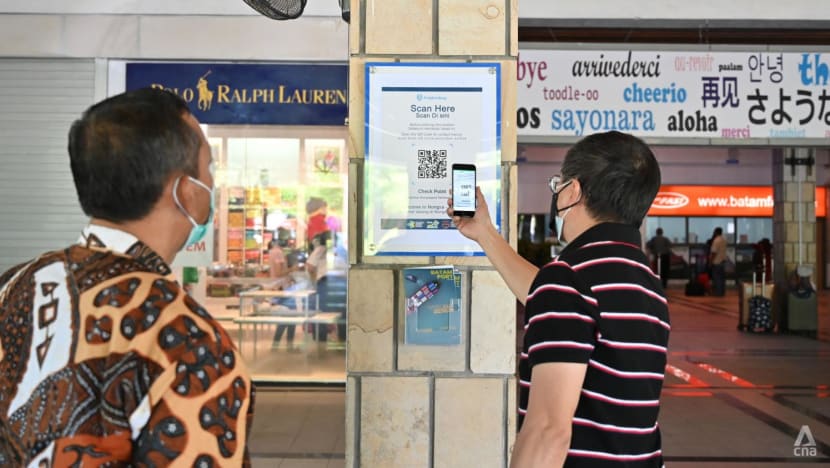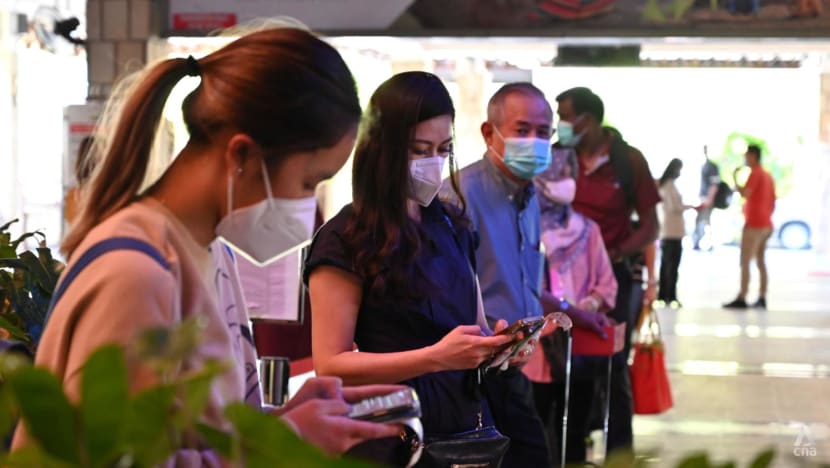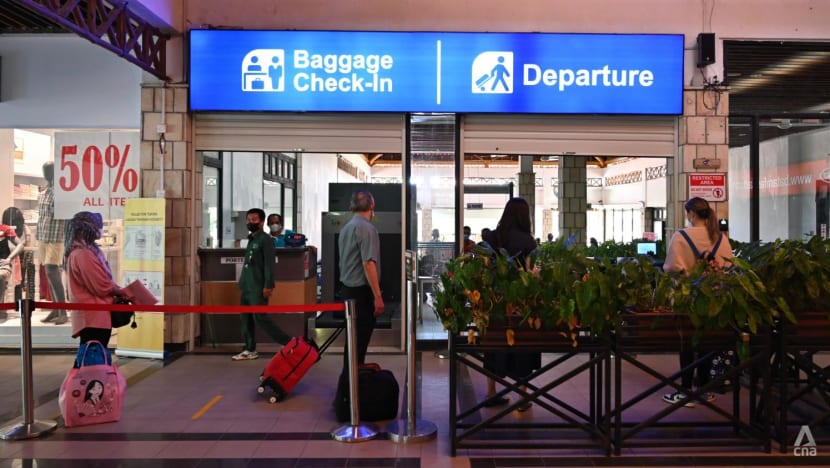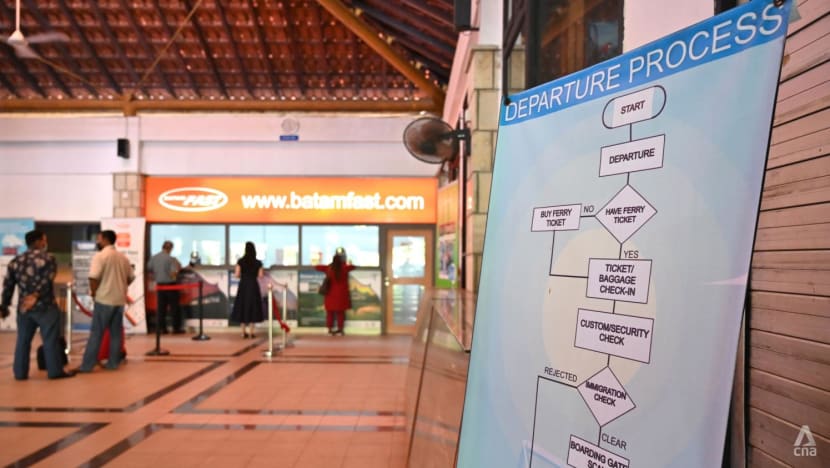 It was a relatively straightforward process. We had to check-in at the terminal via the PeduliLindungi app and take our temperatures, before getting our passport stamped and boarding passes checked. 
Overall, it was a lot smoother and quicker than we had expected, especially after having endured long waiting times the day before.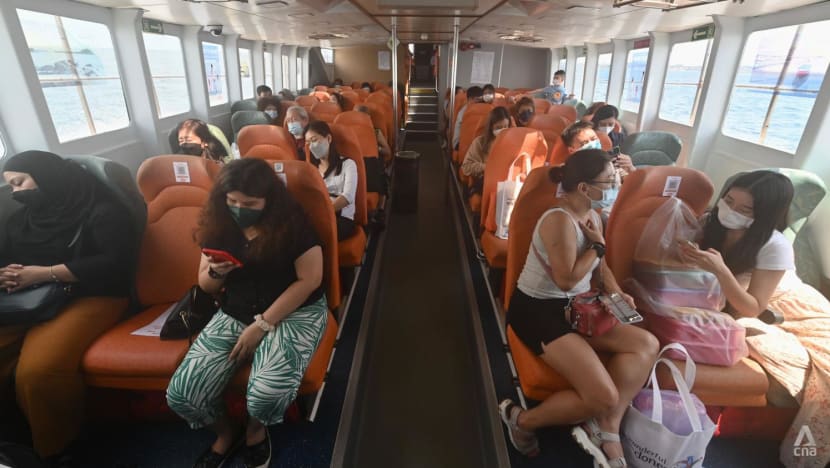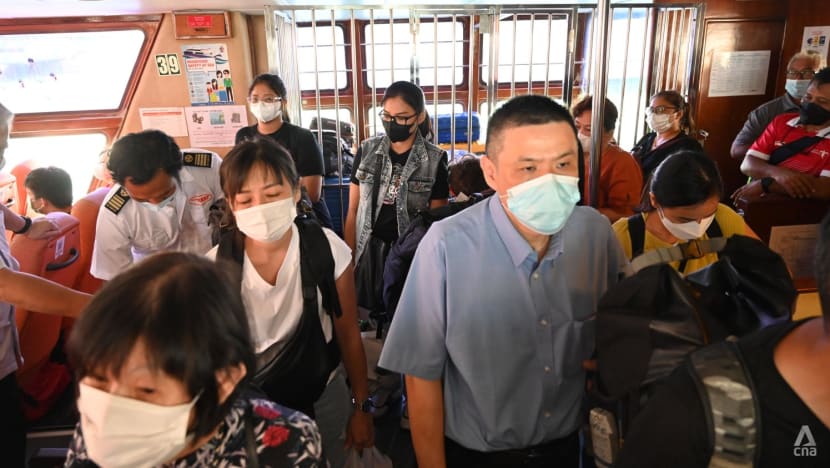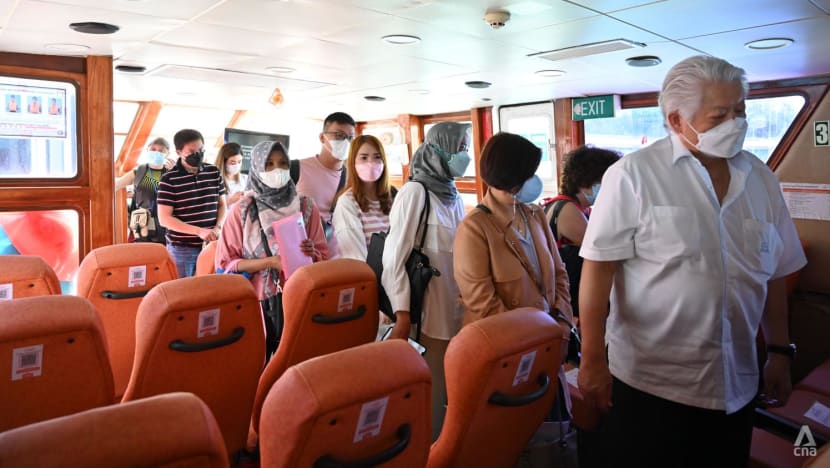 Forty minutes later, we arrived on the sunny shores of Singapore. 
Before entering the arrival hall at Tanah Merah Ferry Terminal, we had to fill up an electronic arrival card with a health declaration. Among other things, it required us to state where we had arrived from, mode of transportation, as well as our address in Singapore. 
After going through immigration and security checks, we were free to leave the terminal. We were told that we would receive a link to book a mandatory supervised antigen rapid test (ART) at either a quick test centre or combined test centres. 
According to Singapore's Immigration & Checkpoints Authority's (ICA) website, travellers must take an on-arrival COVID-19 ART test at dedicated centres within 24 hours of arrival. They must also remain self-isolated until their test result is confirmed to be negative.