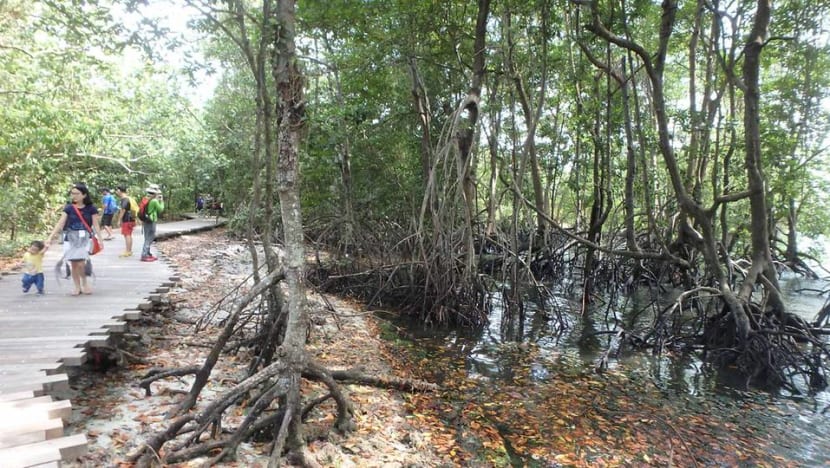 SINGAPORE: Three marine areas that include island clusters around Semakau and Satumu islands in southern Singapore have been proposed for immediate conservation.
This is one of six recommendations in the latest Singapore Blue Plan launched on Saturday (Oct 13).
The 220-page proposal by more than 100 environmentalists proposes ways to better protect marine ecosystems in Singapore.
The proposal, led by National University of Singapore marine biologists, with help from academics and environmental lawyers, took almost a year to develop.

One of the six recommendations include ways to conserve fragmented and small marine habitats more effectively in clusters or ecosystems.

Three such areas were proposed for "immediate conservation priority".

The first is a group of islands around Pulau Semakau, Pulau Hantu and Pulau Jong; another is the area around Pulau Satumu, where Raffles Lighthouse is located; and the third, Pulau Ubin's coastal areas including Chek Jawa.
The areas have significant biodiversity and integrate various habitats like seagrass meadows, reefs and coastal forests.

Elevated protection was also proposed for St John's Islands and Sungei Buloh Wetland Reserve.

There were also calls for stiffer laws to deter oil pollution from fishing vessels and illegal possession of protected aquatic and marine life.

The plan is based on the latest in marine conservation research, according to Dr Zeehan Jaafar, lead editor of the Singapore Blue Plan. 
In the 2009 Blue Plan, they recommended areas that were mostly coral reefs.  
And now, they have expanded studies on more habitat types such as mangrove areas and seagrass meadows. 
"There were several key areas which we recommended for protection, most of the areas were coral reefs. In the past 10 years, we have increased our studies on other marine habitats," Dr Jaafar said.
The Sisters' Islands Marine Park, which houses a turtle hatchery was part of the previous 2009 Blue Plan.

The plan also suggests that information about biodiversity, Singapore's marine ecosystems and the natural environment be incorporated into Singapore schools' syllabus.
"The success Singapore has had with the 'Garden City' concept should be expanded to include the sea," the report said.
At the launch, Minister for Social and Family Development Desmond Lee stressed the need to involve the community.

"It is only when the broader community of Singaporeans learn about and marvel at about our biodiversity – both on land and in the water that we can better appreciate it and actively help to protect it," said Mr Lee, who is also Second Minister for National Development.

He added: "You cannot protect what you don't love, and you can't love what you don't know."

The plan will be submitted to the Government for consideration next week.