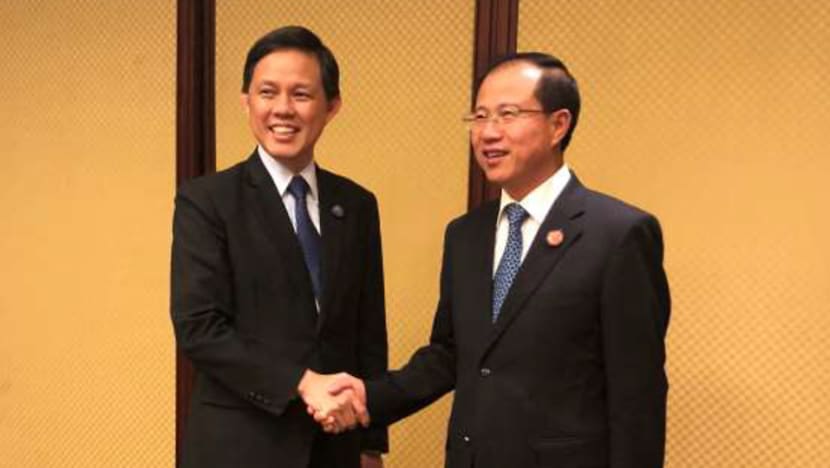 SHANGHAI: Singapore and China have concluded talks to upgrade the China-Singapore Free Trade Agreement (CSFTA), Singapore's Ministry of Trade and Industry (MTI) said in a statement on Monday (Nov 5).

This was announced following a meeting between Singapore's Trade and Industry Minister Chan Chun Sing and Fu Ziying, who is China's Vice Minister of Commerce and the China International Trade Representative, on Monday. The meeting took place on the sidelines of the China International Import Expo.

Under the current CSFTA, there are no tariffs on 95 per cent of Singapore's exports to China, while there are no tariffs on all Chinese exports to Singapore.

The upgraded CSFTA is expected to provide Singapore businesses with greater trade facilitation and investment protection in China.

It is also expected to provide Singapore businesses with improved market access and will cover cooperation in new areas, including legal and financial services, e-commerce and the environment.

Mr Chan said this development marks "an important step forward" for bilateral economic relations between Singapore and China. 

"The upgrade signals our joint commitment towards greater economic collaboration and trade liberalisation. Singapore businesses can expect to enjoy greater access to the vast Chinese market and greater certainty in their investments when the upgraded CSFTA takes effect," he said.
The CSFTA was the Chinese government's first such agreement with an Asian country.
Talks to upgrade the FTA, which entered into force in January 2009, have been three years in the making. They began after Chinese President Xi Jinping visited Singapore in November 2015.
In September, Singapore Deputy Prime Minister Teo Chee Hean had said that the signing of the upgraded pact is expected when Chinese Premier Li Keqiang visits Singapore for the ASEAN Summit next week. 
Singapore and China enjoy close economic ties, with total bilateral trade between the two countries reaching S$137.1 billion in 2017.

China was Singapore's largest trading partner, while Singapore was China's largest foreign investor for the fifth consecutive year since 2013.

More than a third of outward investments related to China's Belt and Road Initiative flows through Singapore.