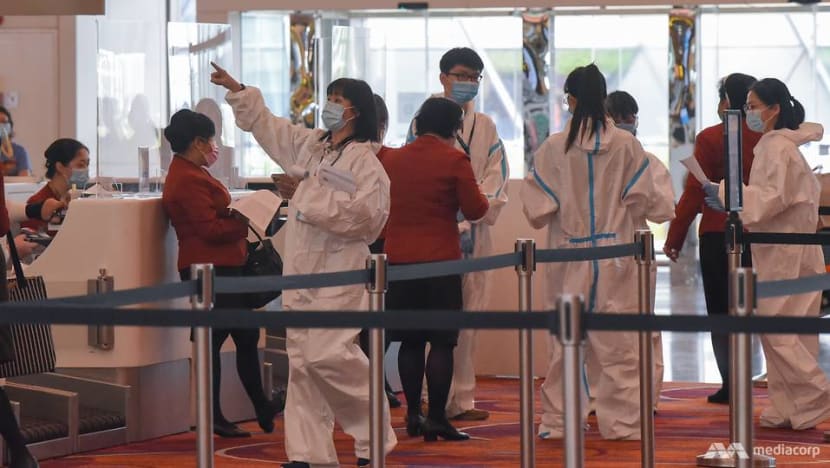 SINGAPORE: Singapore reported 33 new COVID-19 cases on Saturday (Jan 2), all imported infections, said the Ministry of Health (MOH).
This is the highest daily number since Sep 15, when there were 34 cases.

The imported cases include six permanent residents who returned from India and Indonesia. 
Five are dependant's pass holders who arrived from India and the United States. Among them are children aged 3, 6 and 12 who are contacts of previous cases.
Two are long-term visit pass holders who arrived from Egypt and India, while six are work pass holders who arrived from India and Myanmar.
There were 12 work permit holders who arrived from Malaysia, Indonesia, Myanmar, Bangladesh and the Philippines, of which nine are foreign domestic workers. 
A student's pass holder had arrived from India, while the remaining case is a short-term visit pass holder who arrived from Indonesia to visit her Singaporean parent. 
All of them were placed on stay-home notice or isolated upon their arrival in Singapore, said MOH.

No locally transmitted cases were reported on Saturday.  
Overall, the number of new cases in the community has increased from one case in the week before to 10 cases in the past week, said the Health Ministry. 

Seventeen more cases of COVID-19 have been discharged from hospitals or community isolation facilities, taking the total recoveries to 58,476.
There are 61 cases who are still in hospital. Most are stable or improving, with one case in critical condition in the intensive care unit.
A total of 96 are being isolated and cared for at community facilities. These are those who have mild symptoms or are clinically well but still test positive for COVID-19.
The total number of cases in Singapore now stands at 58,662.

MARINE WORKERS MAY HAVE BREACHED PRECAUTIONARY MEASURES
Singapore authorities are investigating if two marine sector employees who recently tested positive for COVID-19 had breached safe management measures at work. 
The two employees are the marine surveyor at Lloyd's Register Singapore who tested positive on Dec 29, and the marine service engineer at Master Systems Marine who tested positive on Nov 26.
The marine surveyor is among four people in a new cluster involving two Raffles Girls' School students, while the marine service engineer had dinner with 12 family members at a Seoul Garden outlet days before he tested positive.

"Preliminary investigations reveal that the marine surveyor, like the marine service engineer who tested positive for COVID-19 infection earlier on Nov 26, consumed food provided by or with the crew onboard the ships, which was against a precautionary measure," said a joint media release on Saturday.
A harbour pilot who works at PSA Marine was also among the recent COVID-19 cases in the sector. He is among four cases in a family cluster, three of whom are from the same household at Marine Crescent. 

In light of these infections, MPA will tighten the testing regime for all shore-based personnel going onboard ships, covering more than 20,000 personnel.

They will need to take a COVID-19 polymerase chain reaction (PCR) test within the next seven days - between Jan 2 and 8 - to ensure that they are clear of the virus.
They will also have to undergo rostered routine testing every seven days instead of 14 days.
MANDARIN ORCHARD TO REOPEN
On Friday, MOH said that Mandarin Orchard had been approved to reopen after investigations found no further transmission beyond the 13 imported COVID-19 cases who served stay-home notice at the hotel.
All hotel staff tested negative for COVID-19 using the polymerase chain reaction (PCR) test, while serological tests of 11 employees are positive, indicating likely past infections.
"These findings indicate that there is no ongoing transmission at Mandarin Orchard Singapore," said MOH.

Download our app or subscribe to our Telegram channel for the latest updates on the coronavirus outbreak: https://cna.asia/telegram