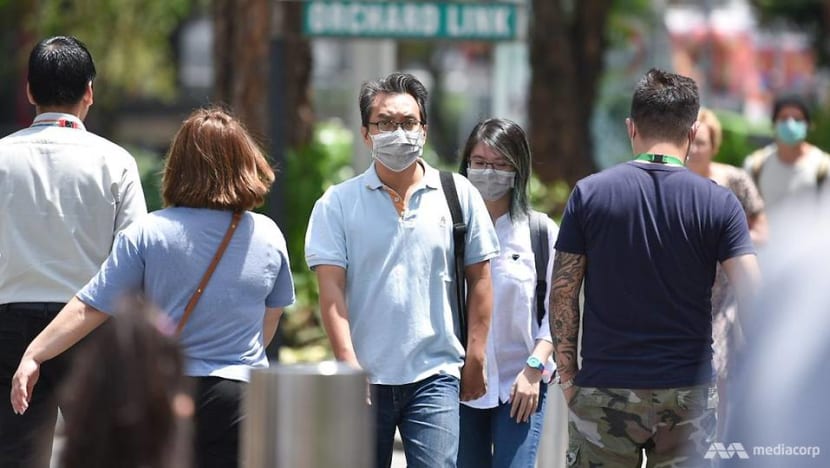 SINGAPORE: Singapore reported 41 new COVID-19 infections on Monday (Aug 31), including three in the community. Two are work permit holders and one is a work pass holder.  

There are also seven imported cases. All were placed on 14-day stay-home notice upon arrival in Singapore, and were tested while serving their notice.

This brings Singapore's tally to 56,812.

COMMUNITY CASES
All three new infections in the community are asymptomatic and unlinked to other cases. They comprise a 36-year-old Malaysian, and two Indian nationals aged 40 and 45.
The three men were detected as COVID-19 cases through rostered routine testing of workers in the construction, marine and process sectors who are living outside the dormitories, said MOH.

The serology tests for the Malaysian and 40-year-old Indian national came back positive, which indicate likely past infection, said the ministry. 
Epidemiological investigations of the three unlinked cases are in progress, MOH added.
In the meantime, all identified close contacts of the cases have been isolated and placed on quarantine. They will be tested at the start and end of their quarantine period to detect asymptomatic cases, said the ministry.
"We will also conduct serological tests for their household contacts to determine if they could have been infected by them," said MOH.

In addition, MOH said it was informed that a former care staff at Lee Ah Mooi Old Age Home at Silat Avenue tested positive for COVID-19 on Aug 30 in the Philippines.
The staff member's last day at the nursing home was Aug 26. She had not displayed any symptoms of acute respiratory infection while she was at work, said MOH.
"As a precautionary measure, MOH and the Agency for Integrated Care (AIC) have worked with Lee Ah Mooi Old Age Home (Silat) to test 90 staff and residents who were identified as possible contacts of the case. The test results of all 90 individuals have come back negative for COVID-19," the ministry said.

All physical visits to the nursing home at 148A Silat Avenue have been suspended until further notice, the Agency for Integrated Care (AIC) said in a separate statement on Monday.
AIC added that the nursing home has "thoroughly cleaned and disinfected" the ward and affected areas, and will be enhancing its staff's use of personal protective equipment.

Overall, the number of new cases in the community has increased, from an average of two cases per day in the week before, to an average of three per day in the past week, said MOH.

The number of unlinked cases in the community has remained stable at an average of one case per day in the past two weeks.

IMPORTED CASES
The seven imported cases comprise two Singaporeans, four permanent residents and a work permit holder. All are asymptomatic and were confirmed as COVID-19 cases on Aug 30.
The two Singaporeans are a 64-year-old woman and a 24-year-old man who travelled from India. Three permanent residents - a 47-year-old man, 49-year-old woman and 36-year-old woman -  also travelled from India. These five cases returned to Singapore between Aug 17 and Aug 19.
Another 42-year-old female work permit holder currently employed in Singapore also travelled from India. She returned to Singapore on Aug 19.
The remaining imported case is a 53-year-old male permanent resident who travelled from Malaysia. He returned to Singapore on Aug 17.

All of them had been placed on 14-day stay-home notice upon arrival in Singapore, and were tested while serving their notice at dedicated facilities.

There are also 31 new cases residing in migrant worker dormitories. Sixteen of them had been identified as contacts of previous cases and were tested while under quarantine.
The remaining 15 cases residing in dormitories were detected through rostered routine testing.
Another 72 cases were discharged on Monday, bringing the total number who have fully recovered from the infection and have been discharged to 55,658.
There are currently 78 cases who are still in hospital. Of these, most are stable or improving, and none is in the intensive care unit.
The number of cases isolated and cared for at community facilities is 1,049.
The number of people who have passed away from complications due to COVID-19 remains at 27.
CLUSTER AT CAMERA STORE
On Sunday, MOH reported a new COVID-19 cluster at SLR Revolution at Excelsior Shopping Centre. 
The camera shop has been linked to at least four infections, including two of the shop's employees. 
MOH said on Sunday that it had so far identified and contacted 240 people who visited SLR Revolution between Aug 15 and Aug 20 and facilitated COVID-19 testing for all of them, "even though the risk of infection for visitors is assessed to be low".

Of the 240 people, 224 have been swabbed so far, and their results are pending. MOH said it is facilitating testing for the remaining individuals.

Download our app or subscribe to our Telegram channel for the latest updates on the coronavirus outbreak: https://cna.asia/telegram