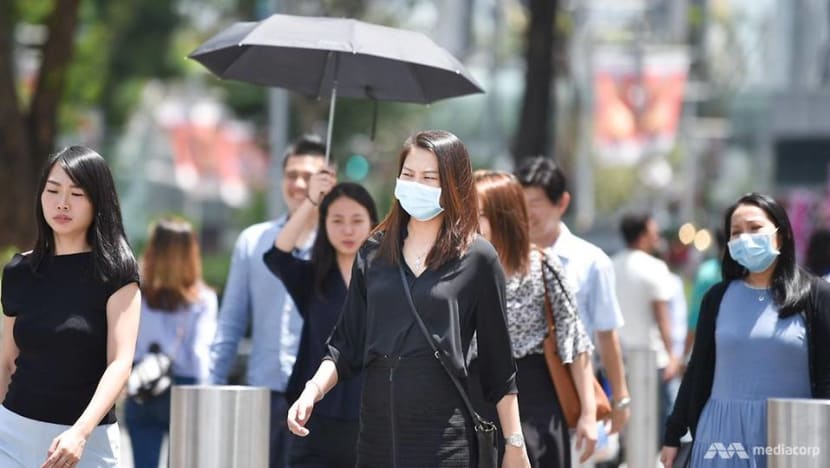 SINGAPORE: After seeing its economy grow at a decade-low of 0.7 per cent last year, Singapore is expecting possibly even slower growth in 2020 and has downgraded its gross domestic product (GDP) forecast amid concerns about the ongoing COVID-19 outbreak.
Economic growth for this year is expected to come in at around 0.5 per cent, the mid-point of a new estimated range of between -0.5 per cent and 1.5 per cent, said the Ministry of Trade and Industry (MTI) on Monday (Feb 17).
The previous forecast range announced last November was 0.5 per cent to 2.5 per cent.
Singapore has so far confirmed 75 cases of the novel coronavirus, with authorities earlier this month raising the Disease Outbreak Response System Condition (DORSCON) to Orange.
Last week, Prime Minister Lee Hsien Loong warned that the ongoing COVID-19 outbreak will have a significant impact on the local economy for the next couple of quarters.
MTI said its earlier forecast was premised on a modest pick-up in global growth and a recovery in the global electronics cycle this year.
However, the outbreak of COVID-19 has affected many countries around the world, including Singapore, and is likely to dampen the growth prospects of China and those impacted.

In China, GDP growth in 2020 will likely come in lower than earlier projected due to a pullback in household consumption as a result of the lockdowns and travel restrictions implemented in several major Chinese cities to contain the spread of the novel coronavirus, it said.
Industrial production has also been disrupted due to work stoppages and delays arising from these containment measures, MTI noted in its report.
These will, in turn, have a knock-on impact on regional economies through lower outbound tourism and other import demand from China, as well as disruptions to supply chains, it added.
"Should the COVID-19 outbreak be more widespread, severe and protracted than anticipated, there could be a sharper pullback in global consumption, as well as more prolonged disruptions to global supply chains and production," the report said.

MTI also cautioned that a sharper-than-expected economic slowdown in China due to the virus outbreak will negatively affect global trade and economic growth.

At the same time, other uncertainties in the global economy remain, such as the US-China trade war and geopolitical tensions in the Middle East, it added.
As a result, the outlook for the Singapore economy has weakened since its last review in November, the ministry said, adding that the ongoing COVID-19 situation could impact the local economy through several channels.
First, the outward-oriented sectors, such as manufacturing and wholesale trade, will be affected by the weaker growth outlook in several of Singapore's key final demand markets, including China.
Firms in these sectors could also be affected by supply chain disruptions arising from prolonged factory closures and labour shortages in China.
Second, there has been a sharp fall in tourist arrivals, particularly from China, and this has badly affected the local tourism and transport sectors.
Third, domestic consumption is likely to decline as locals cut back on shopping and dining-out activities. This will adversely affect firms in segments such as retail and food services, the ministry noted.
MTI permanent secretary Gabriel Lim said at a press conference that the hit on GDP growth is likely to be felt during the first two quarters of the year, although the impact through these three channels could play out further down the road and will need to be closely watched.
The ministry emphasised that while its latest GDP forecast range includes the possibility of a recession, that is not its central scenario and its baseline view is for the economy to see positive growth at around 0.5 per cent for 2020.
"As the COVID-19 situation is still evolving, there is a significant degree of uncertainty over the length and severity of the outbreak, and hence its overall impact on the Singapore economy," Mr Lim said.
"MTI will continue to monitor developments and their impact on the Singapore economy closely."
The Monetary Authority of Singapore (MAS) said its monetary policy remains unchanged, as it had highlighted in a statement earlier this month.
The central bank is monitoring developments very closely and its next policy review remains as scheduled in April, its deputy managing director Edward Robinson told reporters.
2019 GROWTH SLOWEST IN A DECADE
MTI's report on Monday also showed the Singapore economy expanded by 1 per cent year-on-year in the last quarter of 2019, slightly above the Government's initial estimate of 0.8 per cent and the 0.7 per cent growth in the earlier quarter.
On a quarter-on-quarter seasonally adjusted annualised basis, growth came in at 0.6 per cent. This is way below the 2.2 per cent expansion in the third quarter, but above the 0.1 per cent flash estimate.

This brings the full-year growth in 2019 to 0.7 per cent, a sharp slowdown from 2018's 3.4 per cent and hitting the country's lowest growth since the global financial crisis in 2009.
The manufacturing sector was the biggest laggard last year. It contracted by 1.4 per cent, reversing from 2018's 7 per cent growth, due to output declines in the electronics, chemicals, precision engineering and transport engineering clusters.
Construction expanded by 2.8 per cent, turning around from the 3.5 per cent contraction in 2018, supported by both public sector and private sector construction works.
The services producing industries also grew by 1.1 per cent, albeit moderating from the 3.4 per cent growth in 2018. Growth largely came from the finance and insurance, other services and business services sectors.
For this year, there are still expectations for a "modest growth" in the manufacturing sector, although authorities are closely watching for the impact of COVID-19 on clusters, such as electronics, which have been showing some signs of a tentative rebound, said Economic Development Board's assistant managing director Kelvin Wong.
There are also pockets of relative strength in the Singapore economy, such as the construction sector which is projected to post steady growth given the rebound in construction demand since 2018.
The information and communications sector is also expected to be resilient on account of sustained enterprise demand for IT solutions, MTI said.

ALL EYES ON "STRONG" BUDGET 2020 
Given how the economy is likely to feel the strain from the flu-like virus, economists say a "strong" relief package will likely be announced on Tuesday as part of the Budget, as the Government had promised.
Maybank Kim Eng economists, for instance, are pencilling help of at least S$700 million – way higher than the S$230 million relief package released during 2003's severe acute respiratory syndrome outbreak.
Measures to support the hardest-hit sectors may range from tax rebates for commercial, retail and hotels, lower foreign worker levies for tourism-related sectors to bridging loans for smaller firms. The two integrated resorts, which did not exist in 2003, could also receive tax reliefs, the economists said.
DBS senior economist Irvin Seah is expecting the Government to put forth an overall deficit of about S$7.9 billion in Budget 2020, the biggest in a decade.
"A strong fiscal response is expected to mitigate the impact of the virus outbreak," he wrote in a note.
OCBC Bank head of treasury research and strategy Selena Ling also expects an overall budget deficit of about S$8 billion, which will include a "sizeable COVID-19 relief package and a GST offset package".
And if the deadly virus chills growth further, monetary policy easing will likely be on the cards.
Ms Ling said: "Policymakers are also cognizant of the downside growth risks so a strong Budget response and/or monetary policy response in April may help to mitigate and cushion some of the downside risks.
"At this juncture, we do not rule out the possibility of the MAS reverting to a zero appreciation path for the S$NEER (Singapore dollar nominal effective exchange rate) and regard a re-centering lower as the lower-probability event," she added.
Separately on Monday, Enterprise Singapore cut its 2020 forecasts for non-oil domestic exports (NODX) and total merchandise trade, citing likely impact of the novel coronavirus outbreak on its trading partners and lower oil prices.
Both NODX and total merchandise are now expected to come in between -0.5 per cent to 1.5 per cent this year, down from an earlier projection of zero to 2 per cent growth.

Download our app or subscribe to our Telegram channel for the latest updates on the Wuhan virus outbreak: https://cna.asia/telegram