Singapore extends port limits off Tuas, won't hesitate to take action against Malaysia intrusions: Khaw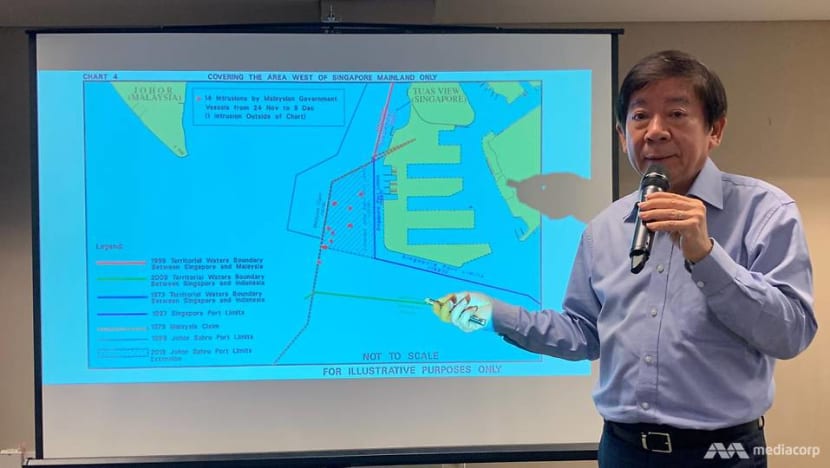 Singapore had protested the repeated intrusions via three Third Party Notes, he added. 
Mr Khaw said Singapore's security agencies will continue to patrol the area and respond to unauthorised activities on the ground.
He said the agencies have so far responded "with restraint against aggressive actions by the Malaysian government vessels", but added that Singapore "cannot allow our sovereignty to be violated, or new facts on the ground to be created".
"Therefore, if it becomes necessary, we will not hesitate to take firm actions against intrusions and unauthorised activities in our waters to protect our territory and sovereignty," said Mr Khaw. 
The minister also announced that Singapore has decided to extend its port limits off Tuas. 
"In view of these recent provocative developments, we have decided to extend the Singapore Port Limits off Tuas via Maritime and Port Authority of Singapore (Port Limits) (Amendment) Notification 2018," said Mr Khaw. 
"This extension is well within Singapore Territorial Waters, and tracks the eastern boundary of the 1999 Johor Bahru Port Limits. 
"The Gazette takes effect from today," he added. 

"BLATANT PROVOCATION"
In 1979, Malaysia published a map showing the limits of the territorial waters which it claimed, which included its claim on Pedra Branca, as well as on areas at the eastern and western approaches to Singapore, Mr Khaw said at the media conference.
Singapore had protested to Malaysia to reject its claim on Pedra Branca and also "stated categorically that these new boundary lines violated Singapore's sovereignty and were unacceptable to Singapore", he said. 
Nevertheless, in 1987, Malaysia went on to publish the Johor Bahru Port Limits that followed this claimed boundary line, and made slight amendments later in 1999. Since then, for 20 years, the 1999 Johor Bahru Port Limits have remained intact. 
However, on Oct 25, the limits were "unilaterally and arbitrarily extended", Mr Khaw said. 
"Quite apart from the fact that Singapore has never accepted their 1979 territorial claims, the recent purported extension of the Johor Bahru port limits goes beyond what even Malaysia itself claimed as its territorial waters," he said.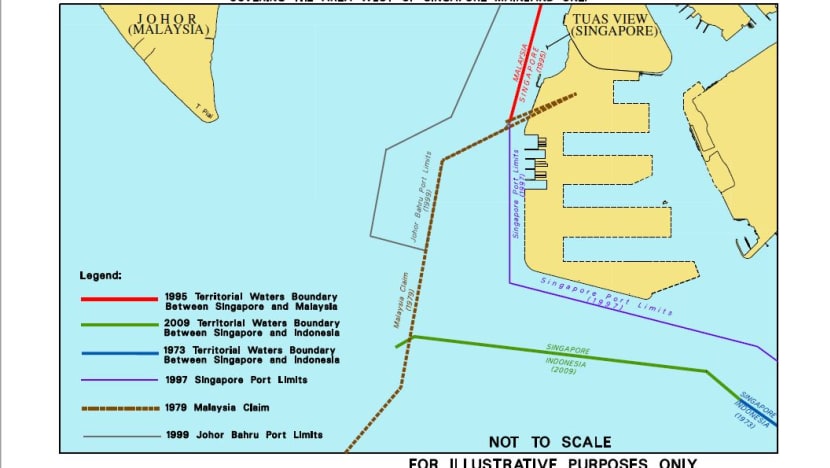 According to Mr Khaw, Singapore has - since at least 1999 - been exercising its jurisdiction in the waters now covered by the recent extension of the port limits. 

"We have been patrolling the area regularly, and protested any intrusions or unauthorised activities. Malaysia has never laid claim to these waters, or protested our actions there," he said. 

"Now, out of the blue, Malaysia is claiming these territorial waters that belong to Singapore. Without any prior consultations, Malaysia is seeking to alter unilaterally the long-standing status quo in the area. 

"This is a blatant provocation and a serious violation of our sovereignty and international law," he added. 
The transport minister noted that "countries do amend their port limits from time to time". 
"But they must do so in a way that does not contravene international law or infringe on the sovereignty of another country," he said, adding that the last time Singapore amended its port limits was in 1997.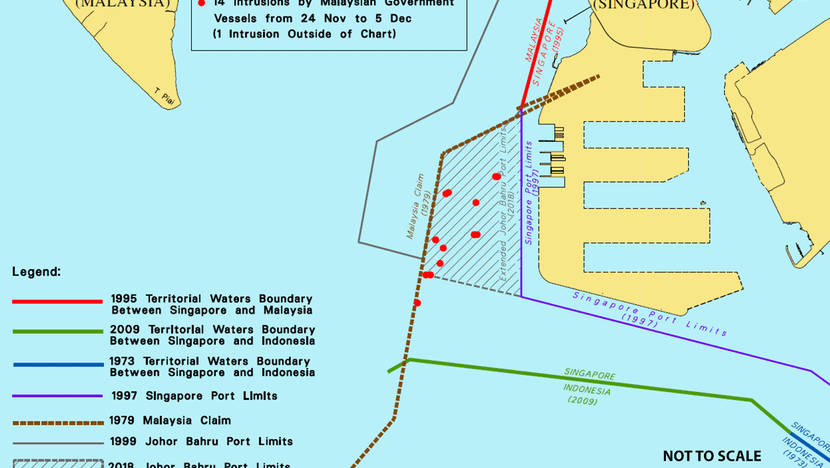 "LEAVE OUR WATERS. IT'S AS SIMPLE AS THAT" 
When asked by reporters what Singapore's next course of action would be, should the Malaysian vessels not leave its waters, Mr Khaw said that if necessary, Singapore would be firmer.

Stressing that it was clear that "they should not be there", the minister said Singapore's security agencies "know what to do".
"Our security agencies know what to do. I think we'll leave it in their capable hands," he said.
"But as I said, we will continue to exercise restraint, hopefully good sense will prevail, but if necessary we have to be firmer," he added. "So the best next step I think for (the Malaysian vessels): Leave our waters. It's as simple as that."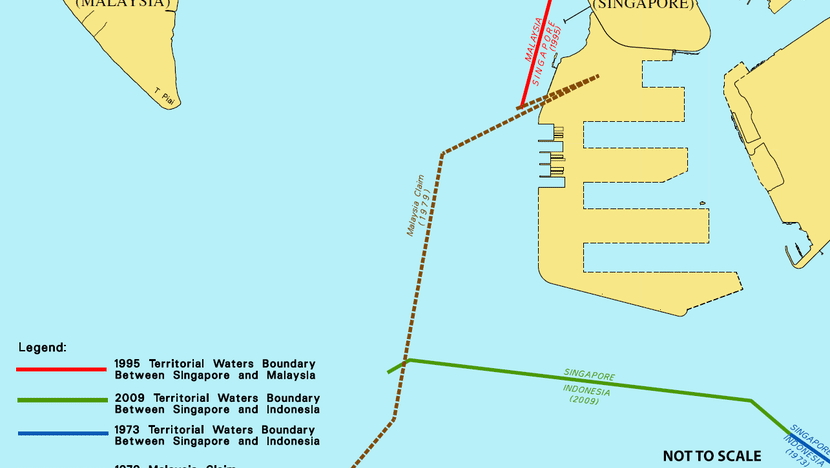 Singapore's and Malaysia's leaders discussed this issue when they met a few weeks ago, added Mr Khaw.
"When Dr Mahathir visited us a few weeks ago, this topic, PM Lee raised this … alerted him to this issue, that potentially this can be a difficult issue," he said. "So let us manage it properly, and hopefully good sense will prevail."