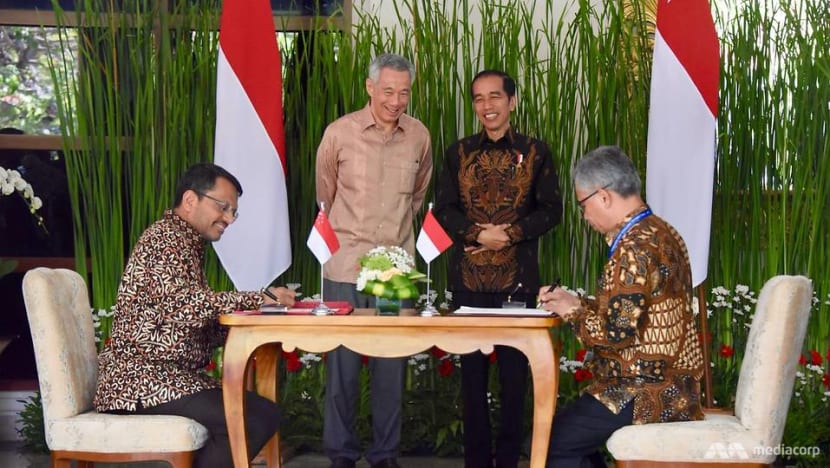 BALI: Singapore and Indonesia have signed a bilateral investment treaty (BIT) and four memorandums of understanding (MOU) at the Leaders' Retreat between the two countries in Bali on Thursday (Oct 11).

The BIT, which promotes and protects investments between the countries, was signed by Singapore's Minister for Trade and Industry Chan Chun Sing and Indonesian Minister for Foreign Affairs Retno Marsudi.

The signing was witnessed by Prime Minister Lee Hsien Loong and Indonesian President Joko Widodo at the Laguna Luxury Hotel in Nusa Dua. 

According to Singapore's Ministry of Trade and Industry (MTI), the treaty will protect investors' interests and reinforce the strong economic ties and cooperation between Singapore and Indonesia. 

"This is especially significant as Singapore has been the top investor in Indonesia since 2014, with realised investments reaching US$8.4 billion in 2017," MTI added. 

The agreement also establishes rules on how Indonesia should treat investments and investors from Singapore and vice-versa. 

Singapore companies operating in Indonesia will enjoy protection and have access to international arbitration in the event of investment disputes and the same will be extended to Indonesia companies operating in Singapore. 

MTI highlighted that the BIT will complement the ASEAN Comprehensive Investment Agreement (ACIA) to promote greater investment flows between Singapore and Indonesia by giving investors certainty and confidence.

Commenting on the agreement, Mr Chan said: "Singapore has robust and long-standing economic ties with Indonesia and I'm glad that both countries remain committed to strengthening our economic relations. 

"The signing of this BIT can boost the confidence of investors venturing into Indonesia, leading to greater trade and investment flows between our two countries."

Singapore is Indonesia's third largest trading partner, after trade between the two countries totalled S$59.4 billion in 2017. 

Indonesia is Singapore's sixth largest trading partner after China, Malaysia, US, Hong Kong and Taiwan.

On top of the BIT, the two countries also signed an MOU on Industry 4.0 between Enterprise Singapore and Indonesia's Ministry of Industry. 

The MOU creates opportunities for both parties to learn from each other in response to the Fourth Industrial Revolution. 

In the tourism sector, an MOU was signed between cruise companies Pelindo III and Star Cruises to encourage more cruises and facilitate the upgrading of Celukan Bawang port in Bali as well as explore the upgrading of other ports managed by Pelindo III, such as the Tanjung Priok port in north Jakarta.

A third MOU was signed between the Indonesian Financial Services Authority and the Monetary Authority of Singapore to strengthen cooperation in financial technology and foster innovation in financial services between both countries. 

Lastly, Singapore's Ngee Ann Polytechnic and the Indonesian Ministry of Research, Technology and Higher Education's Directorage General of Learning and Student Affairs signed an MOU on financial technology learning for higher education providers. 

Additionally, agreements were made to boost ties in cultural cooperation, human resource development as well as defence and security. 
Speaking at a joint press statement after the agreements were signed, Mr Lee said: "We have accomplished much together in last few years under President Jokowi's leadership. We can do much more together for the long-term benefit of our people.

"Our cooperation will continue during the next few months and I'm sure after next year's (Indonesia presidential election) we will pick up again and grow in the years ahead." 

President Widodo also expressed thanks for Singapore's assistance during the recent natural disasters Indonesia faced. 

"Singapore was one of the first countries to offer help when Palu, Lombok and Donggala were hit by earthquake and tsunami. I would like to say thank you, for the sympathy and solidarity that Singapore showed," he added.