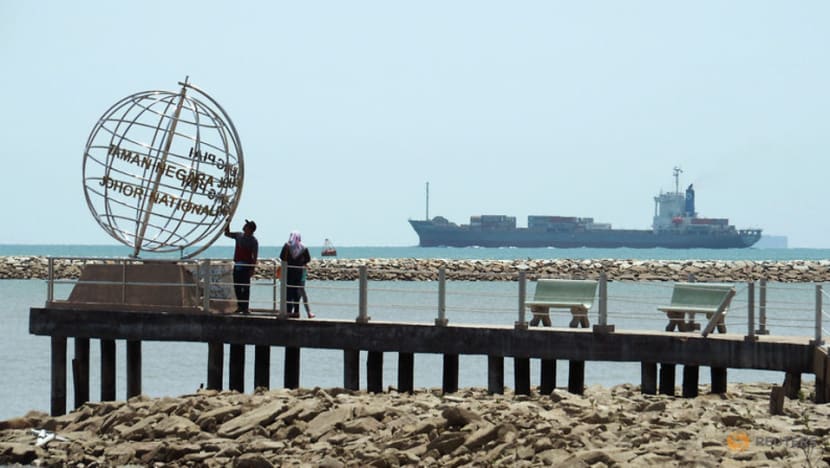 SINGAPORE: Singapore has lodged a "strong protest" with the Malaysian government over its move to extend the Johor Bahru port limits "in a manner which encroaches into Singapore's territorial waters off Tuas", said Singapore's Ministry of Transport (MOT) in a media statement on Tuesday (Dec 4).

Changes to the port limits were announced through Malaysia's Federal Government Gazette on Oct 25, 2018, in a document published by the Attorney General's Chambers. 
Singapore said it has requested that Malaysia refrain from taking any further unilateral action, and to amend the gazette notification "to reflect the sovereignty of Singapore over the waters in question". 
The Maritime and Port Authority of Singapore has also issued a circular on Nov 30, instructing ship masters and owners of vessels to disregard Malaysia's gazette notification.

Singapore's Transport Ministry added that Malaysian vessels - from the Malaysian Maritime Enforcement Agency and Marine Department Malaysia - have repeatedly intruded into Singapore's territorial waters off Tuas over the past two weeks.
"Singapore has protested the unauthorised movements of, and purported assertions of sovereignty by these vessels, which are inconsistent with international law," said the MOT statement.
"The Republic of Singapore Navy and the Police Coast Guard are safeguarding the sovereignty of Singapore territorial waters and enforcing the security of these waters on a 24/7 basis. Singapore will not hesitate to take firm action against intrusions and unauthorised activities in our waters."
The statement added that the actions by Malaysia are "a serious violation of Singapore's sovereignty and international law".
"These actions are unconducive to good bilateral relations, cause confusion for the international shipping community, and lead to increased navigational and safety risks for all parties," MOT said.

"Singapore stands ready to engage with Malaysia to resolve these matters amicably, in accordance with international law."

"WE HOPE GOOD SENSE WILL PREVAIL": KHAW BOON WAN
Speaking to reporters on Tuesday, Singapore's Transport Minister Khaw Boon Wan said he had raised the issue with his Malaysian counterpart Anthony Loke.
"Minister Anthony Loke told me it was a move on the part of their foreign affairs (ministry), and that their ministry will reply to us. But while waiting for the response, which didn't come, in fact, they escalated actions. 
"They went on to publish a port circular and a few weeks later, a mariners note - instructions to the shipping community about their new boundaries - so we issued a second TPN (Third Person Note)," said Mr Khaw. 
"We hope that good sense will prevail because if we carry on like this, certainly it's not conducive."
Singapore on Tuesday also responded to remarks by Mr Loke who said that Malaysia wants to reclaim its "delegated airspace" in southern Johor. 
The current airspace arrangements over southern Johor have benefitted both Singapore and Malaysia, and any changes will impact many stakeholders, said Singapore's Transport Ministry. 

It also pointed out that procedures for aircraft landing at Seletar Airport were designed to align with existing flight profiles into the airport which "have been used for decades". 

The procedures take into account existing structures at Pasir Gudang and "do not impose any additional impact on other airspace users as well as businesses and residents in Johor", said MOT.