Singapore maintains 2021 GDP forecast at 4% to 6% due to 'heightened uncertainties' from COVID-19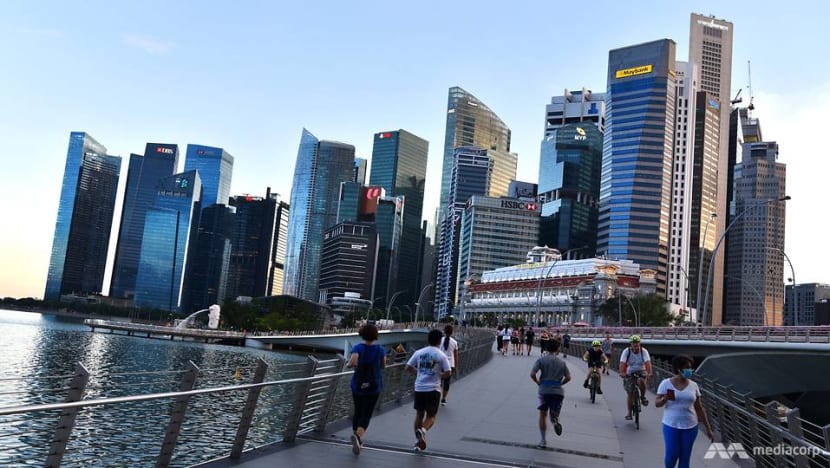 SINGAPORE: Singapore has maintained its growth forecast for 2021 at a range of 4 to 6 per cent in view of "heightened uncertainties" arising from the COVID-19 pandemic, the Ministry of Trade and Industry (MTI) said on Tuesday (May 25).
The forecast will be reviewed again in the next quarter when there is "more data and greater clarity" over the global and domestic economic situations, it added.

The decision comes despite data showing the economy putting up a stronger-than-expected showing in the first quarter of the year.

Gross domestic product grew by 1.3 per cent year-on-year between January and March, propped up by gains in the manufacturing, finance and insurance, and wholesale trade sectors.

This was much higher than the advance estimates of 0.2 per cent growth and marked Singapore's first quarterly expansion since the pandemic erupted a year ago.

On a quarter-on-quarter seasonally adjusted basis, the economy grew by 3.1 per cent between January and March, also surpassing the advance forecast of 2 per cent growth.

TIGHTER CURBS A SETBACK FOR SOME SECTORS

In its report, MTI said the external economic environment has improved since February, even though the pandemic continues to disrupt economic activities around the world.

Following a stronger-than-expected performance in the first quarter, the domestic economy "should still see a recovery this year" amid the global economic rebound and further progress in the local vaccination programme.

That said, the recent tightening of COVID-19 curbs marks a setback for some sectors, it added.

To combat a recent spike in local COVID-19 infections, Singapore entered what authorities called a "heightened alert" of Phase 2 on May 16, which included a new limit of two people for all social gatherings, a ban on dining in at restaurants and a return to working from home as the default. This slew of measures will be in place until Jun 13.
Singapore has also tightened border controls, including a ban on long-term pass holders and short-term visitors from India where the outbreak has worsened.

These will likely lead to a recovery that is "more uneven than earlier expected", MTI said in its quarterly report.

For instance, outward-oriented sectors including manufacturing and wholesale trade, are expected to benefit from the pick-up in external demand.

But tourism and aviation-related sectors are set to see further delays in recovery given the slower lifting of global travel curbs and the recent cut in capacity limits at local attractions. Activity in these sectors will remain "significantly below pre-COVID levels" even by the end of the year, the ministry added.

The recovery in the construction and marine and offshore engineering sectors will also be significantly impeded by severe manpower shortages. These have been exacerbated by the latest border restrictions and the need to comply with safe management measures, MTI said.
SIGNIFICANT DOWNSIDE RISKS

MTI also flagged "significant downside risks" that could stand in the way of the Singapore economy outperforming the 4 per cent to 6 per cent forecast range for this year.

Top on the list is the trajectory of the COVID-19 pandemic, with countries experiencing recurring waves of infections given the emergence of more transmissible strains of the virus, the easing of safety restrictions and delays in vaccinating populations.

These resurgences, as well as the countries' public health responses, will inevitably affect their economic growth, MTI said. 
"As these countries include some of our major economic partners in our region, the uncertainty in their outlook also affects Singapore," it added.
There are also significant risks and uncertainties when it comes to the local COVID-19 situation, even though it is "generally well under control" with "good progress" being made with the vaccination of the population.

"These non-economic risks can have a major impact on our GDP growth this year," the ministry said.

MTI's Permanent Secretary Gabriel Lim said the decision to maintain the existing forecast range is "reasonable at this point in time", and does not indicate a bullish outlook.

He added that the stricter restrictions on social gatherings and dine-ins will impact some sectors such as retail and F&B, but it is "not something that necessitates at this point in time a downgrade in the overall forecast".

At the same time, there are other sectors in the economy that are not affected by these curbs, with some like manufacturing still having a "reasonably strong" outlook.

"We believe that holding on at 4 to 6 per cent is reasonable at this point in time based on what we know, and we think that it is also enough to accommodate some of the downside risks that are mentioned," said Mr Lim.

Asked about the outlook for the local labour market, a Ministry of Manpower (MOM) official said recovery will likely continue to be a gradual one.

Mr Kenny Tan, the ministry's divisional director of manpower planning and policy division, noted some "directional improvements", such as total employment in Singapore expanding in the first quarter of this year after four straight quarters of declines.

But the looming uncertainties and an uneven recovery could see businesses holding off hiring.

"A combination of these effects means that labour market recovery will continue to still be gradual and there'll still be some uncertainty in terms of whether employees are prepared to add a permanent headcount to their workforce."

On monetary policy, the central bank said its decision last month to maintain a zero rate of appreciation for its exchange rate-based monetary policy remains appropriate.

"The April policy statement had emphasised the risks to the outlook – both downsides and upsides," said Mr Edward Robinson, the Monetary Authority of Singapore's (MAS) deputy managing director. "In policy formulation for monetary policy, we do careful scenario analysis to confirm the robustness of the policy stance to short term uncertainty around the baseline."

The MAS will have its next monetary policy meeting in October as scheduled.

"We will carefully review all factors relevant to the inflation outlook, as well as growth," said Mr Robinson.