Singapore, Malaysia to work towards recognising COVID-19 vaccine certificates, 'progressively restore' cross-border travel
SINGAPORE: Singapore and Malaysia have reaffirmed their commitment to work towards recognising each other's COVID-19 vaccine certificates, with a view towards facilitating cross-border travel in the future.
"The operational details of the Reciprocal Recognition of Vaccine Certificate between Malaysia and Singapore, including the detailed requirements, health protocols, and application process involved for entry and exit into Malaysia and Singapore will be further deliberated and finalised by both parties," said both countries' foreign affairs ministries in a joint statement on Tuesday (Mar 23).
Singapore Foreign Affairs Minister Vivian Balakrishnan met his Malaysian counterpart Hishammuddin Hussein in Putrajaya on Tuesday.
"The two ministers had a constructive discussion on their respective national vaccination roll-out plans which are underway in Malaysia and Singapore, and how this could facilitate cross-border travel between both countries in the near future," said the joint statement.
The countries reaffirmed their commitment to continue with their COVID-19 vaccination programmes to inoculate long-term residents, including Malaysians residing in Singapore and Singaporeans residing in Malaysia.
The neighbours also remain committed to "progressively restore" cross-border travel for other groups of travellers, in addition to the Reciprocal Green Lane (RGL) and Periodic Commuting Arrangement (PCA), said the statement.
Singapore and Malaysia will take into account the COVID-19 situation on both sides and ensure the "public health and safety of the residents of both countries".
Both ministers also discussed convening the 10th Leaders' Retreat, which will be hosted by Singapore this year, and agreed to work towards restarting face-to-face bilateral engagements.
The joint statement said the ministers looked forward to "strengthening cooperation to stimulate recovery from the effects of the global pandemic".
Dr Balakrishnan visited Brunei on Monday, and returned to Singapore before he travelled to Malaysia on Tuesday.
VACCINE CERTIFICATES
In a joint press conference after both foreign ministers met on Tuesday, Dr Balakrishnan said operational details on the proposed mutual certification of vaccine certificates will be finalised soon, before the next leaders' retreat.

"Currently, we are looking specifically for mutual recognition of the certification as well as the tests, so that we can rely on each other's certifications with the view to facilitate cross-border flows, especially people who have been tested and vaccinated and can travel safely.

"We hope by the time our prime ministers meet, we can make a significant announcement which will allow those of us with families on both sides of the Causeway to meet again, to allow businesses to resume, which will allow safe tourism and we can hopefully look forward to a more busy Causeway," he said.

Dr Balakrishnan also called on Malaysian Prime Minister Muhyiddin Yassin and conveyed Singapore Prime Minister Lee Hsien Loong's invitation to Mr Muhyiddin to visit Singapore for the 10th Malaysia-Singapore Leaders' Retreat.
"Minister Balakrishnan said that the Retreat will be a valuable opportunity for both sides to enhance bilateral cooperation in the immediate aftermath of the COVID-19 pandemic," said Singapore's Ministry of Foreign Affairs (MFA).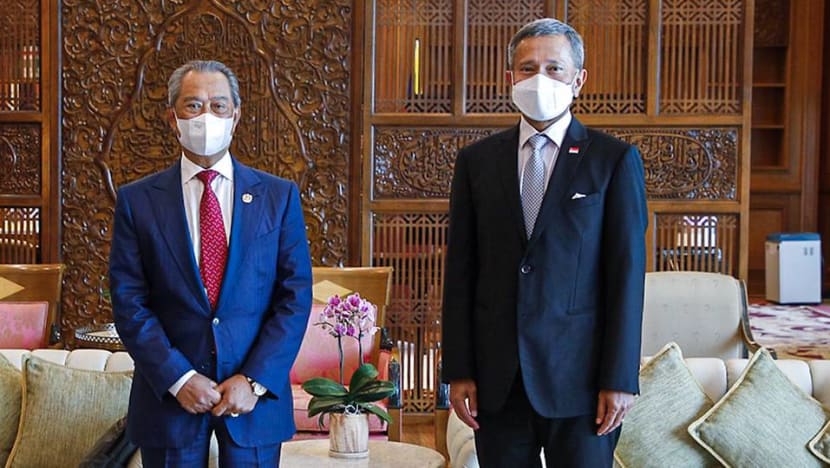 Also commenting on the vaccine certification issue, Mr Hishammuddin said that Dr Balakrishnan will be meeting with Malaysia's Minister of Science, Technology and Innovation Khairy Jamaluddin to "discuss the policy side of things".

"We have come to some understanding on the operational side but we need to coordinate with all stakeholders. We need to speak to the state government with regard to Johor and Singapore travel.

"As far as the foreign affairs ministries are concerned, we have come to an agreement to move positively forward," said the Malaysian minister.
RECIPROCAL GREEN LANE MAY BE IMPLEMENTED AGAIN IN MAY

Dr Balakrishnan also said that Singapore would review the suspension of the RGL arrangement with Malaysia.
"We have to think carefully about how we can safely reopen the economy, (and) the borders between Singapore and Malaysia.
"Last year, we already negotiated the Reciprocal Green Lane and the Periodic Commuting Arrangements. And although the RGL is suspended, we are going to review it and we will look at the arrangements. We may be able to implement it (again) from May," he said.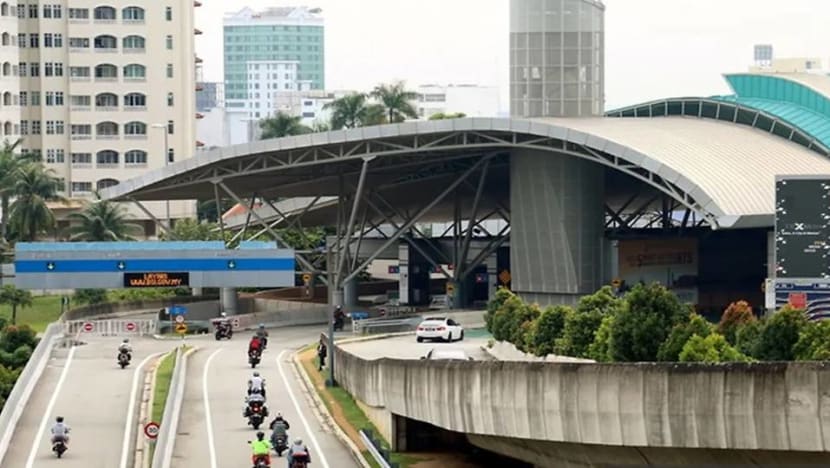 Due to an increasing number of COVID-19 cases, MFA said on Jan 30 that it has suspended the RGL with Malaysia for three months effective Feb 1.

Dr Balakrishnan also said during the joint press conference that a compassionate travel agreement between the two countries would be operational starting from April.
On Feb 2, he said that MFA has helped more than 250 Singapore residents enter Malaysia due to essential and compassionate reasons since March last year. 

Download our app or subscribe to our Telegram channel for the latest updates on the coronavirus outbreak: https://cna.asia/telegram