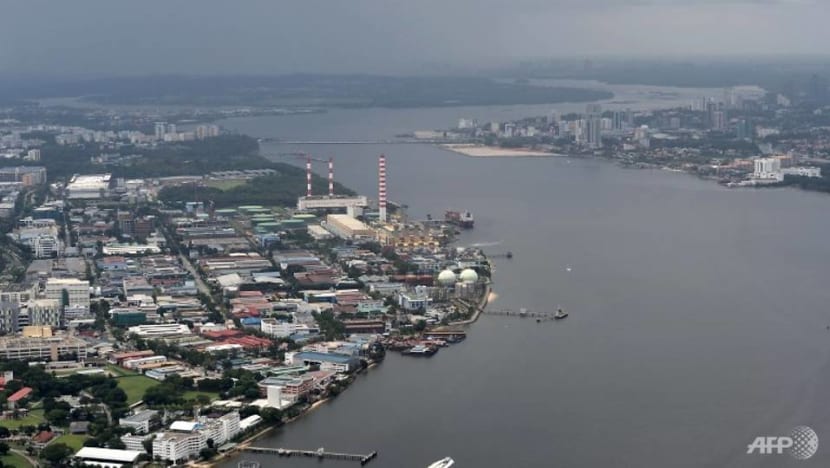 SINGAPORE: Singapore and its northern neighbour Malaysia are embroiled in a maritime dispute after Malaysia extended its Johor Bahru port limits in a manner which, according to the Singapore government, "encroaches into Singapore's territorial waters off Tuas".  
Singapore has also protested "provocative acts" by Malaysia in recent months including intrusions by Malaysian government vessels into Singapore territory, and a visit by Johor Chief Minister Osman Sapian to a Malaysian vessel parked in Singapore waters.

On Jan 8, both sides agreed to establish a working group to study and discuss legal and operational matters on the dispute, in order to de-escalate the situation on the ground.
Here is a timeline of key events: 
TIMELINE OF EVENTS
1979: Malaysia publishes a map depicting the territorial waters it claims. This included its claim on Pedra Branca, as well as on areas at the eastern and western approaches to Singapore. The boundary lines that Malaysia claimed at the western approach intruded into the port limits of Singapore. Singapore was not consulted in the making of this map.
1980: Singapore lodges a diplomatic protest with Malaysia over the 1979 map, asserting that the boundary lines indicated in the map violated Singapore's sovereignty and that Pedra Branca belongs to Singapore.
1987: Malaysia publishes its Johor Bahru port limits, which tracks the territorial sea limits claimed in its 1979 map.
1995: Singapore and Malaysia conclude the 1995 Agreement between the Government of Malaysia and the Government of the Republic of Singapore to Delimit Precisely the Territorial Waters Boundary in Accordance with the Straits Settlements and Johore Territorial Waters Agreement 1927.
1997: Singapore's port limits to the west of Raffles Lighthouse are extended slightly for better regulation of shipping traffic in the vicinity. Until 2018, this was the last time Singapore amended its port limits.
1999: Malaysia publishes its amended Johor Bahru port limits, which still tracks the territorial sea limits claimed in its 1979 map. For the next 20 years, this limit has remained intact. Singapore continues to exercise its jurisdiction in the waters now covered by the extension of the port limits, without any protest from Malaysia.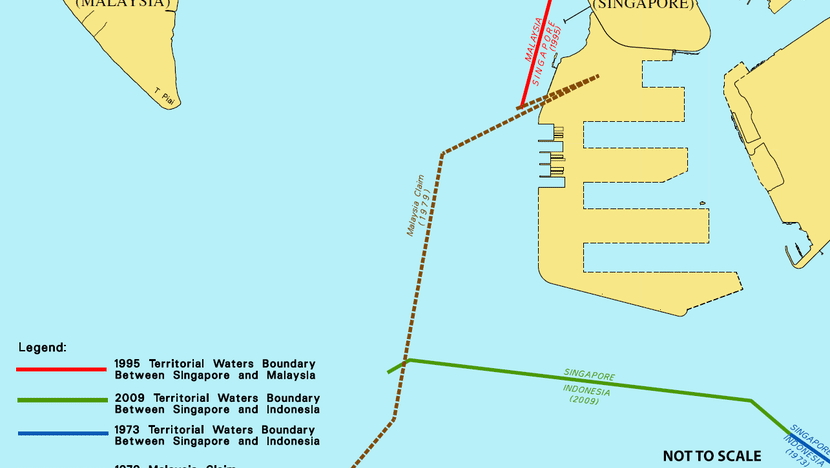 Nov 5: Singapore lodges a "strong protest" with the Malaysian government, requesting that Malaysia refrain from taking any further unilateral action and to amend the gazette notification "to reflect the sovereignty of Singapore over the waters in question". 

Nov 30: The Maritime and Port Authority of Singapore issues a circular instructing ship masters and owners of vessels to disregard Malaysia's gazette notification.

Dec 5: Singapore's Foreign Affairs Minister Vivian Balakrishnan speaks to his Malaysian counterpart Saifuddin Abdullah on the phone, stressing "urgent need" for Malaysia to stop the intrusions to avoid escalating tensions on the ground.
He also touches on a separate issue between Singapore and Malaysia, after Malaysian Transport Minister Anthony Loke said in Parliament that Malaysia intends to reclaim southern Johor airspace.
Malaysian Prime Minister Mahathir Mohamad says Malaysia has not touched Singapore's border. "We can measure to see if it is true or not but we had not touched their border. We are still within our own waters."

Singapore's Ministry of Transport refutes the statement.
Dec 6: Singapore extends its port limits off Tuas. Minister Khaw says Singapore "will not hesitate to take firm actions" against intrusions to protect its territory and sovereignty.

Said Mr Khaw: "Out of the blue, Malaysia is claiming these territorial waters that belong to Singapore. Without any prior consultations, Malaysia is seeking to alter unilaterally the long-standing status quo in the area. This is a blatant provocation and a serious violation of our sovereignty and international law."

He urges Singaporeans to stay united and to "quietly but firmly stand our ground". The minister added: "We still seek good bilateral relations, and hope we can work together to find an amicable solution to these issues."

WATCH KHAW BOON WAN'S FULL NEWS CONFERENCE
Singapore's Ministry of Defence releases a video showing the Republic of Singapore Navy and Singapore's Police Coast Guard issuing warnings to Malaysian government vessels in Singapore waters.
Dec 7: Malaysia proposes to Singapore that both countries "cease and desist" from sending assets into what it calls a "disputed area" from midnight on Dec 8.
Singapore rejects the proposal and reiterates that Malaysian government vessels should leave its waters.

Dec 8: Trade and Industry Minister Chan Chun Sing calls for calm, saying the risk of escalation cannot be underestimated. He says Singapore welcomes talks with Malaysia to find a "swift and amicable resolution", but is open to seeking recourse through an "appropriate international third-party dispute settlement procedure" if there is no agreement.
Dec 9: Finance Minister Heng Swee Keat calls the intrusions by Malaysian vessels "a violation of Singapore's sovereignty and international law" as well as a "serious matter of national interest". He also stresses the "close people-to-people ties" between Malaysia and Singapore, adding that a peaceful and constructive discussion of the issues will benefit the peoples of both countries.
Dec 10: Malaysian Prime Minister Mahathir Mohamad says Malaysia will negotiate with Singapore regarding the maritime dispute, but that no decision has been made about removing the Malaysian vessels, which are currently in Singapore territorial waters.
Singapore's Ministry of Foreign Affairs responds, saying it is "disappointed" that Malaysia will not pull back its port limits. It adds that Malaysia will be held responsible for "any untoward situations on the ground that arise from continued deployment of its vessels" in Singapore territorial waters. 
Dec 12: Mr Khaw says that Malaysia has taken steps to de-escalate tensions, but notes that one Malaysian ship still remains in the area, down from the three reported on Dec 7.
"We explained to them that stationing their ships in our waters does not make an iota difference to their legal claim ... they acknowledge this legal point," he said, adding that the presence of Malaysian vessels creates "an unnecessary risk of an accidental escalation".

Dec 13: Singapore announces it has filed a declaration under Article 298 of the 1982 United Nations Convention on the Law of the Sea (UNCLOS), to ensure that other states cannot "unilaterally commence third party arbitration or adjudication against Singapore in respect of maritime boundary disputes".
Under Article 298, a state can make a formal declaration to opt out of the arbitration or adjudication procedures outlined in UNCLOS for three categories of disputes, including one relating to territorial seas between states with opposite or adjacent coasts.