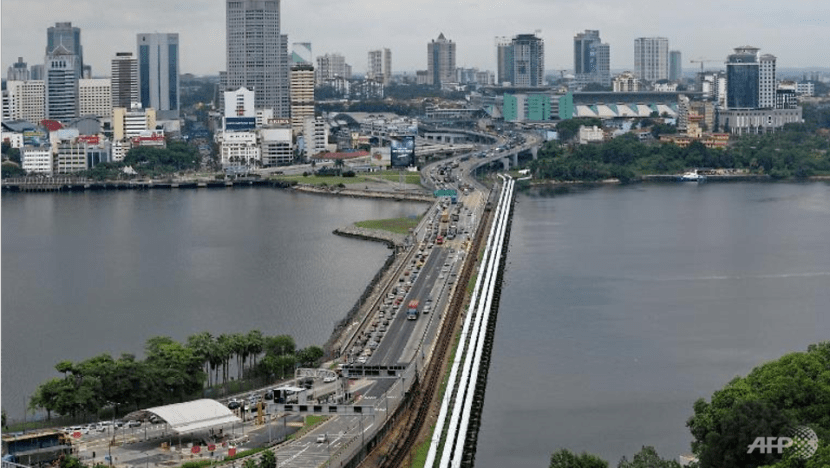 SINGAPORE: Airspace management over southern Johor came into the spotlight on Tuesday (Dec 4), after Singapore and Malaysia traded conflicting views over the issue.
Malaysia's Transport Minister Anthony Loke said in parliament that the country wants to reclaim its "delegated airspace" in southern Johor, prompting Singapore's Ministry of Transport to respond with a statement defending the status quo.
WHAT'S THE ISSUE?
Under the current arrangement, management of the airspace over southern Johor is delegated to Singapore, meaning that Singapore provides air traffic control services in that airspace.
This arrangement was agreed upon in 1973 by Malaysia, Singapore and other regional states, and subsequently approved by the International Civil Aviation Organization (ICAO). A bilateral agreement was then signed between Malaysia and Singapore in 1974.
Malaysia says it now wants to reclaim this "delegated airspace", with Mr Loke citing concerns over sovereignty and the national interest.
WHAT IS MALAYSIA'S COMPLAINT? 
Malaysia is raising concerns about Seletar Airport - specifically, about the Instrument Landing System (ILS) procedures for the airport.
The ILS procedure refers to an assisted navigational aviation facility at the airport which provides vertical and horizontal guidance to pilots while the flight is descending and approaching the runway. 
ILS procedures provide a point of entry which guarantees the accuracy and efficiency of flights and increases the probability of landing a plane in an airport, Mr Loke explained in parliament.
Protesting the publication of the ILS by Singapore, Malaysia has cited the impact of the Seletar Airport flight path on developments and shipping operations in Pasir Gudang.
SINGAPORE'S RESPONSE
However, Singapore has said that the ILS simply puts on paper the existing flight paths, making safety rules clearer and more transparent.
Singapore's Ministry of Transport (MOT) has also said that the procedures do not impose any additional impact on other airspace users as well as businesses and residents in Johor.
Singapore has also disputed Malaysia's claim that the ILS was published without discussion with Malaysia authorities. MOT released documents on Tuesday night showing consultations by the Civil Aviation Authority of Singapore (CAAS) with its Malaysian counterpart.
TIMELINE OF EVENTS
Dec 5, 2017: CAAS presents the implementation plan for ILS procedures at Seletar during a meeting between Singapore and Malaysia in Kuala Lumpur, according to an extract of minutes.
In the meeting, CAAS also said that a new passenger terminal building would be constructed at Seletar Airport in preparation for Malaysian Airlines subsidiary Firefly to operate to and from Subang.
Dec 6, 2017: CAAS emails information about the ILS procedures, including a draft instrument approach chart and an overview map, to the Civil Aviation Authority of Malaysia (CAAM) for its assessment prior to publication of the procedures.
Jun 6, 2018: CAAS emails its Malaysian counterpart saying that it would like to publish the ILS procedures, with the procedures to be effective on Aug 16, 2018.
Aug 7, 2018: CAAS says its management met CAAM management and provided more details on the ILS procedures. CAAS also requested "urgent operational feedback", it said.
Aug 15, 2018: CAAS says it sent an email to follow up on the Aug 7 meeting stressing the "urgency of the matter", and requested CAAM's response by Aug 27. There was no reply, says CAAS.
Nov 29, 2018: The two authorities meet in Singapore, and CAAM raises technical concerns with the ILS procedures, says CAAS. It adds that it addressed these concerns, and "conveyed its intentions" to publish the procedures on Dec 1.
Nov 30, 2018: The two meet in Kuala Lumpur to discuss the records of the previous day's meeting. CAAM did not raise new concerns, says CAAS.
Dec 4, 2018: Mr Loke speaks in parliament, says Malaysia's Ministry of Foreign Affairs will send a statement of protest to Singapore over what he described as a "violation" of principle, referring to Singapore's publication of ILS procedures.
Speaking to reporters later, Mr Loke also says he met recently with Singapore's Transport Minister Khaw Boon Wan, and gave him a "heads-up" that Malaysia intends to negotiate the retaking of the airspace over southern Johor.
Singapore's Ministry of Transport issues a statement in response, saying that current arrangements have benefitted both Singapore and Malaysia, and that any changes will impact many stakeholders.
With regard to the ILS procedure publication, it received "no substantive response" from the CAAM "despite repeated reminders", until late November this year.
Dec 5, 2018: The Malaysian government says that it has sent a protest note over Singapore's publication of the ILS and ILS Approach Procedures for Seletar Airport.
Dec 12, 2018: Mr Khaw says that Malaysia seems to be using a "technical excuse" to change airspace arrangements in southern Johor. He maintains that if it were a technical concern, a mutually satisfactory technical solution can be found.
Dec 25, 2018: Malaysia publishes a Notice to Airmen (NOTAM) informing Singapore of the establishment of a permanent restricted area in the airspace over Pasir Gudang with effect from Jan 2, according to Singapore's Ministry of Transport.
Jan 1, 2019: Singapore's Ministry of Foreign Affairs announces that both foreign ministers will meet in Singapore on Jan 8. Malaysia's Foreign Minister Saifuddin Abdullah says the meeting will also touch on airspace issues.
Separately, Singapore also raises concerns over Malaysia's establishment of a permanent restricted area in the airspace over Pasir Gudang with effect from Jan 2.
Singapore's Ministry of Transport cites concerns that the restricted area being in a "controlled and congested airspace" will impact the existing and normal operations of aircraft transiting through.
Jan 4, 2019: Malaysian Prime Minister Mahathir Mohamad confirms that the Jan 8 meeting between both countries will see the airspace issue being discussed. 
Jan 8, 2019: Both foreign ministers meet and issue a joint press statement saying that Malaysia will immediately suspend its permanent restricted area in the airspace over Pasir Gudang, while Singapore will similarly suspend its implementation of ILS procedures for Seletar Airport. This will happen for a period of one month in the first instance.
The joint statement adds that the transport ministers of both countries should meet "soon" for discussions on the permanent restricted area over Pasir Gudang and the ILS procedures to ensure the safety and efficiency of civil aviation.
Jan 14, 2019: Singapore's Foreign Minister Vivian Balakrishnan noted in Parliament that the ILS imposes no additional require­ments or limitations preventing Malaysia from developing tall buildings in Pasir Gudang, or operating tall ships in Pasir Gudang Port.
He added that there are already structures as tall as 105m in Pasir Gudang, and presented a satellite photograph depicting high-rise developments in the area.
Jan 23, 2019: Singapore Transport Minister Khaw Boon Wan said he suggested during a "heart-to-heart discussion" with his Malaysian counterpart that both countries extend the suspension of the restricted area over Pasir Gudang and Seletar Airport ILS procedures.
Jan 25, 2019: Singapore has accepted Malaysia's counterproposal to extend the mutual suspension of the restricted area over Pasir Gudang and Seletar Airport ILS procedures until the end of March, said Transport Minister Khaw Boon Wan. This comes after Malaysian Transport Minister was quoted as saying by Malaysia media that Prime Minister Mahathir Mohamad had rejected a May 31 date proposed by Mr Khaw as being "too long".
Mar 7, 2019: Singapore's Acting Minister for Transport Vivian Balakrishnan tells Parliament that while Singapore respects Malaysia's and Indonesia's sovereignty over their airspace, discussions on air navigation arrangements must fundamentally be based on technical and operational considerations. 

Apr 6, 2019: Singapore announced that it has withdrawn its ILS procedures for Seletar Airport while Malaysia indefinitely suspends its permanent restricted area over Pasir Gudang. Singapore's Transport Minister Khaw Boon Wan and his Malaysian counterpart Anthony Loke say in a joint statement that the agreement was made "in the spirit of bilateral cooperation". With this agreement, both ministers say they look forward to FireFly Sdn Bhd's commencement of flights to Seletar Airport effective April 2019. 
Apr 8, 2019: Singapore and Malaysia's transport ministers announce that the two countries' civil aviation authorities will work together to develop GPS-based instrument approach procedures for Seletar Airport, to replace the ILS procedures. This was announced at a joint press conference in Kuala Lumpur.