Singapore's MRT network: How has it evolved and what will it look like by 2030?
Singapore's MRT network will have eight rail lines when Phase 1 of the Cross Island Line opens in 2030.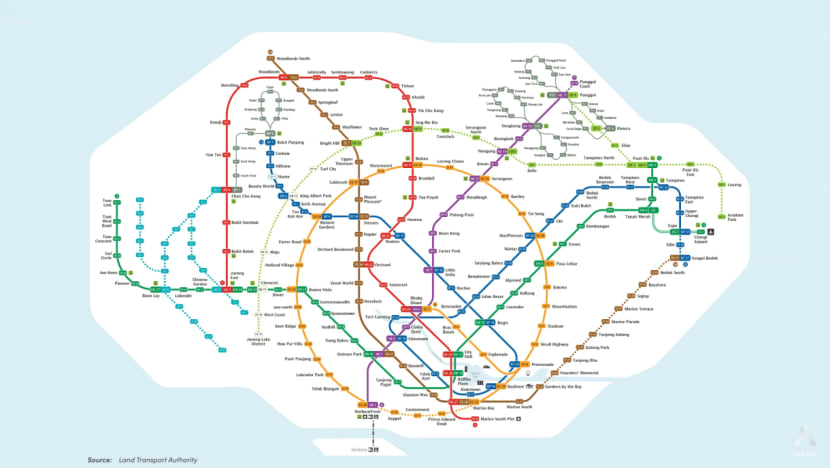 SINGAPORE: From a mere five stations in 1987 to eight lines by 2030, Singapore's rail network will eventually make travel times shorter and more convenient for most people.
Construction of the Cross Island Line began on Wednesday (Jan 18) and Phase 1, with 12 stations, is expected to be completed by 2030. There will eventually be at least 30 stations.
Once fully operational, about eight in 10 households are expected to be within a 10-minute walk of a train station, Transport Minister S Iswaran said.
CNA looks at how Singapore's MRT network has evolved through the years.
NORTH-SOUTH LINE
The North-South Line (NSL) was Singapore's first MRT line, opening in 1987 with only five stations connecting Yio Chu Kang to Toa Payoh.
Today, it spans 45km and has 27 stations to serve commuters travelling between Jurong East to Marina South Pier. It also includes eight interchanges, allowing travellers to transfer to the East-West Line, the Circle Line, the Downtown Line, the North East Line and the Bukit Panjang LRT.
In recent years, additional stations were added: Marina South Pier in 2014 and Canberra – located between the existing Yishun and Sembawang stations – in 2019.
It may be Singapore's oldest train line, but it remains an integral part of the country's rail system and is currently undergoing upgrading works to ensure that it keeps up with travel demands.
Since the renewal works started in 2012, three out of the line's six core systems have been replaced: The signalling system, sleepers and third rail. Track circuit replacements are also about 93 per cent complete.
The bustling Jurong East MRT station was also retrofitted with two new platforms in 2012, allowing two trains to enter and depart the station at the same time.
Most of the core system replacements are expected to be completed by this year, according to Mr Iswaran.
EAST-WEST LINE
Originally a part of the NSL, the East-West Line (EWL) is currently Singapore's longest at about 57km.
It will take you across the island, spanning 35 stations and nine interchanges from Tuas West to Changi Airport.
Students may be familiar with Clementi or Dover stations, which serve nearby polytechnics and universities. The line also serves those working in the central business district, including Raffles Place, City Hall and Outram Park.
Did you know that Dover MRT station was the first one to be constructed while the train line was in operation? It is also the first station to have two platforms alongside a central rail line.
Like the NSL, the EWL is also undergoing a renewal of its core systems, which is set to be completed this year.
CROSS ISLAND LINE
With Phase 1 set to open in 2030, the Cross Island Line (CRL) will be Singapore's eighth and longest fully underground train line at more than 50km long.
The line is key to Singapore attaining its target of having nine in 10 peak-period "Walk Cycle Ride" journeys completed in less than 45 minutes, said Mr Iswaran.
Daily ridership for the Cross Island Line is expected to hit 600,000 when it opens for service in 2030, with that number eventually increasing to more than 1 million. It will take commuters through major hubs like the Jurong Lake District, Punggol Digital District and the Changi region, with more than 30 stations planned.
Travelling between train lines? The CRL will have the highest number of interchange stations in Singapore, with more than half connected to existing rail stations once operational.
Recreational spaces like Changi Beach Park or Bishan-Ang Mo Kio Park will also become accessible by public transport, which means family outings and daily exercise routines will be more convenient.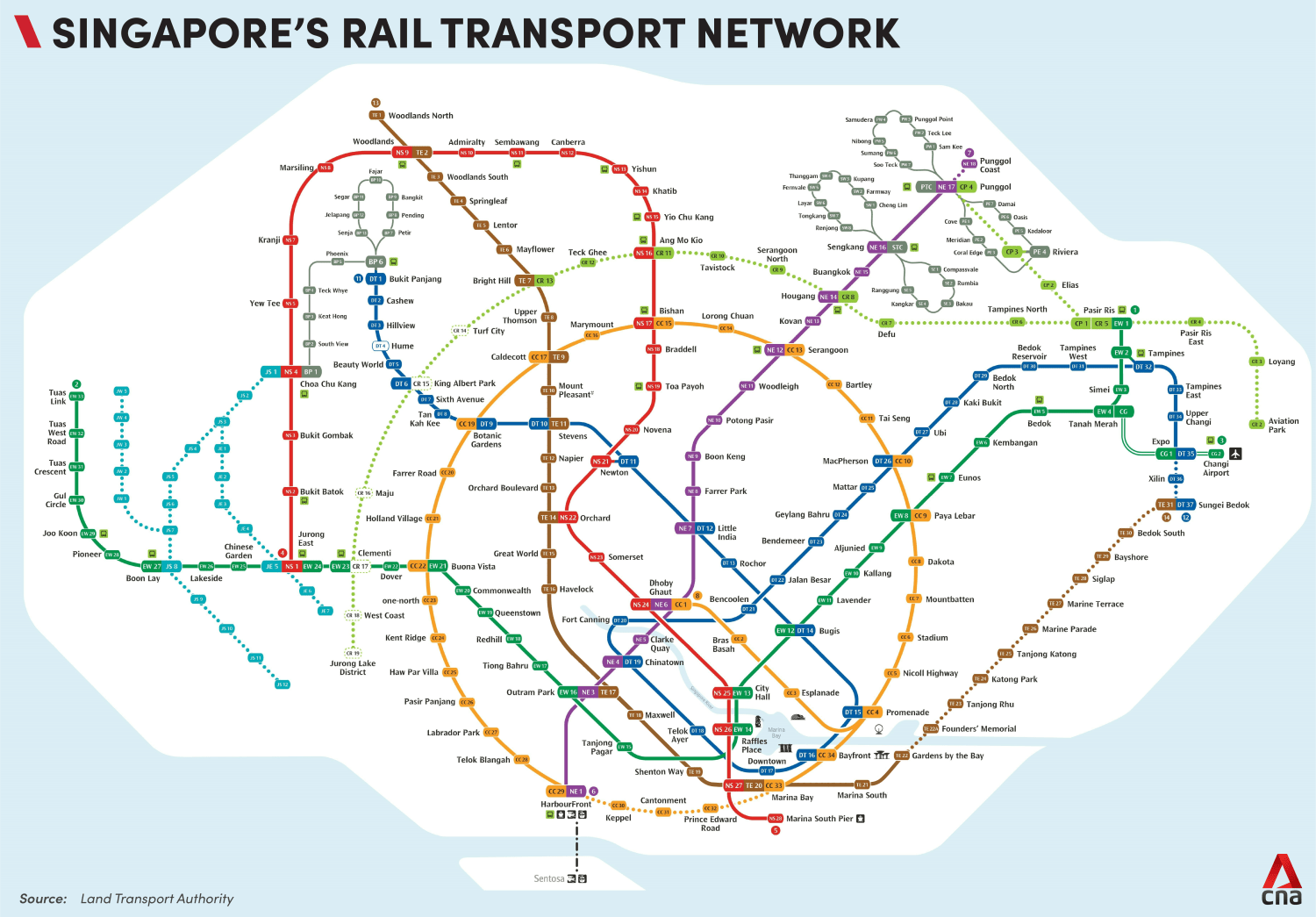 JURONG REGION LINE
The Jurong Region Line, expected to be completed in 2029, will include 24 stations covering 24km.
Originally slated to begin operations in 2026, construction of the JRL was stalled due to manpower shortages and materials supply disruptions brought about by the COVID-19 pandemic. It began on Jan 13.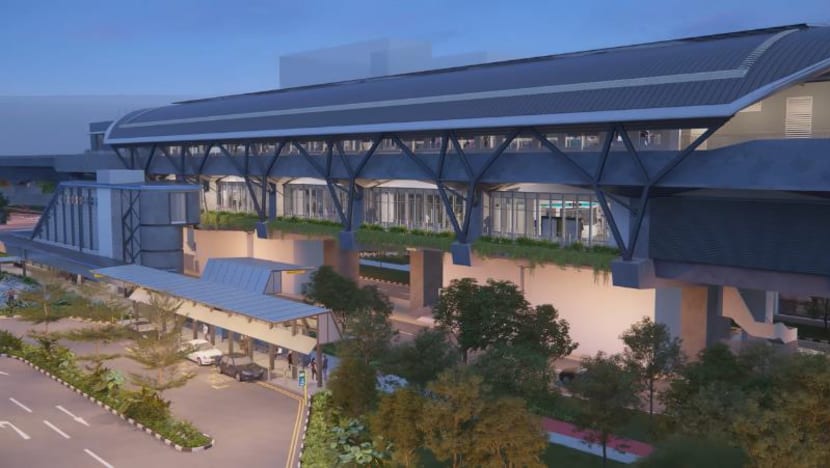 It will be Singapore's first fully elevated MRT line, serving five key locations – Choa Chu Kang, Jurong East, Boon Lay/Jurong West, National Technological University and the Jurong Industrial Estate.
It will also serve the Tengah area, Jurong Innovation District and Jurong Lake District once fully developed.
Interchange stations at Jurong East, Choa Chu Kang and Boon Lay will connect it to existing train lines.
Unlike other train lines in Singapore, it will feature smaller, customised carriages that will enable the train to "easily navigate and manoeuvre through tight curves and built-up areas" along its track.
Commuters using wheelchairs or strollers will also benefit from wider carriage doors and spaces, which will make rides more accessible and comfortable.
THOMSON-EAST COAST LINE
The Thomson-East Coast Line (TEL), which welcomed passengers to its Stage 3 stations in late 2022, will connect the eastern and northern parts of Singapore once completed in 2025.
Commuters who used to take about 50 minutes to travel from Woodlands South to Orchard can now do so in 35 minutes.
Consisting of 32 stations along a 43km track, the TEL is the first to feature 91 new, fully automated four-car trains, with an additional door on each car for easier boarding.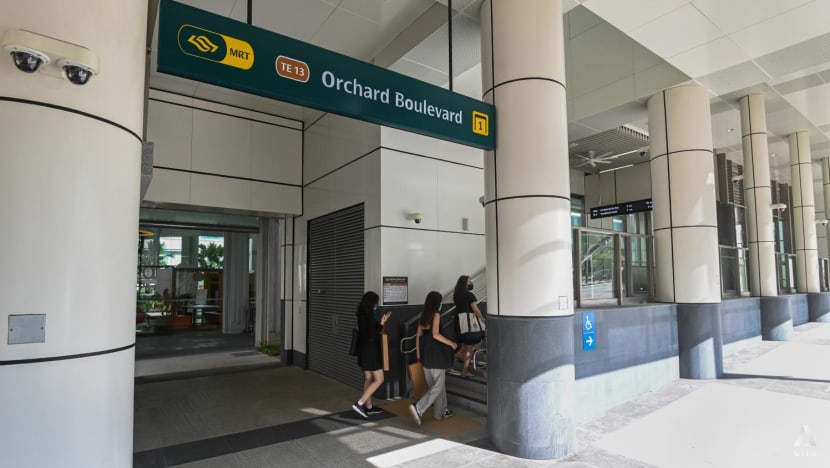 Constructing the stations in the TEL marked several firsts, such as the maiden use of a retractable micro-tunnel boring machine. This was used to install internally interlocking pipes to connect the underpass across Orchard Boulevard to the TEL and NSL station platforms.
An ice wall was also used for the first time to stabilise the earth prior to tunnelling works at Marina Bay station.
Two more stages - Stage 4 and Stage 5 - are slated to open in 2024 and 2025 respectively. 
Stage 4 comprises eight stations including Tanjong Katong, Marine Parade and Siglap, while Stage 5 comprises Bedok South and Sungei Bedok stations.
Founders' Memorial, Mount Pleasant and Marina South will open in tandem with future developments.
Four future stations will also include Singapore's first underground bicycle parking facilities for those who cycle between the stations and their homes.
NORTH-EAST LINE
The 16-station North-East Line (NEL), which connects north-eastern Singapore to heritage areas and the city fringe, marked several firsts in Singapore's rail history.
It was the first to be fully automated and driverless, as well as the first to feature artworks at its stations, with the launch of the Art-in-Transit programme that has now expanded to other rail lines.
Several stations along the line – including Chinatown, Sengkang, Dhoby Ghaut and Outram Park feature artworks.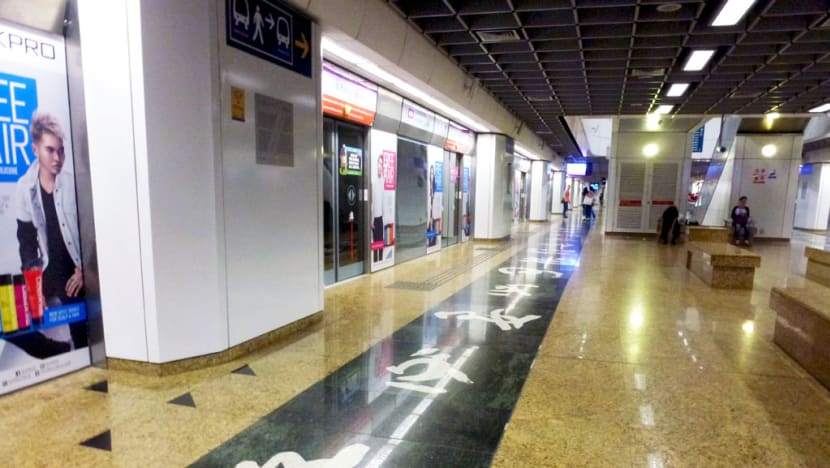 The NEL was also the first to take accessibility into account, featuring the most number of lifts at its stations at the time and the first to incorporate art into its stations.
As the line serves growing neighbourhoods, many of its stations were designed to allow for future expansions to cater to the growing population.
For example, when Sengkang LRT line first opened in 2003, surrounding developments were not yet built. With future connections in mind, the line's stations were built with a simple layout to allow commuters to navigate their way easily.
CIRCLE LINE
Despite the name, the Circle Line (CCL) is not yet a full circle.
Like the NEL, the 30-station CCL is completely automated and driverless. It was also Singapore's first medium-capacity line, linking the existing NSL, EWL and NEL to the city.
According to the Land Transport Authority, it required "innovations in design, engineering and construction" to build.
Builders faced challenges such as varying soil conditions, which posed safety and structural issues at Promenade and Nicoll Highway stations, and having to tunnel through a maze of existing tunnels and cables.
Bras Basah Station is home to the longest escalator in the MRT system, stretching 41m from the ticket concourse to the transfer level.
In 2026, the CCL will become a full circle, with the opening of a 4km extension that includes three stations connecting HarbourFront to Marina Bay.
Commuters will enjoy a direct route between areas in the west - such as Pasir Panjang and Kent Ridge - and the Central Business District. Those living in Paya Lebar and Mountbatten will also get faster access to the HarbourFront area.
DOWNTOWN LINE
Measuring 42km and covering 36 stations, the Downtown Line (DTL) is Singapore's longest underground and driverless MRT line.
It serves residential areas in Bukit Panjang, Bukit Timah, MacPherson and Bedok Reservoir, which were previously not covered by the MRT system.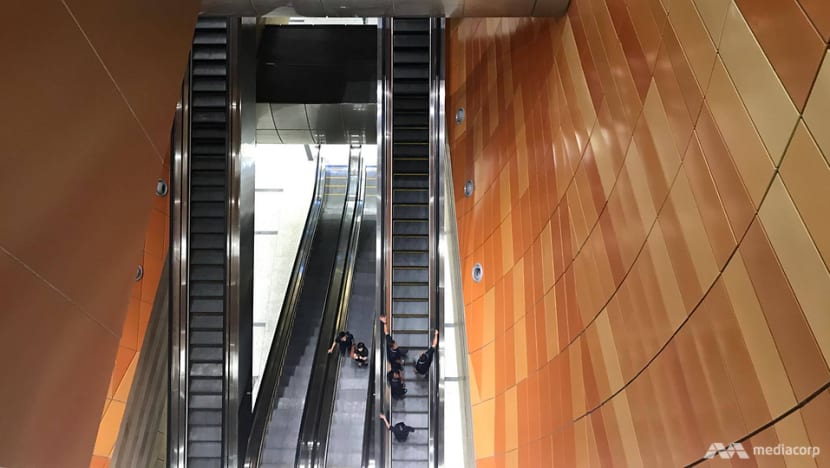 Construction on Singapore's deepest rail line also came with several firsts.
For instance, builders had to temporarily divert the Singapore river to safely connect Fort Canning and Chinatown stations. This entailed a process to reroute the river and pack the section above the planned tunnel route with soil to safely excavate the tunnels.
Builders also had to balance safety, structural stability and other issues to dig to a depth of 14 storeys to link Bencoolen and Fort Canning MRT stations. At 43m below street level, Bencoolen is the deepest station in Singapore.
Diggers had to use tunnelling machines and explosives to clear the ground, as they were digging through "soil as soft as toothpaste, mixed with giant hard rocks". Added precautions were taken to ensure safety and ground stability.
Commuters travelling to areas such as Changi Business Park and the Expo area can look forward to better accessibility in 2024, when an extension to the DTL will allow them to connect to the TEL.