Singapore, Netherlands share 'common commitment' to multilateralism: President Halimah Yacob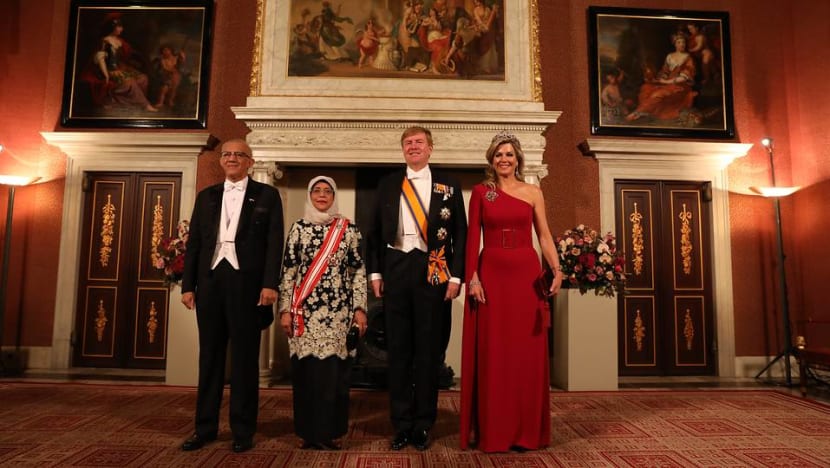 AMSTERDAM: Singapore and the Netherlands share a "common commitment" to multilateralism, free trade and the rule of law, said President Halimah Yacob during a state banquet hosted by King Willem-Alexander and his wife Queen Maxima on Wednesday (Nov 21) in Amsterdam. 
As pioneers of ASEAN and the European Union respectively, both countries are firm advocates of regional integration, said Mdm Halimah. 
"We are both outward looking countries with open economies and world-class ports and airports. Trade is our lifeblood and our two countries are the gateways to our respective regions," she said. 
King Willem-Alexander, meanwhile, lauded Singapore for its commitment to continued success.
"It's characteristic of your country that you always think a few steps ahead. In that respect, we are honoured that you have come to us for inspiration," he said. 
"Conversely, your visit – and that of the delegation travelling with you – inspires us. There is so much that we can learn from you, especially in the field of technological innovation," he added.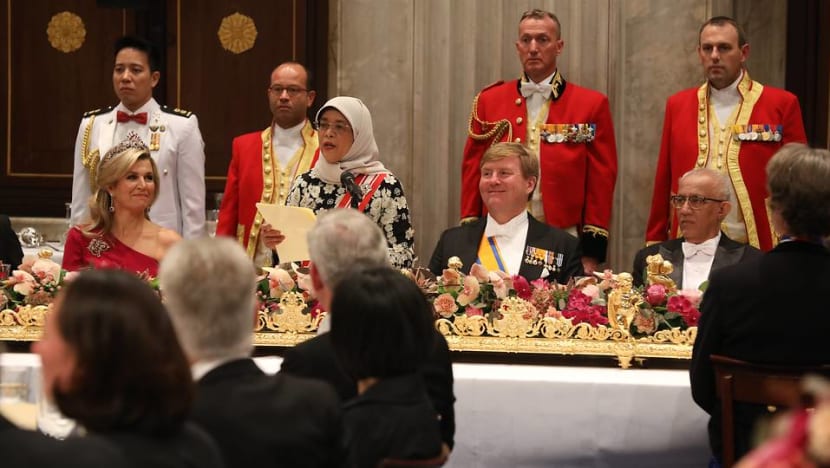 Mdm Halimah also highlighted how Singapore's ties with the Dutch go back in time, citing the examples of mining expert Karl Willem Benjamin van Kleef and economist Dr Albert Winsemius - all of whom played a role in Singapore's growth.
Dr Winsemius had helped shaped Singapore's economic development during its early years of independence. It was because of his vision that Singapore was able to transform the swampy delta of the Jurong River into an industrial hub.
Van Kleef, who had lived in Singapore for a good part of his life, bequeathed his entire estate to the municipal government when he died in 1930. The Van Kleef Centre, a modern aquatic science facility in the country, was later named in his honour. 
Today, Singapore is home to more than 1,600 Dutch companies. The Netherlands is also Singapore's largest EU investor, with total investments amounting to more than S$100 billion (€60 billion). Similarly, Singapore has more than S$18 billion worth of investments in the Netherlands. 
Mdm Halimah said she was confident that economic relations between the two countries will further deepen, on the back of the EU-Singapore Free Trade Agreement signed last month. 
For a start, an agreement to establish a practical framework to develop stronger business relations and reciprocal cooperation between the Singapore Business Federation and the Confederation of Netherlands Industry was inked on Thursday (Nov 22) at Rotterdam.
A two-year Memorandum of Understanding was also signed on the same day between Enterprise Singapore and the Netherlands Enterprise Agency to bolster collaboration in areas of innovation and market access for sectors such as healthcare.