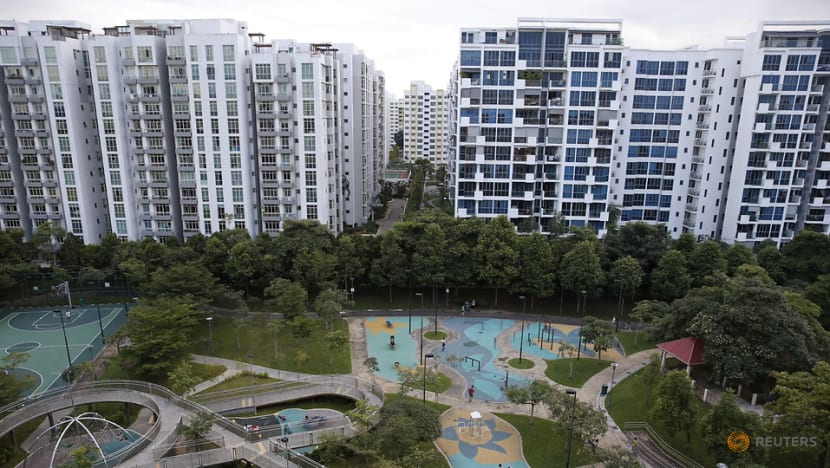 SINGAPORE: Sales of new private homes last month plunged 58 per cent from March as a result of "circuit breaker" restrictions, with analysts expecting the property market to remain muted in May. 
Data released by the Urban Redevelopment Authority (URA) on Friday (May 15) showed developers sold 277 units - excluding executive condominiums (EC) - last month, compared with 660 units sold in March.
Including ECs, 293 units were sold in April, which is a 67.6 per cent drop from March.
These are the lowest monthly sales since December 2014, said Ms Christine Sun, head of research and consultancy at OrangeTee.
On a year-on-year basis, developers' sales declined 62.4 per cent from the 737 units, excluding EC, transacted in April 2019.
In total, developers released 640 private homes in April, a 10.7 per cent jump from the month before. There were no EC projects launched in April.
Overall in April, 102 units were sold in the Core Central Region (CCR). A total of 77 and 98 units were sold in the Rest of Central Region (RCR) and Outside Central Region (OCR), respectively.
The most popular private development in April was Kopar at Newton with 83 units moved, followed by Treasure at Tampines and Riverfront Residences in Hougang with 28 and 17 units sold, respectively.
"LACKLUSTRE", YET "QUITE REMARKABLE": ANALYSTS
The drop off in April reflected cautious buying during the COVID-19 pandemic and was expected, said properly analyst Ong Kah Seng.
"These lacklustre sales were well within expectations as April's meltdown abruptly suspended all property activities from April - including showflats operations which are core essential activities for property development, traditionally significantly underpinning sales transactions," Mr Ong said.
The circuit breaker measures introduced by the authorities in April to contain the spread of the coronavirus in Singapore allowed only essential services, such as healthcare, transport, logistics and food and beverage (F&B), to continue.
Mr Ong said the announcement of the circuit breaker's extension until Jun 1 "dashed hopes of quick recovery and further dampened economic and property sentiments".
Nonetheless, April's low number is "still not as low as some months in 2008/09, which recorded new home sales of well below 200 units due to the global financial crisis", said Mr Ong Teck Hui, senior director of research and consultancy at JLL.
Additionally, it was "quite remarkable that some super luxury and luxury new homes" were sold during the circuit breaker period, noted Ms Sun.
The highest-priced private home transacted last month was a 477 sqm super-luxury condominium at 15 Holland Hill for S$13.8 million or S$2,692 psf on Apr 2, said Ms Sun.
Several luxury units also continued to move projects even after the circuit breaker measures were implemented on Apr 7. This included two super-luxury condominiums at Boulevard 88 that sold for S$10.3 million each, said Ms Sun.
"This may indicate that despite the pandemic, many wealthy and ultra-rich continue to view Singapore as an attractive investment destination and a safe haven to park their funds," she added.
FUTURE OUTLOOK
Property analyst Mr Ong suggested that developers could used the lull period to gather as many non-obligatory expressions of interest as possible from genuinely interested buyers.
Construction delays would increasingly drive buyers to purchase properties in completed private residential projects with unsold units, he observed.
"Completed projects will shine in sales from 2020, as developer sales of projects under construction (which are the bulk of developer sales) are facing tremendous pressure from site suspension."
Before sales pick, however, more pain can be expected.
Mr Ong of JLL added that new private home sales are expected to be even lower in May since the circuit breaker was in place for the whole month.
"If the circuit breaker is lifted in June and showflats resume activity, we can expect sales performance to improve as there are still buyers on the market," he said. 
"However, the mood is likely to be cautious and buyers would be more price-sensitive, focusing on projects considered to be attractively priced. 
"Even when showflats reopen, the ongoing recession and uncertainties due to COVID-19 would continue to weigh on demand for private homes," said JLL's Mr Ong. 
Ms Christine Li, head of research at Cushman and Wakefield, similarly observed that June - a month not traditionally known for its home sales - might provide some relief for developers.
"When the (circuit breaker) ends in early June, showroom viewing should be ramped up in full force and sales activities would pick up as a result," she said.
"In the past, June was not ideal to launch new projects because it's the traditional school holiday and parents used to travel with their children. But this year, school will resume in June, and parents won't be travelling for leisure this June due to COVID-19."
For all of 2020, new home sales volume forecast is expected to fall between 4,000 and 5,000 units (excluding ECs), said Mr Desmond Sim, head of research, Southeast Asia at CBRE. 
"Overall, disruptions from the extended circuit breaker, where sales galleries are mandated to close, the ban on foreign visitors into Singapore and the slowdown in project launches, are expected to have a negative impact on sales volume moving forward," he added.
Download our app or subscribe to our Telegram channel for the latest updates on the coronavirus outbreak: https://cna.asia/telegram