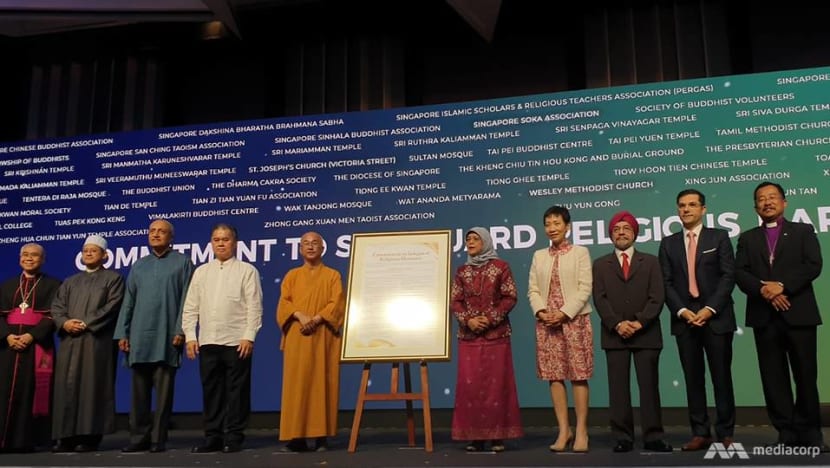 SINGAPORE: Representative bodies of Singapore's key religious communities have affirmed their commitment to safeguard religious harmony in the country.
More than 250 organisations have put their names to the commitment, including the Catholic Archdiocese, Hindu Advisory Board, Islamic Religious Council of Singapore, National Council of Churches of Singapore, Sikh Advisory Board, Singapore Buddhist Federation, and Taoist Federation.
Singapore President Halimah Yacob received a commemorative version of the commitment from Venerable Seck Kwang Phing, the president of the Singapore Buddhist Federation, at the opening ceremony of the International Conference on Cohesive Societies (ICCS) on Wednesday (Jun 19). He presented it on behalf of the National Steering Committee on Racial and Religious Harmony.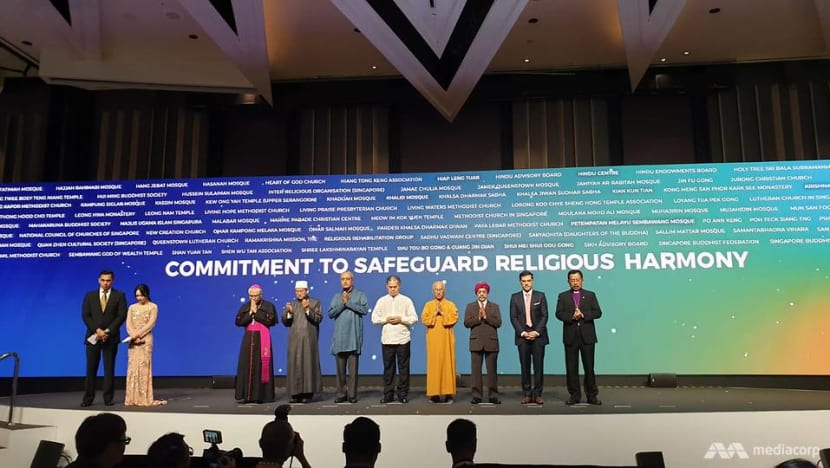 The commitment is more than just a pledge, however. In fact, it is seen as an enhancement to the existing Declaration of Religious Harmony, in that it lays out specific ways for Singaporeans to interact with each other. This includes eating together even if there are different religious dietary practices at the table, and attending weddings and funerals even if they are held in a place of worship that is not of one's faith.
Culture, Community and Youth Minister Grace Fu emphasised the importance of these people-to-people interactions.
"Very important point is that we see that on a day-to-day basis, all of us actually can play a part to promote that trusting relations between people," said Ms Fu. "So these daily encounters, daily interactions, help to build trust and I think that's an important point about building the resilience and the long lasting peace."
Bishop Terry Kee, who is the President of the National Council of Churches of Singapore, said religious leaders had discussed the need to enhance existing declarations of religious harmony and bring something practical to the table for years.
He added that his community will have to tackle the issue of Christians sharing about their faith when it is not welcome.
"Of course we always affirm that it is our right to embrace our faith, to practise and also to propagate (it). However, we have no right to denigrate or ridicule other faiths. And the second thing is, we should also be sensitive that when we talk about it, is the person welcoming of it or not?" he said. "We have to be sensitive as to whether is that the right time, is that the right place, is that the right thing to do at that point in time."
Dr Mohamed Fatris Bakaram, who is the Mufti of Singapore, was also candid about the challenges his community faces.
"Maybe Muslims feel that it is safer for them in terms of protecting their faith, to isolate themselves from the other communities, and that's wrong. That is something, in fact, something that is alien to the faith itself," said Dr Fatris. "We have been holding true to the ethos that a good Muslim is a good citizen, and that must be enhanced further, and we are looking for ideas on how to make that more aggressively accepted by the community."
Dr Fatris also shared that the leaders of various religions are paying attention to preachers who may spread discord through their teachings.
"We will tighten up the administrative aspects of ensuring that our preachers, our teachers, and especially foreign speakers invited to speak to their own respective communities in Singapore (will) understand the unique circumstances that we have been enjoying for many years," said Dr Fatris.
The commitment can be viewed at the Inter-Racial and Religious Confidence Circle's website.
SOCIAL COHESION AND DIVERSITY
During her opening address, Mdm Halimah said: "The world would be all the poorer if it had no room for difference. If we were all the same, we would have nothing special to offer, nor anything to learn from others.
"Each of us has something precious that only we can give. The more diverse we are, the richer we become."
She warned that while globalisation and technology have drawn people closer, the ease in the "flow of ideas" has accelerated the spread of extremist ideologies.
"A society is fragile if its members view each other in mutual incomprehension. It is vulnerable when its communities live parallel lives and inhabit separate worlds," Mdm Halimah said.
"Only a cohesive society built upon mutual trust can harness the strength of its diversity, so that its people can build a better future."
She said that accommodating different cultures, nurturing a "felt reality of collective belonging", dialogue and interaction are the foundations of social harmony in any society.
"Leaders play an important role in promoting peace and cohesion at both the national and international levels. But often, we see political leaders articulate division and conflict for their own personal agenda," she said.
"Hence, all societal actors must play a part in managing diversity – from government leaders to individuals, from the media to educational institutions.
"Ultimately, social cohesion is not something that can be commanded or dictated by the government. It can only be nurtured and inspired by each of us, and what we do every day. Friendships and connections will have to be built, face to face.
"Social trust has to be forged, one positive encounter at a time. Strength from diversity can only grow from dialogue, give and take, speaking and listening."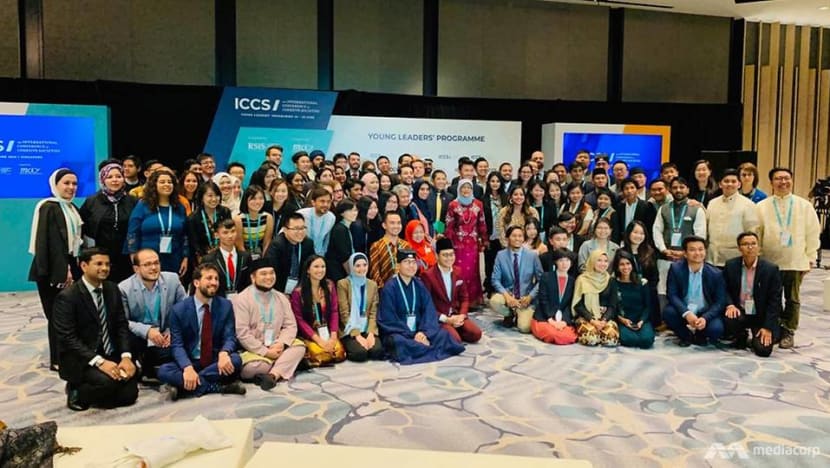 The ICCS is the President's initiative. More than 1,000 international delegates across academia, government, religious organisations and civil society will attend the conference this weekend.
Jordan's King Abdullah II will deliver the keynote address on Thursday morning.
About 100 youth delegates also attended the Young Leaders' Programme. Taking place in the two days before the conference, it is designed as a platform for the next generation to address pressing social concerns and share ideas with each other. They include 21 representatives from ASEAN countries and 34 others from around the world.