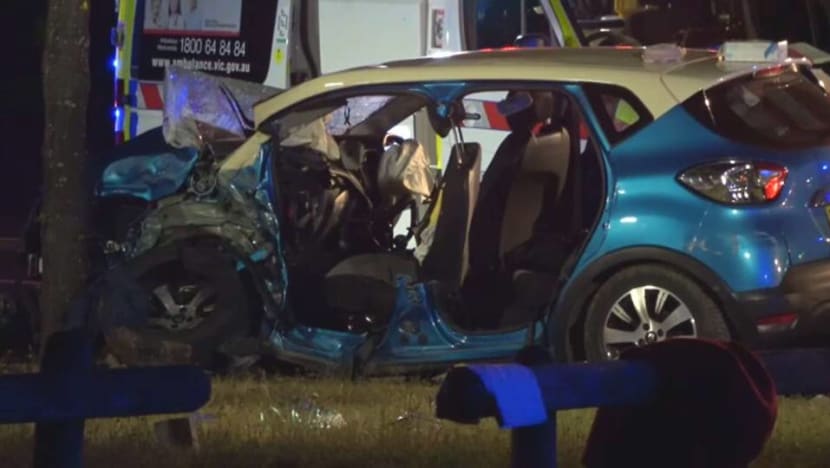 SINGAPORE: A Singaporean woman accused of causing a car accident in the Australian state of Victoria, injuring all four of her passengers, has been granted bail, Australian media reported on Monday (Nov 26).
Nasuha Nasser, 21, was allegedly driving a blue Renault when the accident happened at around 8.15pm local time on Saturday. 
The car collided with another vehicle, a white Triton, at the intersection of Remembrance Drive and Madden Road in Windermere, 130km from Melbourne. 

Two people in the white car, a 48-year-old man and his 10-year-old daughter, were not injured, said local media. 
Police said Nasser allegedly failed to stop at a give way sign at the intersection. She was charged on Sunday with negligently causing serious injury and dangerous driving causing serious injury.
Three of the five Singaporeans involved in the accident were students of the University of Melbourne, the varsity confirmed. 
According to 9News, Nasser's twin sister was among the injured. She suffered serious head and chest injuries and was flown to Royal Melbourne Hospital where she remains in a stable condition.
A female friend in her 20s is fighting for life at Alfred Hospital. If she dies, Nasser's charges could be upgraded, said 9News. 
The report also said that Nasser was granted bail after the Magistrate accepted that the incident was "an oversight" on her part.
"Ms Nasser was interviewed yesterday evening. She was open, honest, and a full and frank discussion and account of events was provided," Detective Sergeant Amos said as reported by The Courier. 

It added that Nasser had to surrender her passport and is required to report weekly to Melbourne North Police Station. 
A Ministry of Foreign Affairs spokesperson in Singapore said that the Singapore High Commission in Canberra is providing consular assistance to the five affected Singaporeans and their families.