Singapore's S$134m bottled water addiction
How did bottled water grow into a multimillion-dollar industry in a country with perfectly safe drinking water from the tap?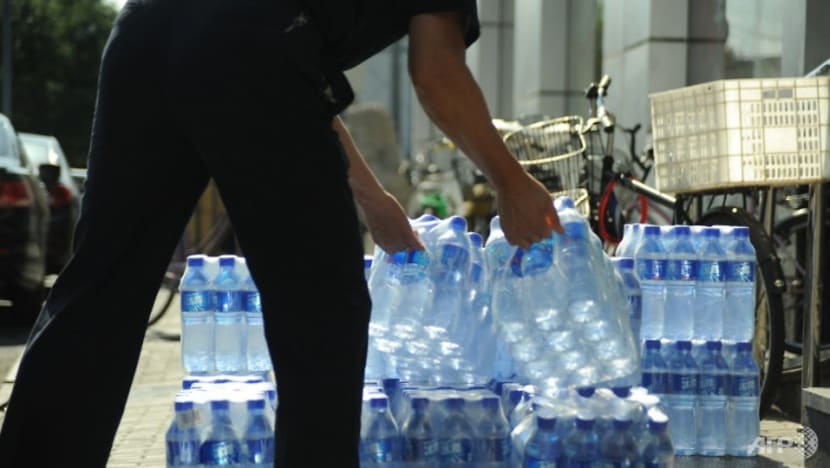 SINGAPORE: In a country where tap water quality far exceeds minimum World Health Organization (WHO) and US Environmental Protection Agency standards, it may come as a surprise to some that bottled water is a booming, multimillion-dollar business.

Consumers splashed out about S$134 million on still bottled water in 2015, up 24 per cent from five years ago, based on data from research firm Euromonitor International.
While some of these bottled water products are derived from mineral-rich springs, a significant number - including market leaders like F&N's Ice Mountain and Coca-Cola's Dasani - are sourced from public water supplies. These two brands made up more than half of the bottled water sales volume in Singapore last year, according to Euromonitor data.
When contacted, F&N confirmed that Ice Mountain sold in Singapore "is sourced and packed in Malaysia from tap water", while Coca-Cola said that Dasani produced for the Singapore market comes from "the local water supply at (its) facility in Malaysia". Both companies also said they have multiple purification processes in place, which distinguishes their "pure drinking water" from tap water.
A situation where people are willing to pay as much as a thousand times more for bottled water when clean, drinkable tap water is readily available at a nominal charge has left some environmental advocates and experts scratching their heads.

Some, like Ambassador-at-Large Professor Tommy Koh and the Lee Kuan Yew School of Public Policy's (LKYSPP) Assistant Professor Leong Ching said that people may not be sufficiently aware of the tap water origins of some bottled water products. Others, like Nanyang Technological University's (NTU) Ng Wun Jern and National University of Singapore's (NUS) Professor Ong Choon Nam believe that people consume bottled water primarily out of convenience.
ADDICTED TO CONVENIENCE: IS BOTTLED WATER A NECESSARY EVIL?
A 600ml bottle of drinking water usually retails for about S$0.50 to S$1. According to PUB, the same amount of tap water only costs 0.1 cent, making it 500 to 1,000 times cheaper than bottled water. This price differential, while significant, is not sufficient to motivate consumers to move more to tap water, said Prof Ng, who is the executive director of the Nanyang Environment & Water Research Institute at NTU.
The relatively low retail cost of bottled water also appears to be a small price to pay for the convenience of not having to carry a bottle around to be refilled, said Prof Ong, director of the NUS Environmental Research Institute. "It's hard to convince people that they don't need to be spending the money they spend on bottled water, because (at) S$1 a bottle, that's cheap to many."
The result is a "use-and-throw" bottled water habit. This is "a price that society pays for being highly mobile and always on the move", said Mr Melvin Leong, associate director of Energy and Environment at Frost and Sullivan, adding that the need for convenient and immediate access to water is a universal one, regardless of a country's tap water quality.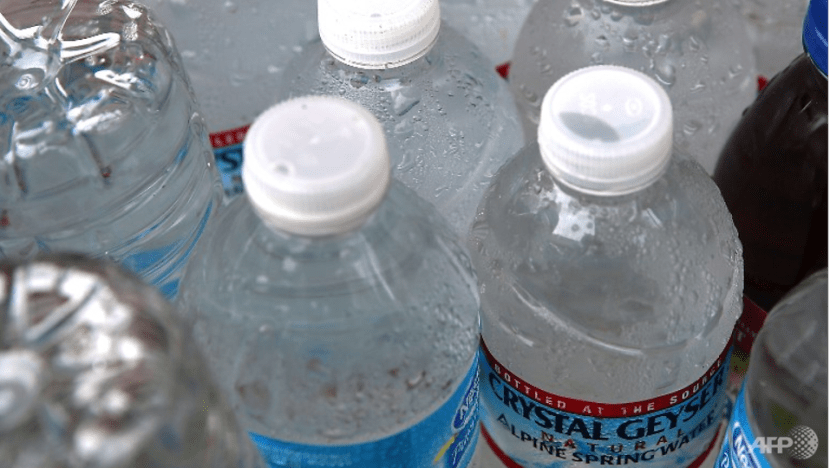 The Associate Professor of Marketing Education also noted that apart from factors like convenience and price, bottled water also appeals to short- or long-term foreign residents, who "just do not have knowledge of, or faith in the potability of tap water anywhere else, including Singapore".
Meanwhile, Euromonitor analyst Andrea Lianto said that in spite of awareness of the potability of tap water here, some consumers have become more concerned about health issues surrounding tap water consumption, such as "the hygiene of the water ducts and pipes".
When these concerns were relayed to PUB, it told Channel NewsAsia that Singapore has "a comprehensive and rigorous maintenance, servicing and monitoring programme which covers the entire water system, from reservoirs to waterworks, through the distribution network, to the end consumer's tap". This ensures that the tap water is "clean and wholesome", it said.

PUB also added that the pipes used in Singapore's potable water supply "are primarily cement-lined ductile iron and steel water mains" that comply with international standards.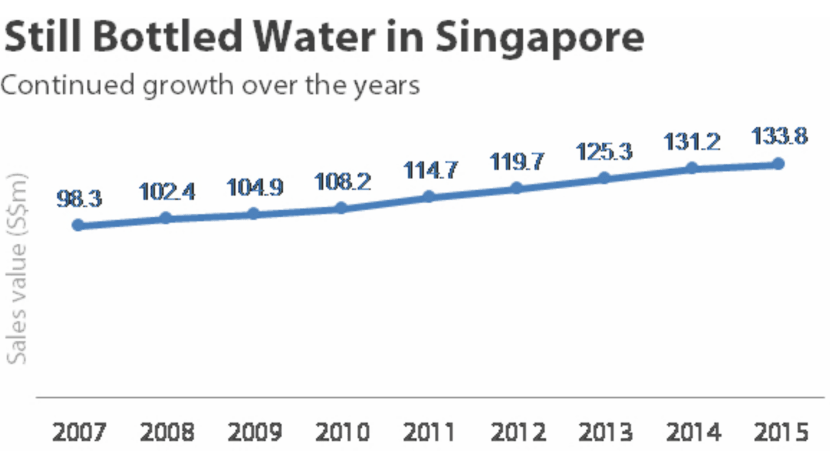 In 2009, Prof Koh, who was the former chairman of the Governing Council of the Asia Pacific Water Forum, and Asst Prof Leong, who is the deputy director of LKYSPP's Institute of Water Policy, tried to start a campaign "to persuade Singaporeans to drink tap water instead of bottled water".

Their arguments, which were published in PUB's Pure magazine in 2009, ranged from common sense reasoning - "tests (…) have shown that expensive bottled water is no better than tap water" - to appeals based on environmental grounds, highlighting the plastic and energy required to manufacture and transport bottled water.

For example, 1.5 million barrels of oil are used each year to make bottles for the water industry in the US alone. This is enough to power 100,000 cars for a year.

But seven years on, such science-backed appeals have failed to stem the rise of retail and institutional sales of bottled water in Singapore.

In a joint email response to Channel NewsAsia, they said one possible reason has to do with the profit motive of those in the business of promoting bottled water consumption, such as restaurants. Although PUB has said that it "encourage(s) food outlets and restaurants to make tap water available for customers", and that members of the public should feel free to ask for tap water, a considerable number of restaurants here still do not serve it.

With little incentive on the part of businesses to curb lucrative bottled water sales, and consumers remaining either unaware or unmoved, water researchers and environmental advocates said more can be done to dispel myths about tap water and bottled water, and to make it easier for the public to choose tap water.
POTENTIAL SOLUTIONS
Providing more drinking water fountains
One practical solution, according to Prof Ong and Prof Ramaswami, is to install more drinking water fountains. This will help consumers overcome the "yuck factor" of having to fill water bottles from taps in toilets.
"Encouraging public toilet operators to provide drinking water fountains outside the toilet would help a lot. Even if the water in the toilet taps and water fountain taps were from the same source, the simple physical separation and design as a water fountain rather than a toilet sink tap would help convey the perception that the water was safe to drink," said Prof Ramaswami.
Imposing clear bottled water labelling requirements

Bottled water sold in Singapore - whether locally packaged or imported - is subject to the Agri-Food and Veterinary Authority of Singapore's (AVA) routine surveillance and sampling to ensure that food safety standards are met. But a check with AVA revealed that bottled water manufacturers are not obliged to clearly label the water's source. More detailed labelling, said Prof Koh and Asst Prof Leong, "may make a difference" to changing consumer behaviour.

At present, bottled water must only be labelled with the product name - usually, "drinking water" or "distilled water", the name of the country of origin, the name and address of the Singapore importer or the Singapore manufacturer, and the net quantity, said AVA.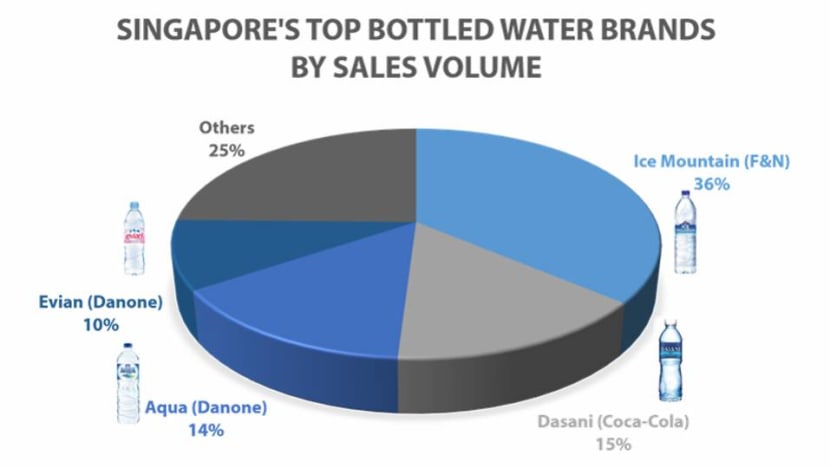 Prof Ng acknowledged that there are some people who dislike the taste of tap water. He said that in these instances, a "more intensive programme to educate the public on the 'safeness' of water and why it tastes the way it does and how such tastes can be modified in the home by the consumer - if necessary - can help move consumers to tap water".

Meanwhile, Prof Ramaswami suggested running an online campaign, "comparing bottled water to tap water, with lab certification results to show that tap water is as safe". He also said that "answering public concerns about pipes, tanks, and other ways in which potable water could be tainted before reaching households" in an online campaign or television programme would also help.

Reducing the carbon footprint in bottled water production
Another approach is to accept that bottled water is a fixture in our modern consumerist society and to find ways to reduce its environmental impact. Frost and Sullivan's Mr Leong said that existing technologies already allow for the "efficient production of plastic bottles that require less materials", and even edible "bottles", like the Ooho.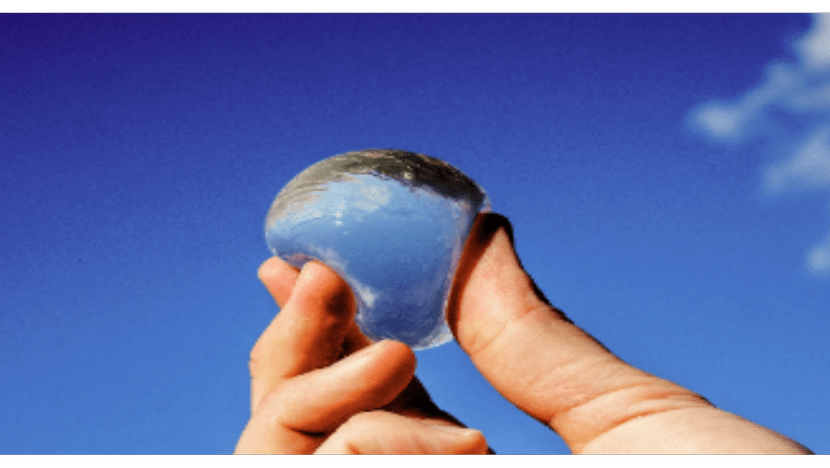 Changing corporate, institutional and personal behaviour

Lastly, experts said the Government can take the lead by imposing a tax on plastic, or changing procurement practices to stop the serving of bottled water in public sector entities and in schools.

"The chairman of PUB, Tan Gee Paw, has a good pre-commitment strategy. We have seen him at public talks. When he is served bottled water, he just doesn't drink it. No fuss, no big statements, it's just a choice," said Prof Koh and Asst Prof Leong.
"All Government ministers can do this. As the culture evolves, we in Singapore serve water in a jug and a glass because our water is good enough to drink straight from the tap."