Healthcare institutions begin Sinopharm COVID-19 vaccination amid 'overwhelming' demand from public
SINGAPORE: Healthcare institutions began offering the Sinopharm COVID-19 vaccine on Monday (Aug 30) amid "overwhelming" demand from the public.
More than 6,000 individuals have registered their interest to receive the Sinopharm vaccine at IHH Healthcare Singapore's facilities, said its chief operating officer Dr Noel Yeo on Monday (Aug 30). 
These individuals indicated their interest over the past month, Dr Yeo told reporters at a vaccination exercise held at Gleneagles Hospital, one of the firm's hospitals.
IHH Healthcare Singapore has imported more than 10,000 doses of the Chinese-made Sinopharm vaccine so far, said Dr Yeo, describing the vaccine as "popular". 
The Sinopharm vaccine
The Sinopharm vaccine uses an inactivated form of the coronavirus, similar to the Sinovac shot.
Private clinics may import the vaccine, which is under the World Health Organization's emergency use list, under the Health Sciences Authority's special access route. 
People who opt to take non-mRNA COVID-19 vaccines under WHO's emergency use list are now also considered fully vaccinated, after the authorities decided to take a more "inclusive" approach in recognising vaccines earlier this month.
This allows them to be eligible for vaccination-differentiated safe management measures such as dining-in at F&B outlets in bigger groups and travel concessions.
Previously, only those inoculated with Pfizer-BioNTech and Moderna vaccines under the national vaccination programme were recognised.
The WHO has said the Sinopharm vaccine has 79 per cent efficacy against symptomatic COVID-19 infection as well as hospitalisation from the disease, according to the results of a large multi-country Phase 3 trial.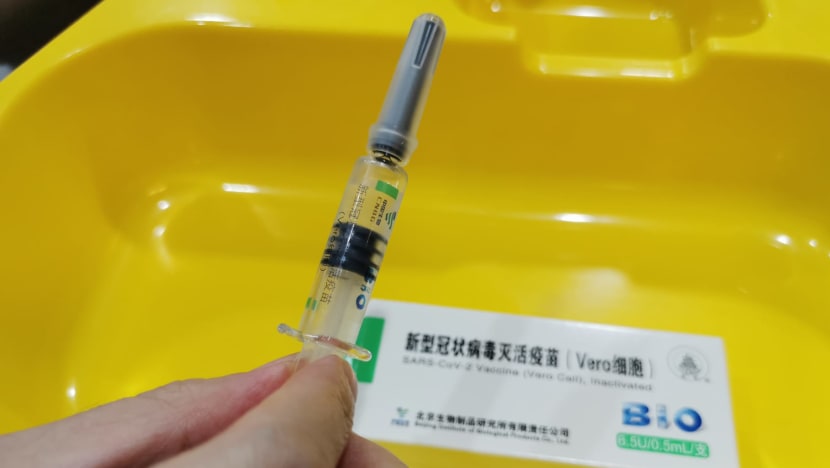 "We were aware there is a demand for alternative vaccines. However, the response for Sinopharm has been overwhelming so far," he said.
"We are already assessing the need to reapply for more doses to meet the demand."
IHH Healthcare will also offer the Sinopharm vaccine at Mount Elizabeth Hospital and Parkway Shenton clinics in Duxton and One Raffles Quay, Dr Yeo said.
About 50 people were invited for their vaccination on Monday, after vaccines arrived earlier than expected on Friday night, he said. 
Others who have made appointments will be able to get their vaccination from Wednesday, he added.
Gleneagles Hospital will be able to vaccinate up to 150 individuals at full capacity, he added.
"GOOD INTEREST" FOR VACCINE
Appointment slots at Clearbridge Medical Group's Medic Surgical and Laser Clinic - which also began offering the Sinopharm vaccine on Monday - were mostly booked, said a spokesperson. 
The clinic started accepting registrations for appointments on Aug 9.
"We are seeing good interest in the vaccines and have been actively reaching out to interested patients to get their vaccinations undertaken at the clinic based on an appointment format," the spokesperson said. 
He added that subject to clinic capacity and social distancing regulations, "we aim to inoculate between 50 to 70 patients daily".
A spokesperson for Raffles Medical Group, which has also started offering Sinopharm doses at Raffles Hospital and Raffles Specialist Centre in Orchard, said that each clinic can inoculate more than 60 patients a day and this can be "scaled up if required".
The group "will be offering its initial batch of 5,000 doses during this round of vaccination exercise", the spokesperson added.
As of Monday, Raffles Medical Group has received more than 10,000 registrations from people interested in the vaccine, the spokesperson said, adding that appointments for September are open and more appointments will be made available if needed.
Other clinics that are expected to offer the vaccine are Thomson Wellth Clinic @ Paragon and Thomson GP Clinic.
A spokesperson for parent company Thomson Medical said its two clinics "will be able to safely and efficiently administer about 250 vaccinations a day". 
"Collectively, we have received more than 1,000 requests for the Sinopharm vaccine to date," the spokesperson added.
The clinics are "gearing to start operations" from the middle of next month, he added.
StarMed Specialist Centre is also expecting to offer the vaccine in mid-September, said CEO Dr Louis Tan.
"We're waiting to complete the majority of our Sinovac doses before we open up appointment slots for Sinopharm. Because of similarities in name, country of origin and type of vaccine, we don't want to confuse members of public by offering both … simultaneously," he told CNA.
The centre will be able to administer more than 100 vaccinations a day, he said.
Checks by CNA show clinics in Singapore have priced the two-dose Sinopharm vaccine at about S$98 or S$99, with GST.
Ms Cindy Tan, 24, who received the Sinopharm vaccine at Gleneagles Hospital on Monday, pointed to its reported higher efficacy compared to the Sinovac vaccine - 79 per cent compared to 51 per cent - and reportedly milder side effects as reasons behind her decision. 
Ms Tan said that she got "a bit" worried after reading about side effects some "young people" encountered after receiving other vaccines.
"I read online that there were not many side effects for the Sinopharm (vaccine)," she said.
She added that the price was affordable to her. 
Business consultant Lam Pin Kee, 58 said that he "did some research" and was more comfortable with the "time-tested" technology of inactivated vaccines.
Mr Lam, who has been in the healthcare industry for 30 years, said that the vaccination process went smoothly, and that he is looking forward to being fully vaccinated.
"After I am fully vaccinated, I can dine out, I can do many things," he said.