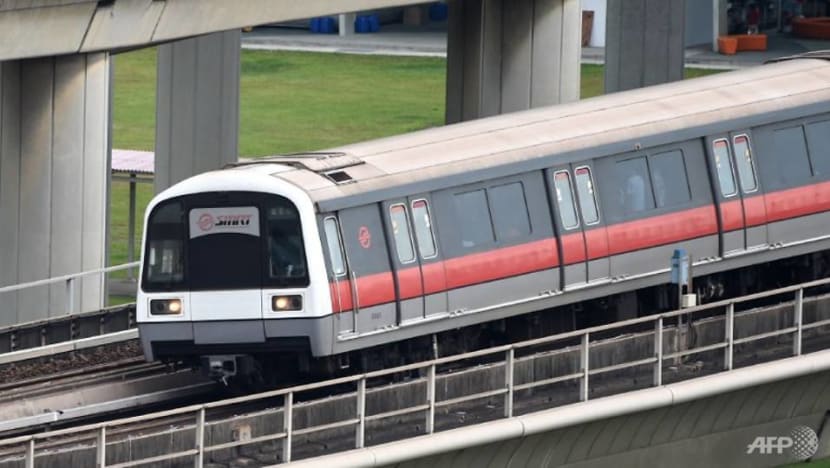 SINGAPORE: An SMRT employee was injured while carrying out maintenance work near Joo Koon MRT station early on Wednesday morning (Dec 12). 
The employee suffered foot injuries and was taken to hospital by Singapore Civil Defence Force (SCDF) personnel, said the transport operator in an email to Channel NewsAsia.
A full investigation into the accident will be carried out, SMRT added.
The accident, which happened at about 4.10am, caused train service to be disrupted between Gul Circle and Boon Lay along the East-West Line (EWL). 

"As this process required some time, the start of train service between Gul Circle and Boon Lay MRT station (both bounds) had to be delayed," said SMRT in the statement. 
The employee's right foot was injured as he was on the track preparing for an engineering vehicle to move back to the depot after maintenance works were completed, said SMRT. 
SCDF said it was alerted to the incident at around 4.20am. The employee, who was conscious, was taken to National University Hospital, it added. 
"Workplace safety is a priority for us, and the maintenance teams observed a safety timeout this morning to remind them of the importance of safety," said SMRT. 
After the employee was taken to hospital, SMRT engineering and operations teams conducted further checks on the track before service between Gul Circle and Boon Lay MRT stations was able to start at 6.20am, the statement added.
The employee is currently in a stable condition and undergoing treatment at the hospital, said SMRT. 
"Our immediate concern is for our maintenance staff who is being treated at the hospital, and we are providing the necessary care and support to him and his family," it added. 
SMRT first tweeted about the accident at around 5am.

At around 6.20am, SMRT said trains were "progressively returning back to normal speed" and that services on the EWL have resumed. 
"We are sorry to all commuters who were affected this morning," it said. 
During the disruption, free regular bus and bridging serves were available between the two stations. 

In a statement posted on Facebook on Wednesday evening, National Transport Workers' Union executive secretary Melvin Yong said the union would be assisting the employee, as well as working with SMRT to investigate the cause of the incident. 
"The union will be assisting the injured worker and his family, and we are relieved to know that he is currently in stable condition," he said. "We will be working closely with the company to investigate the cause of the incident, and to review the necessary workplace safety measures."

He added: "Our public transport workers work hard day and night to keep our transport system moving. We urge all to keep safety in mind at all times."