'There are no poor soldiers, only poor leaders': SMRT chief Neo Kian Hong says staff engagement is key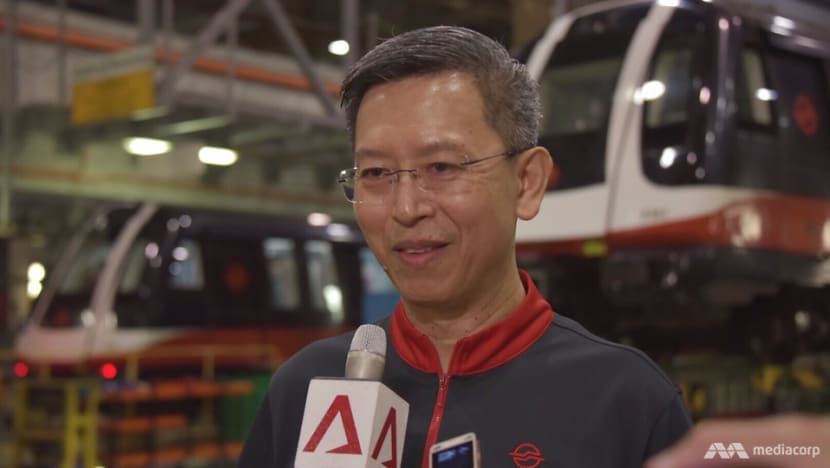 SINGAPORE: SMRT Group chief executive officer Neo Kian Hong said on Friday (Nov 16) that there are no "deep-seated cultural issues" within the company as suggested by predecessor Desmond Kuek, and stressed that he will use a hands-on approach to engage staff.
Speaking to reporters at the Kim Chuan Depot, Mr Neo, a former chief of defence force, used a military analogy to emphasise that the SMRT management has to take responsibility for the company's performance.

"In some militaries, they use this term - 'there are no poor soldiers, there are only poor leaders'," said Mr Neo. "This is a team sport. The whole organisation is required."
Mr Neo who replaced Mr Kuek on Aug 1, also disagreed with the former CEO's assessment following a tunnel flooding incident last year that there were "deep-seated cultural issues" within the company.
"I've been walking the ground for some months now and I've seen very enthusiastic people, very hardworking people," said Mr Neo. "I don't agree with the term 'deep-seated culture', because that's not my experience when engaging with the ground."
He emphasised that it was about leadership and "engagement on the ground".
"If we are able to give them the tools, if we are able to support them to do their work, if we're able to get them to see the bigger picture that they are actually appreciated ... I'm quite sure that the people will perform."

WORKING IN "ONEROUS CONDITIONS"
Mr Neo was also keen to stress that SMRT staff are "hardworking and motivated" even in "onerous" conditions.

Giving the example of a team which was carrying out rail grinding works in a tunnel during the early hours of the morning, Mr Neo said that they did not switch on tunnel fans to avoid disturbing residents in the neighbourhood.
"When I see all this, I realise that our people are the key," he said.

Mr Neo, who sold his car and now takes public transport to understand issues that commuters face daily, said that their problems have become personal for him.
"I thought that it was important for me to experience the MRT for myself," he added. "When I sit in a room and I listen to briefings about maintenance problems ... and then I get feedback from commuters about ... the heat, the smell, I don't know what they are talking about.
"And then when I smell it, it's totally personal," he said.

He also makes it a point to visit staff working in the MRT tunnels "two to three times" a week.

"It's tough to work night shift and you know exactly how it feels," he said. "I look at them in the eye, I know there's commitment and I know that they are proud to do the work."