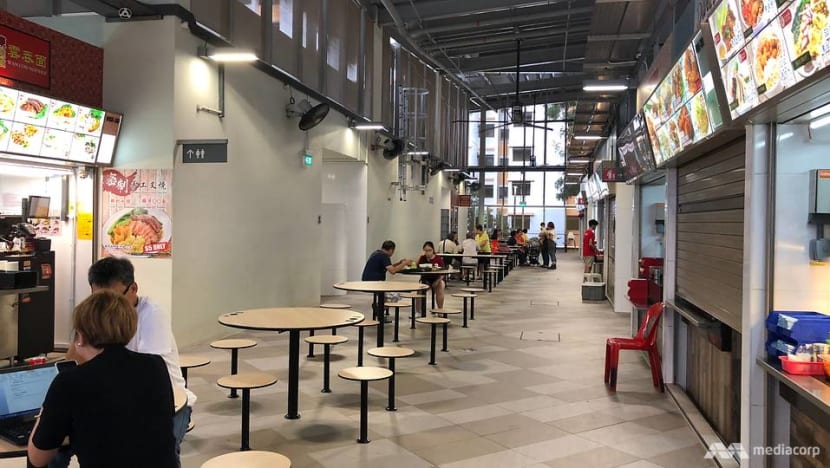 SINGAPORE: The National Environment Agency (NEA) said on Friday (Nov 9) that it has prescribed tweaks to standardise the contractual terms between socially-conscious enterprises and hawkers following feedback from hawkers, patrons and social enterprise hawker operators.
The four changes include the removal of "onerous" terms to better safeguard the interest of hawkers, said NEA during a visit to Ci Yuan Hawker Centre. 
An example of an onerous contractual term is the premature termination clause where stallholders are liable to pay rent for the rest of their contract. NEA said that such terms are more common with food courts and coffee shops. 
However, NEA added that it has not come across any instances of the premature termination clause coming into practice so far.
The other changes relate to stall operation days and hours, termination notice periods and security deposits, as well as other charges such as legal fees and liquidated damages. 
Stallholders may operate at least five days a week or more if they wish to, said NEA. Currently, stallholders are required to open six days a week. Social enterprise operations will also offer hawkers options on their operating hours. 
Termination notice periods will be standardised across all operators to be not more than two months, said NEA. The security deposit held by the operator would also be no more than two months' rent. 
If sufficient notice has been served by the hawker, the operator would not forfeit the security deposit. The operator will also not require the stallholders to pay rent of more than two months or until a replacement stallholder is found unless the tenancy agreement has been breached.
As for other charges, operators may impose "reasonable" liquidated damages for regulatory or other breaches at no more than S$50 for minor ones and S$100 for major breaches, said NEA.
The regulator added that operators should strive to keep business and administrative costs reasonable for hawkers. Operators will have to bear all legal fees that they may incur from the preparation and execution of the agreements with the stallholders, except for any stamp duties. 
The changes will mean that the contractual terms will align more closely with those of NEA-managed hawker centres.
The alternative hawker management model was put in place in 2015, with Ci Yuan Hawker Centre being the first to be run by a social enterprise. Currently, seven out of 114 hawker centres across the island are run by five social enterprises. 
They include Our Tampines Hub Hawker Centre, Yishun Park Hawker Centre, Jurong West Hawker Centre, Bukit Panjang Hawker Centre, Kampung Admiralty Hawker Centre and Pasir Ris Central Hawker Centre.
Dr Amy Khor, Senior Minister of State for the Environment and Water Resources, said in a media briefing on Friday that teething issues are inevitable with new initiatives.
"I think that even as there are teething issues, there are good outcomes that had been achieved to this model and what we want to do really is to refine, improve, evolve the model. We must then make adjustments, recalibration as and when it is required," said Dr Khor.
"When we first implemented this, NEA allowed the operators some flexibility so that they can introduce different ideas, different practices based on their experiences, expertise and skills to benefit both patrons as well as hawkers," she said.
"Going ahead, NEA as the regulator, we will rebalance these soft-touch regulatory approach towards social enterprise hawkers and exercise greater oversight so that we can ensure that the interest and needs of both patrons as well as hawkers are well served," she added.
The changes will come into effect from Jan 1, 2019.