Facebook instructed by POFMA Office to publish correction notice on States Times Review's post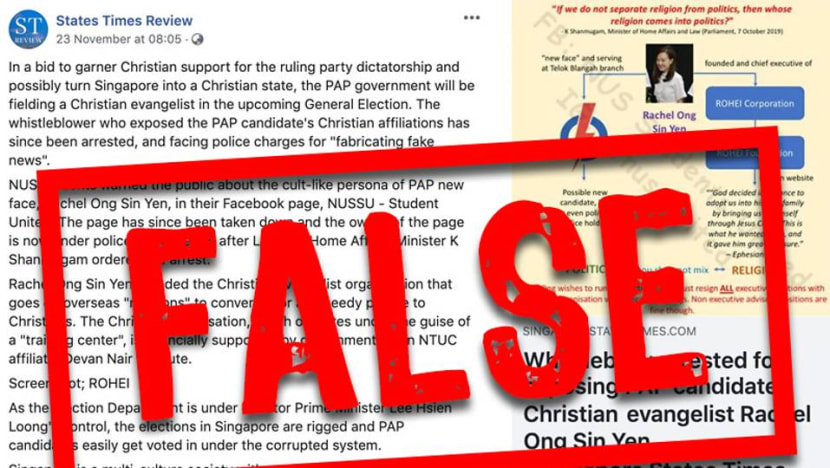 SINGAPORE: The office overseeing the Protection from Online Falsehoods and Manipulation Act (POFMA) on Friday (Nov 29) instructed Facebook to issue a correction notice on a post by the States Times Review. 
This came at the instruction of the Minister of Home Affairs K Shanmugam. 
"The TCD (targeted correction direction) requires Facebook to publish a correction notice on a 'States Times Review' Facebook post, published on Nov 23, 2019, 8.05am. Mr Tan runs the 'States Times Review' Facebook page," said the POFMA Office.
"POFMA Office has also commenced investigations against Mr Tan for failing to comply with the (correction direction)."

In response to CNA's queries, Facebook confirmed on Friday that it has received a request from the Government.

On Thursday, the States Times Review was ordered to correct a Facebook post in the second correction direction handed out under Singapore's online falsehoods law. 
The post alleged that a "whistleblower who exposed a People's Action Party (PAP) candidate's Christian affiliations" has been arrested and that the owner of the NUSSU – NUS Students United Facebook page, which published the claims about the PAP candidate, is under police investigation.
"These claims are false and baseless," said the Ministry of Home Affairs (MHA) on Thursday. "No one has been arrested or charged arising from the NSU post."
Facebook removed the NUSSU – NUS Students United page of its own accord as the page violated its authenticity policies, and the "fake accounts" linked to the page breached Facebook's guidelines, the ministry said.

The States Times Review also made other "scurrilous, absurd" allegations on Singapore's election process, MHA added.

The correction direction under the new law was issued to Mr Alex Tan Zhi Xiang, a 32-year-old Singaporean who runs the States Times Review website and Facebook page.
A post on the page on Thursday morning said that States Times Review and its editor "will not comply with any order from a foreign government". 
There are also provisions in the Act to issue directions to websites, social media platforms and other online content providers to correct or disable access to the content, at the discretion of the Minister who, in this case, is Mr Shanmugam.
According to the POFMA law, failure to comply with such directions could result in a fine of up to S$1 million. In the case of a continuing offence, there could be a further fine of up to S$100,000 for every day, or part of a day, during which the offence continues after conviction.