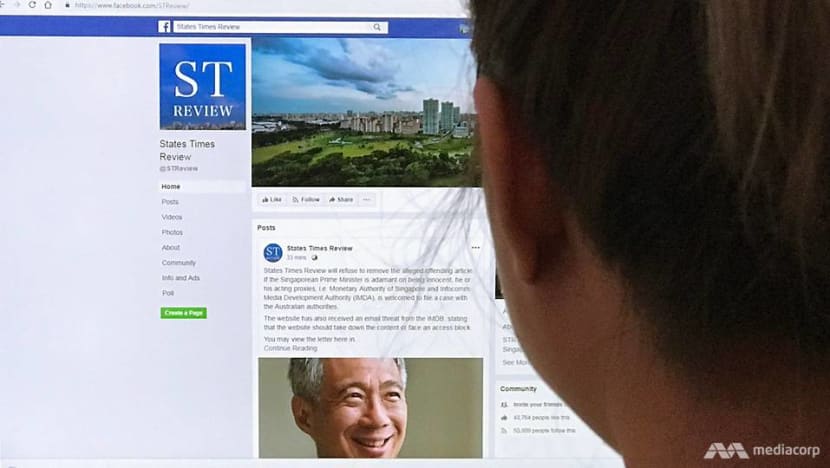 SINGAPORE: Alternative news site States Times Review has refused to take down an article linking Prime Minister Lee Hsien Loong to the 1Malaysia Development Berhad (1MDB) corruption scandal.
"States Times Review will refuse to remove the alleged offending article," it said in a Facebook post at about 6pm on Friday (Nov 9).
In the post, it invited Mr Lee and Singapore government agencies to "file a case with the Australian authorities".
The article in question, titled Lee Hsien Loong Becomes 1MDB's Key Investigation Target, was posted on Monday on the States Times Review.
It alleged that Malaysia had signed several unfair agreements with Singapore in exchange for Singapore banks' assistance in laundering the funds of Malaysian state fund 1MDB.
The Infocomm Media Development Authority (IMDA) issued a notice on Friday asking the alternative news website to take down the article by 5pm on Friday. Failing which, the media authority said, it would block access to the site. It also asked Facebook to remove a post linking to the article. 
An email letter from IMDA was reproduced by the States Times Review in its Facebook post.
IMDA said in the notice that publication of the letter would be an "aggravating factor" that would warrant further regulatory action from the authority.
The States Times Review website was inaccessible at about 9pm, checks by Channel NewsAsia showed, although the Facebook post on the article in question was still accessible.
A message displayed on the website read: "The website that you are trying to access is unavailable as it contains prohibited material." Readers were directed to the IMDA's website for more information on how it regulates content.
IMDA later confirmed it had directed ISPs to restrict access to the States Times Review as the website had failed to comply with the 5pm deadline. 

Shortly after access was restricted, founder Alex Tan wrote again on Facebook, saying that the website had been "blocked under false charges of 'fake news' and 'criminal defamation' and that he planned to shut it down. He also said he would "stop writing and continue (his) life in Australia". 
Earlier, the Monetary Authority of Singapore said that it had filed a police report over the article, which it said was false, defamatory and "impugned its integrity".
"Accordingly, IMDA has assessed that the article undermined public confidence in the integrity of the Singapore Government and is objectionable on grounds of public interest, and would therefore constitute prohibited content under IMDA's Internet Code of Practice," the media authority said.
Law and Home Affairs Minister K Shanmugam said that the article added a "nasty and malicious twist" to bilateral issues that had been made public and contained "absurd allegations".
He said the Government is taking the incident very seriously and that the police would take action against all involved based on investigations and advice from the Attorney-General's Chambers.