Student on trial for exposing others to risk of COVID-19 after returning from UK, later tested positive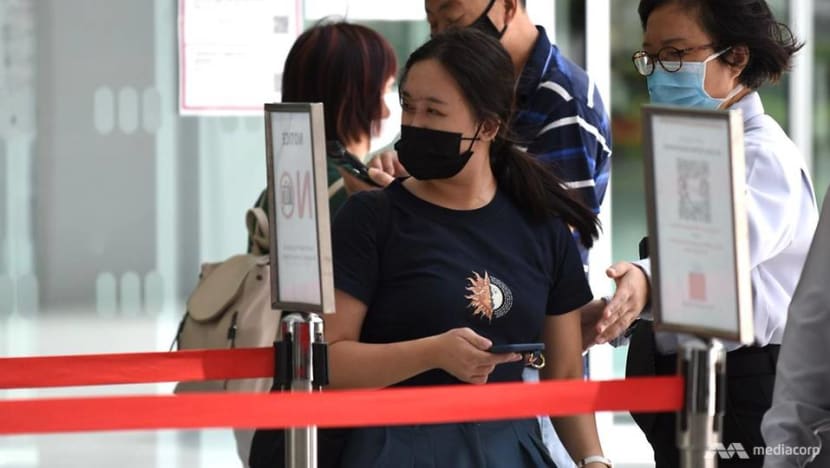 SINGAPORE: A student who returned to Singapore from the United Kingdom shortly after the Government implemented stay-home notices for returning travellers went on trial on Tuesday (Mar 9) for exposing others to the risk of infection by not heading home immediately after arriving in the country.
Esther Tan Ling Ying, 24, allegedly went to a food court at Changi Airport followed by a clinic in Clementi where she lied about her travel history and obtained medicine.
She later tested positive for COVID-19.
Tan is contesting a single charge under the Infectious Diseases Act of exposing others to the risk of COVID-19 infection.
Deputy Public Prosecutor Sanjiv Vaswani said in his opening statement that Tan was served a stay-home notice and directed to proceed home immediately on Mar 23, 2020.
However, she allegedly went to a staff canteen at Orchis Food Court at Terminal 1, where she had a meal with her parents. After this, she is accused of going to Clementi Family and Aesthetic Clinic, where she lied about her travel history and obtained medicine.
She tested positive for COVID-19 a few days later.
Mr Vaswani said Tan had flu-like symptoms before departing the UK, and this should have reinforced the notion that she could have had COVID-19.
"Singapore has made strides in combatting the spread of COVID-19," he said.
"The drop in local community numbers is the collective effort of everyone. We all have a part to play in keeping Singapore safe and have been able to do so only because the majority of us have been playing by the rules. Yet there's a small number who think the rules don't apply to them ... and as a result put everyone at risk. Esther is one such person."
He said there was "no excuse" for her "abhorrent conduct of lying".
The first witness on the stand was Mr Muhammad Aizad Abu Bakar, the Immigration and Checkpoints Authority (ICA) officer who briefed Tan, along with others in a group, on their stay-home notice order.
He testified that the briefings were done in batches of about 10 to 15. He was in charge of briefing returning Singapore citizens and permanent residents.
After the briefing, the travellers were told to fill up a form before approaching an ICA officer on the ground who would check it. After the necessary signatures, they would sign on the page to say they understood the briefing and were directed to head for immigration clearance.
Travellers had to obtain a sticker to show that their briefing was done properly before they were allowed to go through immigration, said Mr Aizad.
Defence lawyer Tan Cheng Kiong in his cross-examination of Mr Aizad put it to him that the mode of transport home was not one of his key briefing points.
"A passenger can theoretically walk home," said Mr Tan.
Mr Aizad answered that he was "not sure".
"If you are conducting a briefing - if a passenger asks if they can take a bus home, what will you say?" asked Mr Tan.
"I will ask my team leader for assistance," said Mr Aizad, adding that no one has asked him this question.
He added that he advised the travellers to use taxis or private-hire transport to get home.
LAWYER QUESTIONS ICA OFFICER ABOUT SHN
Mr Tan also quizzed Mr Aizad about the duration of the stay-home notice and when it began.
"It's only logical for anybody to understand that the SHN can only start after they have arrived home," he said. "So before they arrive home, if they pass any place, that technically is not part of the SHN."
"No sir, because we did advise passengers to go home straight," answered Mr Aizad.
Mr Tan said that his client had returned to Singapore quite soon after the stay-home notice regime was first implemented.
"Do you agree with me that actually quite a lot of people don't understand how this SHN works?" he asked.
Mr Aizad said he was not sure.
"I would say that even ICA officers don't understand how it works - such as yourself," added Mr Tan. He said a 14-day stay-home notice meant the period would begin on day 1 and end on day 14.
"If I add day 0, it's a 15-day notice, isn't it?" he asked.
He cited a news article published on Mar 28, 2020, that said several travellers arriving at the airport were unsure about when their 14-day stay-home notice started. 
"Actually, quite a lot of travellers were under the impression that SHN started only the next day - in fact they claim ICA told them it was day 1. Do you agree with me - ICA officers could have told passengers that SHN started on day 1, the next day?" asked Mr Tan.
"No sir," answered Mr Aizad. He added that he did not know how the travellers got this idea. 
The trial continues. If convicted of exposing others to the risk of infection of COVID-19, Tan could be jailed up to six months, fined up to S$10,000, or both. 
Download our app or subscribe to our Telegram channel for the latest updates on the coronavirus outbreak: https://cna.asia/telegram