Students to be graded on 'achievement levels' in PSLE from 2021
Students taking the PSLE will be graded with Achievement Levels (AL) of 1 to 8 in each subject, with their final score made up of the sum of these achievement levels.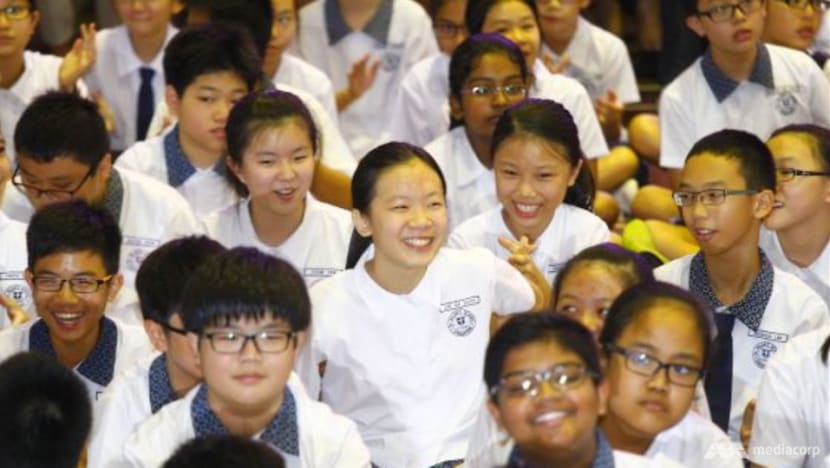 SINGAPORE: From 2021, students taking their Primary School Leaving Examination (PSLE) will be scored with Achievement Levels (ALs) of 1 to 8 in each of their four subjects. The sum of these ALs will make up students' final scores, which will now be called the PSLE Score.

In detailing changes first announced in Parliament in April, the Ministry of Education (MOE) said it is moving away from the PSLE T-score, with the intention of reducing an over-emphasis on academic results. Students in this year's Primary 1 cohort will be first to be affected, as they take the PSLE in 2021, the ministry had said at the Committee of Supply debate.

The changes come amid a push to overhaul the PSLE system, to eradicate competition and stress among students and parents, however Acting Minister for Education (Schools) Ng Chee Meng said people still have a strong faith in the current system and that "some things are best evolved and not revolutionised". Speaking to the media on Wednesday (Jul 13), Mr Ng said: "Our school system is a strong and robust one. In such a good system, I think it is premature to revolutionise it until such a time when we are clearer. And in many of the things we are doing on the ground besides PSLE, we have taken steps to engender more innovative and creative learning environment".

In the new scoring system, an AL of 1 is the best score a student can achieve, with 8 being the worst. Possible aggregates of the ALs will range from the highest score of 4 to the lowest of 32. Students will no longer be as finely differentiated with the new scoring system, since there will only be 29 possible PSLE scores, compared to more than 200 T-score aggregates under the current system, MOE said.

Under the new scoring system, students will be graded based on their individual performance in the subjects. MOE said this is more educationally meaningful than the existing T-score system, which reflects how well students have done relative to their peers.

Based on reference raw mark ranges provided by MOE, this means a student who scores 90 and above for a subject will be given an AL of 1, regardless of how other students perform in the same exam. MOE said this will allow students to focus on their own learning, rather than trying to outdo others.

MOE added that the ranges are narrower at the top ALs, but said it estimates about half of all students will score AL4 or better.
The existing streams for secondary school education of Express, Normal (Academic) and Normal (Technical) will be retained. Under the changes students, students will need a PSLE Score from 4 to 20 in order to qualify for the Express stream. MOE added that they do not expect significant changes in the percentage of students who qualify for the different streams.
Foundation level subjects, which cater to upper primary students who may not be able to cope with regular or Standard level subjects at the PSLE, will also be scored on ALs, said MOE.

Students with achievements in Higher Chinese looking to get into Special Assistance Plan (SAP) schools will also be given a posting advantage in the new system, as will students looking to get into a secondary school that is affiliated to their primary school.

NEW "CHOICE ORDER" TIE-BREAKER IN SECONDARY 1 POSTING

The Secondary 1 posting system will also be tweaked, with a new "Choice Order" tie-breaker introduced. MOE said this is to recognize that families have different considerations when choosing a secondary school.

In the existing system, the T-score aggregate is the first criterion for posting, where students are posted to secondary schools based on the six schools of preference they indicate when making their choices. But the order in which a student lists the schools is not considered when deciding who will get a place.

For example, a Singaporean student who lists a particular school as his first choice would not get priority over a Singaporean student with the same T-score who lists the same school as his second choice. Tie-breakers like citizenship and computerised balloting are used to decide who gets a place in that school.

In the new system, a new tie-breaker called "Choice Order of Schools" will be introduced. While the PSLE Score will remain the first criterion for posting, the order in which a student lists the school in his choices will come into play.

MOE said that currently, only a small amount of balloting is conducted as a tie-breaker. But with wider scoring bands in the new system, more students will attain the same PSLE score, and there could be more balloting if many students choose the same school. However, it anticipate that balloting will only affect a small proportion of students, as it is only used after earlier tie-breakers have been used up.

Based on past cohorts' performances and choice patterns, MOE added that about 9 in 10 students would not have to undergo balloting, but this figure could change depending on the actual choice patterns of students.

In order to guide families in their choices of secondary school, MOE said it will provide indicative cut-off points and information on each school's unique programmes.

LESS EMPHASIS ON CHASING NUMBERS, MORE CHOICE FOR STUDENTS: PRINCIPALS, TEACHERS

With a greater element of choice for parents and students in the new system, secondary schools will now need to differentiate their current niche programmes in order to make them more attractive, said principal of Pasir Ris Crest Secondary, Balamurugan Krishnasamy.

"In the case of Pasir Ris Crest, we do have an Applied Learning Programme in Media, Broadcasting and Communications. Could we look at certain communication skills that articulates from secondary one right up to secondary three? So what would be the key areas? So things like Toastmastering can come in. It's not just public speaking but to look at certified skills that students can pick up", he said.

Mr Bala added that the differentiation becomes leverage and a selling point when one markets the school to parents and students.

At the primary school level, teachers said the changes would allow them to pace learning, as opposed to chasing the 3-digit number of the T-score. Ms Esther Tan, who teaches Chinese Language at Pioneer Primary, said the changes would also allow educators to work harder to differentiate their students' learning capabilities. "Sometimes we tend to think that we need to drive everyone to all hit an A. In pushing this, some kids who are not performing as well may be neglected. With this change, the whole idea is that - let's say you are a 'C' now, I will work at helping you become a 'B'", she said.
IN RIGHT DIRECTION, BUT MORE NEEDS TO BE DONE: GPC CHAIR FOR EDUCATION
Chair of the Government Parliamentary Committee for Education, Denise Phua, said the changes are "in the right direction", but that more needs to be done to reduce an over-emphasis on grades. For example, she said the changes will not dampen the demand for tuition services unless mindsets change.
"More schools need to be seen as good schools, excellent schools in form and substance. We need to review the Direct School Admission (programme) which allows for non-academic admission criteria but runs the risk of favouring people who can afford to develop their talents. On the employers side, under SkillsFuture, I'm very hopeful about that but we must do more to show that skills mastery not simply paper qualifications matter in one's career development, one's compensation," she said. Ms Phua said all these "levers need to be pulled before people change their mind about using tuition as something to push their marks up".