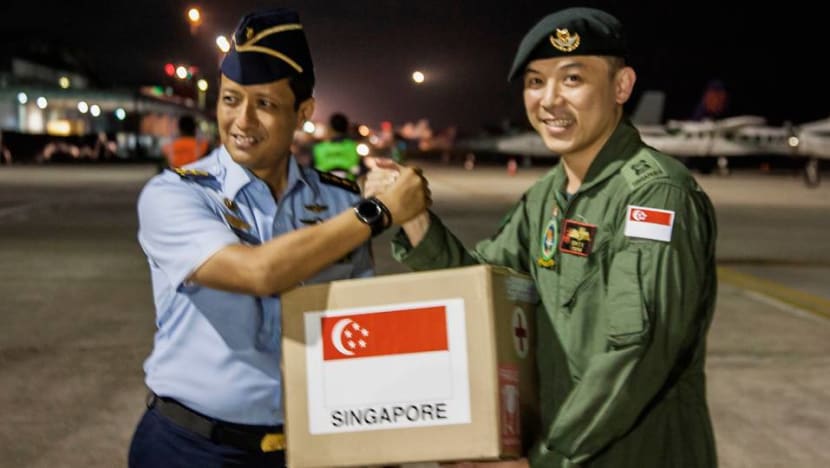 SINGAPORE: The Singapore Armed Forces (SAF) on Tuesday (Oct 2) delivered humanitarian supplies to Indonesia to help with ongoing relief efforts following the devastating earthquake and tsunami that hit central Sulawesi. 
Two Republic of Singapore Air Force (RSAF) C-130 aircraft delivered the relief package, said the Ministry of Defence (MINDEF) in a press release on Wednesday. 

The package, comprising tents, meal rations, bottled water and medical supplies, was handed over to Lieutenant Colonel (LTC) Ali Sudibyo from the Indonesian Armed Forces (TNI) by the SAF Mission Commander, LTC Oh Chun Keong.
The package, worth S$240,000, was donated by the SAF. 

Meanwhile, the two RSAF C-130 aircraft will remain in Indonesia to help evacuate those displaced from disaster-hit areas.
The 7.5-magnitude quake triggered tsunami waves as high as six metres, which swept ashore in the small city of Palu on the west coast of Sulawesi. A total of 1,234 people have been confirmed dead, said Indonesia's national disaster mitigation agency. 

"As a close neighbour and friend of Indonesia and the TNI, MINDEF and the SAF stand ready to assist Indonesia and the TNI in further disaster relief efforts, if required." the press release said.
In a Facebook post on Tuesday, Defence Minister Ng Eng Hen said: "If needed, the SAF will do more to help our brothers and sisters in Indonesia through this natural disaster."
On Tuesday, the Singapore Government offered to send humanitarian supplies and personnel to help with ongoing relief efforts in Indonesia.

It added that it will also donate US$100,000 (S$137,500) to kick-start the Singapore Red Cross' public fundraising appeal, which was launched on Monday.

The Singapore Civil Defence Force (SCDF) has deployed two officers to participate in a 10-day mission to central Sulawesi as part of the ASEAN Emergency Response and Assessment Team. This is coordinated by the ASEAN Coordinating Centre for Humanitarian Assistance on disaster management.