Talks on RCEP trade pact taking 'much longer than usual', but set for 2019 completion: PM Lee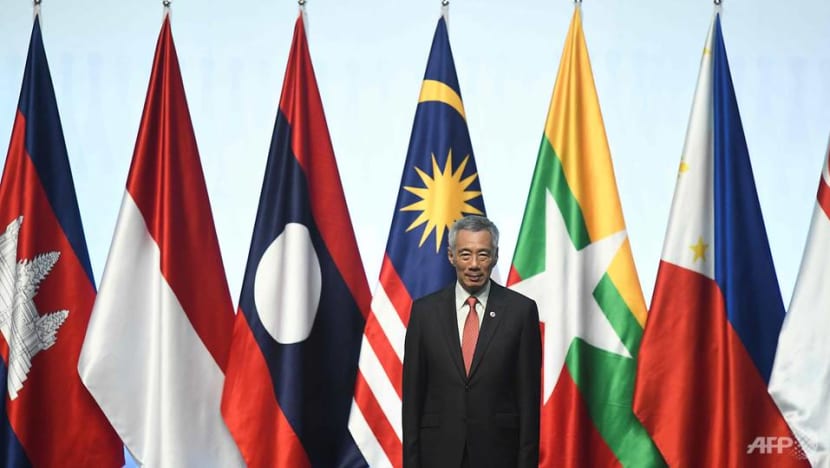 SINGAPORE: Negotiations on the Regional Comprehensive Economic Partnership (RCEP) have taken "much longer than usual" but the bid to complete the world's largest trade pact is poised for conclusion in 2019, said Singapore's Prime Minister Lee Hsien Loong on Wednesday (Nov 14). 
Speaking at the start of the 2nd RCEP Summit held as part of the 33rd ASEAN Summit and related meetings in Singapore, Mr Lee said the 16 member countries have been dealing with the "unique challenges of negotiating a mega free trade agreement", though the complexities are not unexpected. 
"Complexities are expected as we are a group of diverse economies. For a number of us, this will be our first FTA with each other," he said. 
"But when concluded, the benefits will be equally substantial … (It) will also send a clear and strong signal of our commitment to multilateral trade." 
As such, he urged member states to "press on and make as much progress as possible".
With talks entering its sixth year, Mr Lee noted that further prolonging of negotiations will put RCEP at risk of losing credibility and support from stakeholders, as well as "missing a major opportunity" to bring tangible benefits to businesses and citizens. 
Besides, business confidence in Asia has already been hurt by the rising tide of protectionism and anti-globalisation sentiments. 
Mr Lee said it is thus important for countries to "redouble" economic integration efforts, and maintain the free, open and rules-based multilateral trading system. 
"A substantial outcome for RCEP will reassure businesses that our region remains committed to building a pro-business and investor-friendly climate."
Nevertheless, he said "substantial progress" has been made this year to advance negotiations. 
This includes the conclusion of five more chapters, which brings the total number of concluded chapters to seven. 
"Significant breakthroughs" have also been secured in the rules-based chapters, noted Mr Lee. "As it stands, the RCEP agreement contains significant improvements above the existing ASEAN+1 free trade agreements." 
"Market access negotiations have advanced substantially, bringing us closer to finalisation next year," he added.

Noting that talks are now at the "final stage", Mr Lee said: "With the strong momentum generated this year, I am pleased to note that the RCEP negotiations are poised for conclusion in 2019." 
"CAUTIOUSLY OPTIMISTIC" OF COMPLETION BUT OUTSTANDING ISSUES REMAIN 
Apart from the 10 member countries of the Association of Southeast Asian Nations (ASEAN), other RCEP signatories include China, Japan, South Korea, India, Australia and New Zealand. When inked, RCEP will form the world's largest trading bloc, making up a third of global gross domestic product. 
Progress on the proposed trade pact has been closely watched amid bickering over trade between China and the United States, the world's two biggest economies. 
In an interview with Singapore reporters after the meeting, Trade and Industry Minister Chan Chun Sing said he is "cautiously optimistic" and there is "more than a fair chance" for RCEP talks to be concluded next year. 
But while the "substantial progress" made over 2018 has exceeded expectations, two sets of outstanding issues remain.
They are the rules-based chapters and the topic of market access. The latter covers the likes of tariff barriers, which member states can hold bilateral negotiations on, said Mr Chan. 
"For most countries, they are either very close or have concluded their negotiations. There are only a few key countries that are outstanding at this point in time." 
He added that there are other chapters that have been "pretty much concluded" but "some countries have reserved their position until they see the entire package".
When asked if the possibility of upcoming elections in some member countries – such as India, Thailand and Indonesia – could throw up hurdles, Mr Chan stressed that countries involved see benefits associated with the RCEP pact as "for the long-haul". 
"So whether they have short-term domestic preoccupations or not, they must take into account the longer-term benefits and I think that's what they are focused on."