The Online Citizen's Terry Xu and writer get jail for criminal defamation over article calling Cabinet corrupt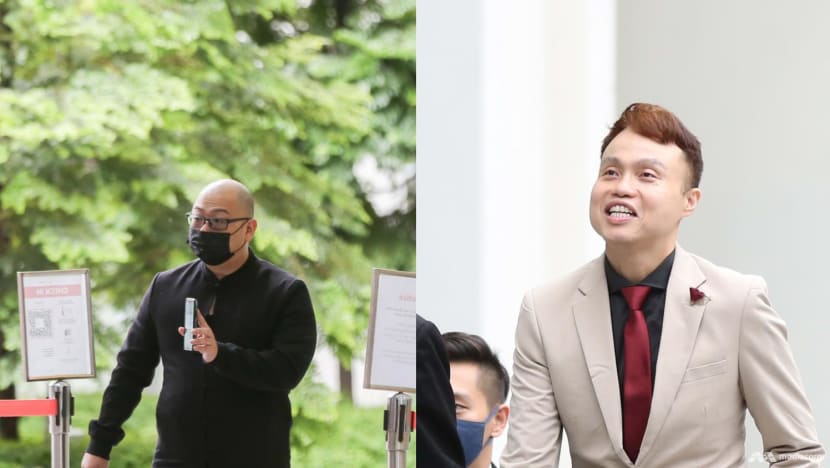 SINGAPORE: The chief editor of the now-defunct website The Online Citizen (TOC) was on Thursday (Apr 21) jailed for three weeks for criminal defamation.
Terry Xu Yuanchen, 39, was found guilty in November last year of defaming members of the Cabinet of Singapore by approving the publication of a letter on Sep 4, 2018 that alleged "corruption at the highest echelons".
The writer of the letter, Daniel De Costa Augustin, 38, was sentenced to three months and three weeks' jail. He will start serving his sentence on May 4.
De Costa was convicted of a similar charge of criminal defamation and a second charge of unauthorised access to an email account not belonging to him, which he used to submit the article.
During the hearing, Xu's lawyer Remy Choo took issue with the prosecution's allegations that his client's actions were part of a "broader insidious agenda".
The prosecution had argued: "The evidence suggests that the uploading of the article by Xu was part of a broader insidious agenda of publishing articles that cast unwarranted aspersions against the Government and members of Cabinet.
"He farcically attempts to rationalise that the 'fundamental right to freedom of expression' allows anyone to 'express (a) belief' that 'have not been proven untrue' against 'politicians, government bodies and ministries'.
"Such an approach is self-evidently absurd and clearly fashioned to defend his penchant for publishing articles that cast aspersions on Government without basis."
Mr Choo argued that this should not be a consideration before the court, as the existence of a "broader insidious agenda" was not proven at trial.
Deputy Public Prosecutor Mohamed Faizal responded that the lawyer was asking the court to ignore the context and motive behind the article's publication.
He read out an extract from Xu's police statement and said it demonstrated Xu's philosophy that "it is up to those who have been defamed to prove the negative", and that unless they did so, "he has a right to publish what he wants".
Mr Choo responded that Xu was talking about his "editorial philosophy of erring to the side of permitting publication as far as possible", and that this did not substantiate the existence of a "broader insidious agenda".
District Judge Ng Peng Hong eventually imposed the sentences sought by the prosecution, saying that the prison terms were warranted by "the nature of the allegation, the standing of the defamed parties as well as the wide extent of the publication".
Supporters of Xu and De Costa attended the hearing at the State Courts.
BACKGROUND TO THE CASE
On Sep 4, 2018, De Costa sent an email titled "PAP MP apologises to SDP" from an Internet cafe in Chinatown, intending for it to be published on the TOC website.
That same day, Xu approved the publication of the email sent to it from a person named Willy Sum, titled "The Take Away From Seah Kian Ping's Facebook Post". Mr Seah Kian Peng's name was misspelt.
The defamatory article said: "We have seen multiple policy and foreign screw-ups, tampering of the Constitution, corruption at the highest echelons and apparent lack of respect from foreign powers ever since the demise of founding father Lee Kuan Yew".
De Costa used an email account belonging to Mr Sim Wee Lee to submit the article to TOC under the name Willy Sum.
Mr Sim previously testified that he met De Costa while walking his dogs in 2005 or 2006, and they became friends. He allowed De Costa to use his email account to help him settle his bankruptcy and housing matters.
He later found out that De Costa had sent emails criticising government officers without his permission.
Both Xu and De Costa went to trial last year to contest their charges, and were convicted in November 2021.
PROSECUTION'S ARGUMENTS
Mr Faizal and fellow Deputy Public Prosecutors Mohamed Senthilkumaran Sabapathy and Sheryl Yeo argued that corruption was one of the most serious allegations that could be made against public office holders.
They noted that TOC had more than a million views a month according to Xu, and cited his previous descriptions of the website as "an independent media platform" that strove to provide readers with "honest, objective, independent and factual reporting".
"There would have, as such, been a wide reach for the defamatory article through the Internet through a platform that, via its assurances of integrity and independence, sought to actively provide readers a false veneer of credibility and reliability in relation to its contents," said the prosecutors.
According to both the prosecution and defence, there had been only two reported cases of criminal defamation in Singapore prior to this one.
In the first case from the early 1970s, Harbans Singh Sidhu was sentenced to six months' jail for calling then Prime Minister Lee Kuan Yew a scoundrel, gangster, kidnapper, and "no 1 public enemy" during an election campaign speech.
In the second case from 2003, a woman called another woman a prostitute whose children were all born of different men. She was fined S$2,000.
The prosecution argued that the earlier case paralleled Xu and De Costa's case as the defamatory remark was also directed at a public office holder.
They also contended that both men's culpability was high as they "made no effort whatsoever to ascertain the truth of the facts" before the article was published.
In particular, Xu's editorial process at TOC was "lackadaisical if not completely non-existent", said the prosecution.
For De Costa's Computer Misuse Act offence, the prosecution highlighted his premeditation, abuse of Mr Sim's trust and persistent offending.
They also said that De Costa caused "real and tangible harm" to Mr Sim by implicating him such that he had to assist in investigations and the trial.
This exposed him to public scrutiny and caused him "substantial inconvenience and emotional pain", they argued.
"De Costa and Xu must be held to full account for their use of online platforms as an insidious means to launch baseless and unsubstantiated attacks against public office holders," stressed the prosecutors.
DEFENCE'S ARGUMENTS
Xu's lawyer Mr Choo asked for a fine of S$4,000, while De Costa's lawyer Chung Ting Fai asked for a fine of S$10,000.
In mitigation, Mr Choo argued that Xu complied with IMDA's direction to remove the article from TOC's website within a few hours of the request being made on Sep 18, 2018.
Xu also cooperated with authorities by providing the identity and particulars of the article's writer and information on the editorial, publishing and fact-checking process at TOC, said the lawyer.
Mr Choo argued that the publication of the article was "short-lived" at only two weeks, and was not published on any other social media platform.
Google Analytics data showed that there were only 1,132 page views from the time the article was published to when it was taken down, demonstrating its "limited public reach and impact", said the lawyer.
De Costa's lawyer Mr Chung contended that his client's culpability was low as the phrase "highest echelons" could have been "an authorial misstep rather than a deliberate assault".
This was because the phrase did not expressly refer to the Cabinet or any of its individual members, said Mr Chung.
For criminal defamation, Xu and De Costa could have been jailed up to two years and fined. For unauthorised computer access, De Costa could also have been jailed up to two years, fined up to S$5,000 or both.
The TOC website, founded in 2006, was taken offline in September last year after the Infocomm Media Development Authority (IMDA) suspended its class licence for repeatedly failing to to comply with its legal obligation to declare all funding sources.
The licence was later cancelled by authorities.

In December, the High Court dismissed a bid by the website to overturn orders by IMDA to close its Chinese-language website and social media accounts.