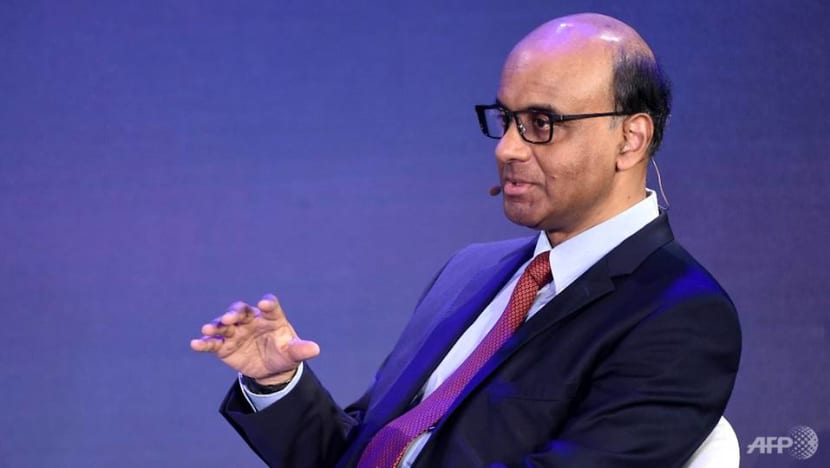 SINGAPORE: Senior Minister Tharman Shanmugaratnam on Thursday (Oct 17) received the Distinguished Leadership and Service Award by the US-based Institute of International Finance (IIF). 
Mr Tharman, who is also Coordinating Minister for Social Policies, received the award "in recognition of his contributions to global financial governance and public service", said the Prime Minister's Office in a media release. 

The senior minister is in Washington DC for this year's annual meetings of the World Bank Group and the International Monetary Fund (IMF).
"It is my privilege to receive this award from the IIF," said Mr Tharman. 
"It is to the credit of my colleagues at the Monetary Authority of Singapore and in the Singapore Government, and internationally, whom I have been working with to build resilient and growth-oriented financial markets," he added.  
"There is still much to be done to put in place the cooperative international networks and global financial reforms needed for more inclusive and sustainable growth."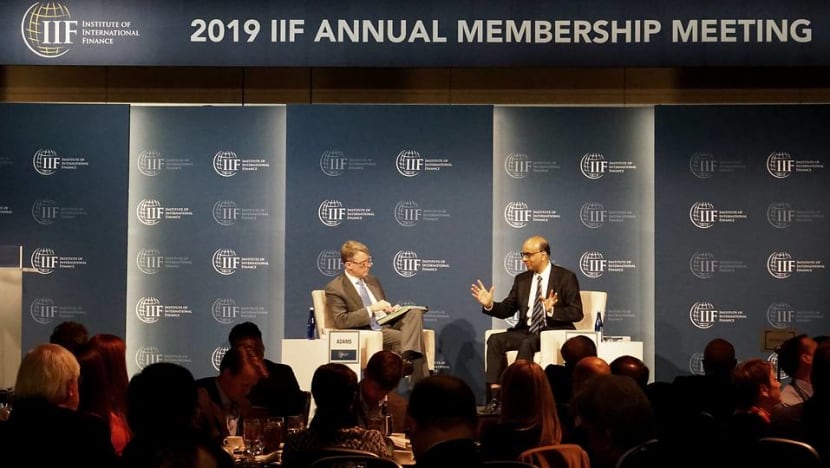 Mr Tharman, who serves as chairman of the Monetary Authority of Singapore, received the award along with Bank of England Governor Mark Carney.
In a statement from IIF, the institute's president and chief executive Timothy D Adams said: "Governor Carney and Senior Minister Tharman are two of the brightest and most capable people I've had the honour to work with. Both are world-class people.
"The success and stability of today's international financial system would not be possible without their foresight and steady hands," he added.
Mr Adams described Mr Tharman as "a visionary" who has been a leading proponent of global reforms to "de-risk and grow development finance, and to achieve more resilient capital flows".
"His ability to see around the corner and consider both the economic implications and the possibilities from a central banker's lens provides a unique and highly valuable perspective in our ever-evolving and increasingly digital world." ​​​​​​​

Apart from speaking at the IIF's annual membership meeting, Mr Tharman also spoke at the Peterson Institute for International Economics' conference on the topic of rethinking inequality policies. 
He will also chair the International Banking Seminar as the Chair of the Group of Thirty and participate in meetings at IMF. 

In July, it was reported that Mr Tharman was among candidates shortlisted to succeed Christine Lagarde as International Monetary Fund (IMF) chief. 

According to the New York Times, the former deputy prime minister was considered among other names like Agustín Carstens, a former deputy managing director of the monetary fund; Mohamed El-Erian, the former chief executive of Pimco; and Mark Carney, the outgoing governor of the Bank of England.
Bulgarian economist Kristalina Georgieva was later confirmed as managing director of IMF in September.