These middle-aged skateboarders defied age and expectations to pursue their passion
Skateboarding, known for its youth appeal, has seen an uptick in enthusiasts aged above 50 in Singapore. They tell CNA what they've learned about life – and themselves – since picking up the board in their later years.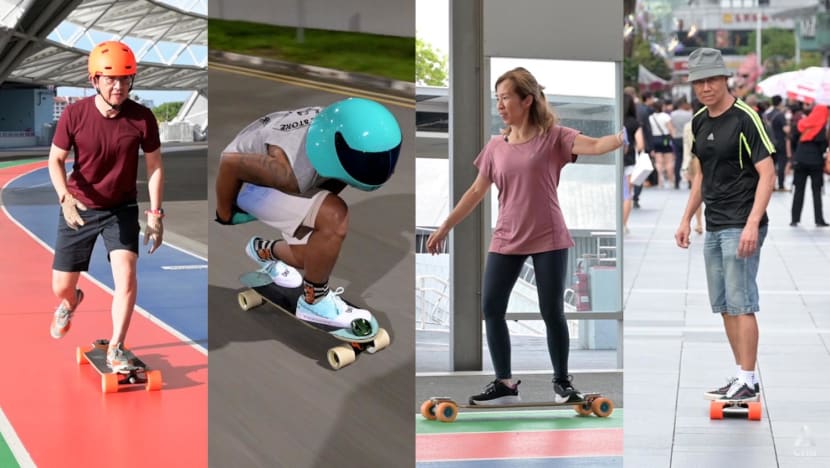 SINGAPORE: When Mr Erwan "Youri" Supian was released from prison in 2008, he didn't know then that he had just served his final stint behind bars after 18 years of being in and out of jail. 
Since his first brush with the law landed him in the Singapore Boys' Home at 14, he had been arrested about five more times for various offences "to do with my temper", which include fighting and causing public nuisance, he told CNA. 
That day in 2008, Mr Erwan – whose friends know him as Youri, a moniker that has stuck from his past – was issued a challenge he could not turn down. 
He was supposed to meet a friend for drinks right after his release, but his friend asked him to head to car park F1 at East Coast Park, where the Xtreme SkatePark was located. 
"It was the first time I saw a skatepark. I saw my friend skating and I made fun of him. Then he challenged me: 'If you dare, you come and skate.' I took up the challenge and skated, and I still remember I faceplanted inside the bowl," he recalled. 
"So I told him, 'Next week I will get a board and I'm going to try skating until I get the correct way of skating inside the bowl.'" 
Mr Erwan spent the next two months learning longboarding at East Coast Park, before his friend showed him a video of downhill skateboarding – a style of skateboarding where skateboarders ride a longboard down a steep hill at high speeds. 
One look at the video and he was sold: "I told my friend, 'This is me.'"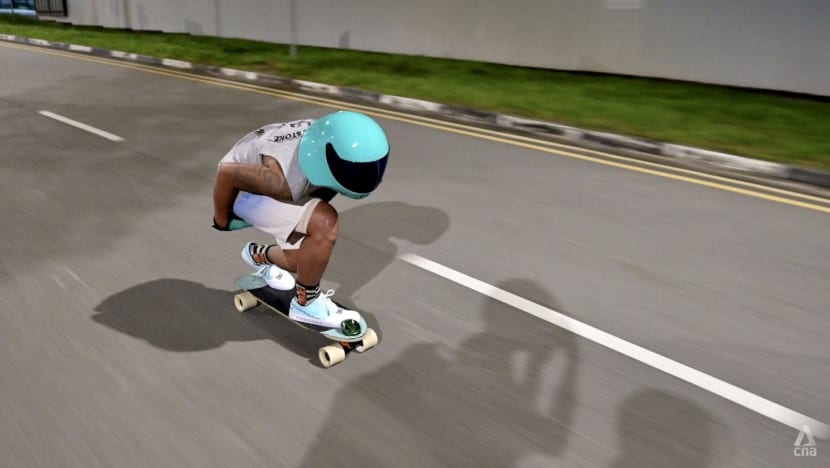 More than a decade later, the 45-year-old is now lightyears from the man who once got riled up easily – or the one who did a faceplant during his first time on a skateboard. 
It was a weekday night when CNA met Mr Erwan on a winding road with a gradual incline near the Gali Batu depot just off Woodlands Road. He coolly trudged to the top, skateboard in one hand, turquoise helmet in the other. Then seeing no oncoming vehicles, he whizzed downhill, a blur of blue. 
"I love speed. Once I go downhill, everything shuts down. Maybe you guys find it funny, but when I go downhill, everything is slow-mo," he explained, while preparing for the next round. 
"Downhill skateboarding is the thing for me, because I'm an aggressive person. Going downhill, I don't need to fight with anyone else. It's just me and the road." 
NEW TRICKS AT AN OLD AGE 
Mr Erwan is just one in a growing community of older skateboarders in Singapore who have fallen in love with the sport commonly associated with those half their age. Unlike him, many only got hooked in their 50s – but age has proven to be just a number.
At 58, Mr Raymond Tan has been skateboarding for eight years, having picked it up after returning from working in China in 2014. 
The marketer in an international cybersecurity firm had done running, cycling and swimming, and felt bored after "doing the same thing for too long". He wanted to try a new sport, and skateboarding "really looked difficult", which further compelled him to try.
"I didn't know whether it was difficult because I'm older, but I told myself not to make those kinds of excuses, otherwise it will permanently be an excuse for everything. It was quite difficult to get the basics, like being able to push off, roll along, not fall off … It took a few months," he said. 
"You will look like a fool for awhile. That's the thing that may be harder to overcome. Because you may think, maybe it's just me, maybe I'm not cut out for it; you're not young anymore, what are you thinking? But (I told myself), if it takes longer, it takes longer. Just keep doing it."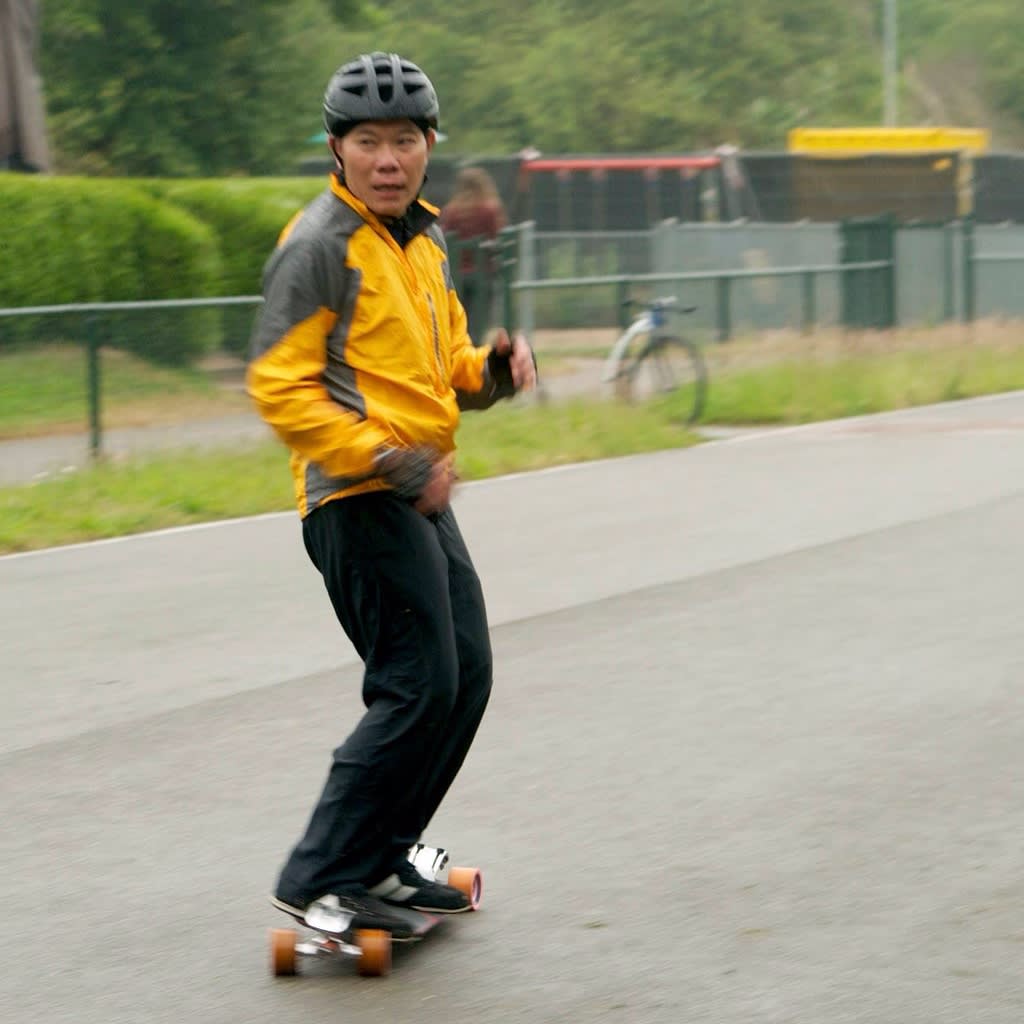 After hearing of competitions where people skate for 24 hours, Mr Tan grew interested in distance skateboarding, which involves travelling long distances on a longboard.
The "simplest way" to improve his skills, he figured, was to "go and compete" despite being an amateur.  
"I travelled to the Netherlands for the 24-hour Dutch Ultraskate in 2015. My main aim was to see world-class people skate and learn from them. But then when I got there, I thought since I'm here, let's just do it for 24 hours. So I skated 200km in the first 24 hours," he said. 
With continuous practice, Mr Tan eventually made it to the top three in his category of those aged above 50 in several overseas competitions. Back in Singapore, he would also skate to his office in Suntec City from his home in Pasir Ris via the park connectors to clock in training hours.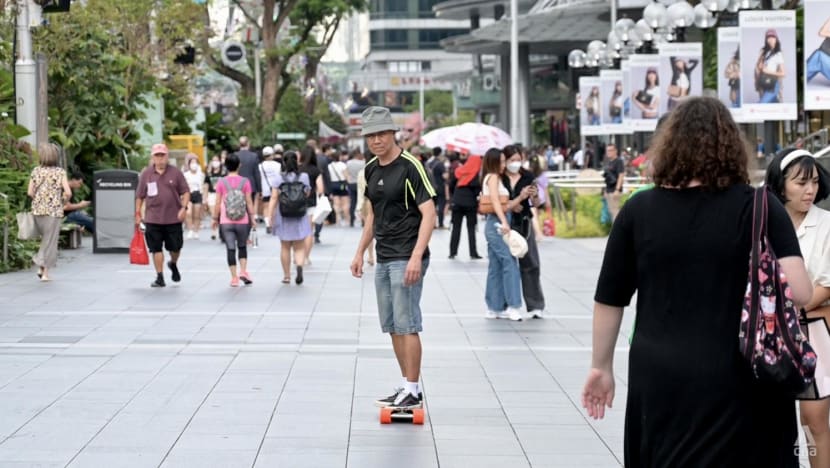 One would think a newbie would stick to "easy" terrain, but 62-year-old Danny Chong wove through Orchard Road's crowds on a weekday afternoon in November, just eight months after picking up the sport in March. 
While he now swears to "skateboard till the day I cannot step onto the board", he was initially hesitant to join his elder daughter, who also does skateboarding, for fear of falling and breaking his bones.
But his love for speed and adventure won out in the end. 
"One day, I was at Changi Bay Point with my wife and my daughter, who brought her skateboard. I saw her skateboard, and I was like, eh quite fast. She was going at two to three times my walking speed. And I like speed," he said. 
"Actually I wanted to take up cycling, but my house is small and I already lost two bicycles. Skateboarding is something that's very organic. I like something that's portable. And Singapore has such a nice park connector where I imagined myself skating." 
Without his daughter's knowledge, Mr Chong practised on her skateboard, moving slowly along the corridor outside his house with two hands on the wall. Within the week, he bought a more stable longboard and continued training on his own every day by watching YouTube videos, growing "very passionate" and "crazy about it". 
"After only one week of skateboarding, I wanted to try long distance. We were then staying overnight at the Civil Service Club at Changi. So we skated to and fro Changi Bay Point. The total distance we covered was 13km. I remember that date: 9th of March," he said. 
"After that, the rest is history."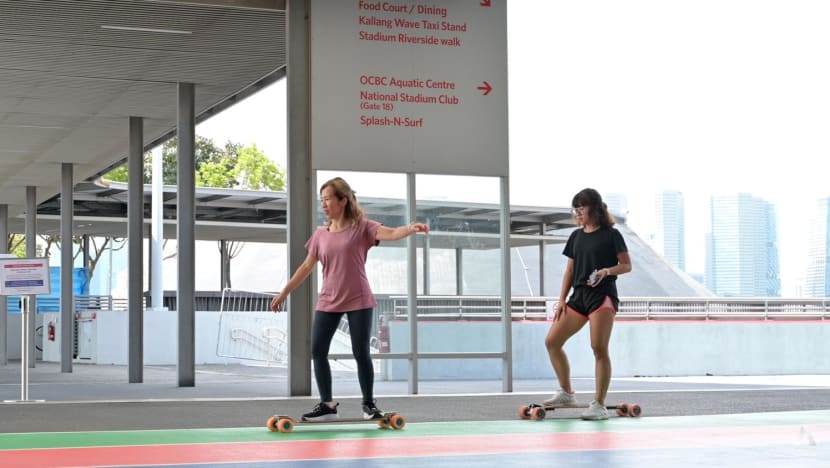 IN THEIR BLOOD 
For other middle-aged skateboarders, picking up the board was an homage to their inner rebel.
Ms Wan Su Sin's petite stature and soft-spoken nature belies a "rebellious spirit" that she had to suppress while growing up.
"During my time, doing longboarding was actually not allowed for girls. (It's thought to be) for gangsters and those who can't study. Both my parents were teachers, so they were very strict. But this was one of the activities I wanted to try," said the 54-year-old, who attempted the sport in July. 
When her daughter, who also picked up skateboarding this year, brought her board home one day, Ms Wan decided to try stepping on it. 
"My daughter was like, 'Mummy you're so steady, you can do it!' So okay, after quite a few times, I said I'll try with a coach. Then from there I learned the basics from scratch," she said.
"Actually, when I first learned, I was afraid my mum would not be happy. But she saw my daughter talking about her (longboard) race, and then I told her I also tried longboarding. I told her it was fun, and she accepted," she added, with a laugh. 
"On certain things, my parents' approval is still important. But usually, to me, I don't care. You reject or don't approve, I will do it anyway. I will see what they say."
It is a mantra Ms Wan, who does part-time administrative work, also applies to other aspects of life. Although she now sports a plain dark brown 'do, her locks have been dyed every shade of the rainbow – in her older years.
"If you don't do it, you won't know when you can't do it anymore. Since young I can't do it, so I do now lor," she said, about hairstyling and skateboarding alike.  
"Age is not a barrier, it's not a limit to whatever you want to do. I have a girlfriend at 58 who went to the JJ Lin concert recently. Around (her) were all youngsters. But who cares?
"If you limit yourself, you have that kind of mentality that that's it. You may be able to expand further but you think you cannot … If you did it and you say you can't, it's okay, at least you tried."
Psychologist Neo Eng Chuan also recalled being a rebel when he was younger – by continuing to ride a motorbike despite parental disapproval. He had stopped riding in his early 20s due to his father's wishes, but resumed when he moved to Australia to study in his late 20s.
Mr Neo now rides a 1300cc motorbike, a passion "which is related to speed and risks", and considers himself a "rather adventurous person". After two decades in the Singapore navy, he left to set up his own private practice in his mid-40s. 
This spirit of adventure, along with a touch of serendipity, led the 57-year-old to pick up skateboarding around April this year.
"I've always wanted to try skateboarding because I've tried different kinds of wheel sports, so to speak, like cycling, rollerblading. But I held myself back because I have too many hobbies, too many toys. Each time I want to try something new, I tell myself, 'No, you're going to waste money and not invest the effort into doing it,'" he said. 
"But one day, I drove by this shop along Guillemard Road called ThaneLife. I have always wanted to go in, but there's always not enough parking. There was parking that day, so I ran into the shop and the owner, even though he was closing for the day, tried to help me understand (the different boards).
"So at that point, I just decided, you know, rather than wait, I'm just going to buy and try."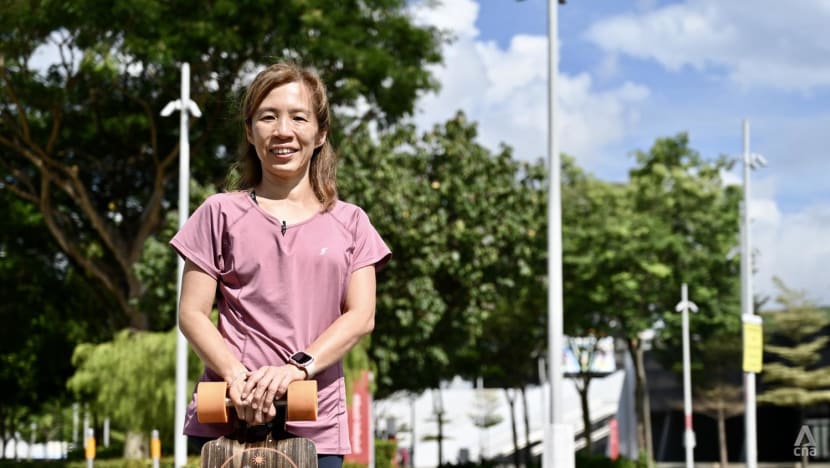 OVERCOMING FEAR OF FALLING
Once they were gungho enough to get on a board, mastering it required not to rid their fear of falling, but to embrace it. 
Mr Chong, who has fallen "at least five times", armed himself with protective guards and a refusal to accept failure.
"Nowadays, I don't want to keep putting on my guards. The key is freedom; I just want to pick up my board and go. Sometimes when I'm at East Coast Park, I will park nearby then skateboard all the way to the hawker centre to buy food," he said. 
This sense of freedom, which he described as "windsurfing on land", was all it took to suck him in.
"(As a former training consultant), I always tell people to face their fear. We are more capable than we imagine. I'm not asking you to skateboard; you can do other things. But you must not think of your age – the minute you do, you get incapacitated. You're placing a handicap on your mind," he added. 
Meanwhile, Ms Wan tackled her fear by sticking to the sheltered tracks at the Sports Hub, where skateboarding lessons are often held. 
"I feel safer here, because the people who come here are either coaches or learners. You don't have to brake, you can just say excuse me ... And if you fall, somebody will come and help you," she said.  
"The fear of falling is real, but I would advise, just fall. Just prepare yourself with guards and gears, and make sure you don't hit your head." 
Such safety gear is especially crucial for Mr Erwan, who does downhill skateboarding. Elbow and knee pads, gloves and a helmet protect one from bruises or road rash, though he "cannot guarantee" protection from broken bones. 
"But for any sport you join, there will always be pros and cons, be it skateboarding or long-distance cruising. For you to learn, you need to fall," he said, adding that his own pain endurance is "very high" thanks to his former life. 
"In the past, I like to fight, so falling is nothing to me. Just fall; if I get injured then I get injured. Last time when I fight, you think you can just whack people. But when you fall in skateboarding, you will realise you're a human being, you're not invincible. You will feel pain, you will feel your bones break."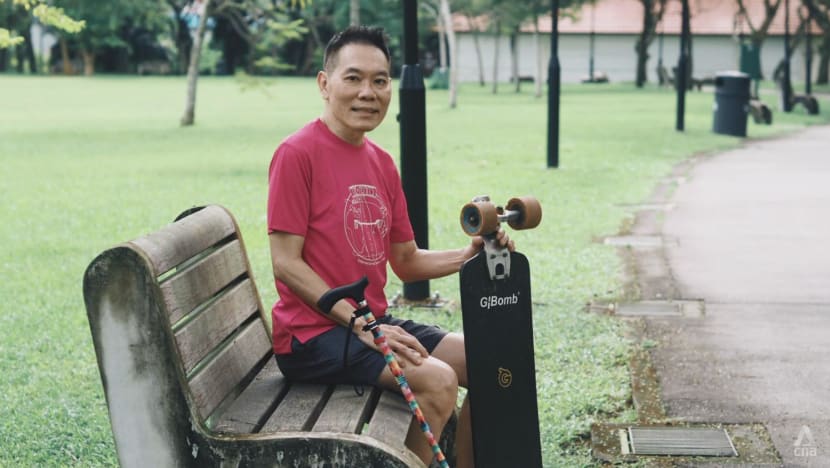 "TRANSCENDENT" EXPERIENCE  
Still, the fear of falling is no match for the lure of the road, with several skateboarders describing a feeling that goes beyond mere enjoyment.
The feeling of being "very vulnerable and very powerful within a very short span of time" on the back of a motorbike is akin to what Mr Neo feels on a skateboard.
"My bike is really huge, so when it comes to slow speed, like at a traffic junction or petrol station, I have to tiptoe on one foot. That's where I feel very vulnerable. But as soon as I pick up speed on the highway, the machine is just so intuitive, so powerful. It's attuned to your body," he said.  
"It's the same principle (in longboarding). You use your body weight. If you speak to any other longboarder, they will tell you to look where you want to go. So there is this sense of power, control and then vulnerability. All within a very short span. In moments, it can change."  
Mr Neo's fear of falling currently still kicks in when he nears a turn or misses a step. But he packs a skateboard into his car so he can hone his skills whenever he spots a quiet stretch of pavement while on the go. 
"There is this experience of transcending myself when I'm on a skateboard. It's this sense that I'm no longer bound by what I can do. While I can only walk or run this fast, I'm now cruising at this speed," he added. 
Mr Tan, too, spoke about a similar "meditative" effect of distance skateboarding that forces him to focus solely on the movement. 
As he cruises, "it's just the wheels rolling, you're just pushing, then you stop thinking", he said. "It's nice to be able to stop thinking." 
While he is currently nursing a knee injury from September that prevents him from taking to the roads just yet, his time in physiotherapy mirrored the lessons he learned from skateboarding. 
"I went to rehab and realised that physiotherapy and skateboarding are the same – they force your body to do something new. Initially, you're wobbly, but you don't give up. Eventually, the brain will rewire itself," he said.
"Skateboarding makes the brain more elastic. When you manage to learn something totally new and really unusual to your brain, you set the stage to be able to learn other things. It makes you more adaptable in thinking. It teaches you how to learn and relearn."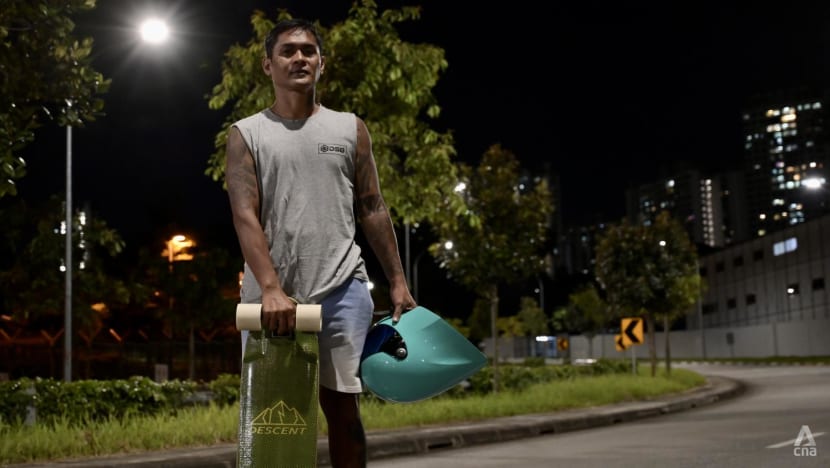 This is an experience Mr Erwan, a divorced father of three and an operations manager in a cleaning company, is familiar with. 
"I deleted my past background. I have a new circle of friends," he said.
"My family is also more supportive. If I tell them I'm going to skate, they tell me to skate safe. Last time when I tell them I go drink, they will give me a blank face because either I will come home or they need to meet me at the police station."
To keep his newfound friends, Mr Erwan learned to mellow out after several years. He also used to get easily angry with himself when he couldn't master tricks, but the sport has since taught him discipline and patience. 
"As long as you train hard, you know your mistake, you rectify your mistake, one day you will get there," he said. 
"When I go downhill, I like to be very disciplined in my setup and safety. Even a small pebble or stone on the road needs to be put away. In life, along the way, maybe you have some hiccups. Downhill skateboarding is just like that – when you walk up the hill, along the way, you see a stone, kick it away," he added.  
"Nobody can stop me from achieving my goal, which is to get to the bottom of the hill."