Multi-sensory exhibits, augmented reality theatre in revamped gallery on Singapore's land transport system
SINGAPORE: A revamped SG Mobility Gallery that showcases Singapore's land transport system was launched by Prime Minister Lee Hsien Loong on Wednesday (Sep 19).

The gallery, which is spread over an area of 1,000 sq m at the Land Transport Authority (LTA) office at Hampshire Road, features seven exhibition zones that showcase various facets of Singapore's land transport system. 

According to LTA, the gallery gives a behind-the-scenes look at how it plans, designs and builds our transport system "while balancing efficiency, liveability and inclusivity as it leverages technology for smarter urban mobility".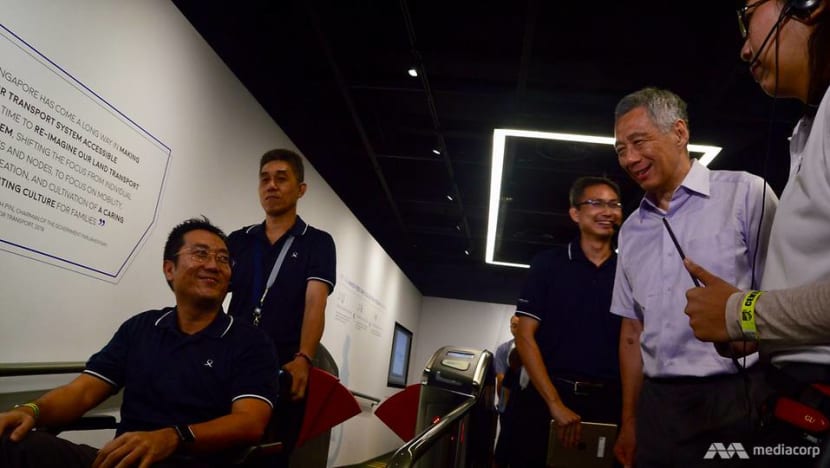 Visitors can take part in interactive activities, such as taking on the role of a transport planner and trying their hands at planning an efficient and sustainable transport network through multi-sensory exhibits.

Also part of the exhibition is a 270-degree theatre which provides a panoramic view into the work that goes on behind the scenes in running Singapore's land transport system. 

"Through augmented reality, visitors get a glimpse into how public transport workers such as rail engineers and bus technicians use technology in their work," LTA said. 

Another feature is a life-sized hands-free fare gate, currently being trialled at selected MRT stations, which enables commuters to enter and exit the train stations without the need to tap their fare cards.

The exhibition will also host LTA's flagship knackstop shop, where visitors can purchase merchandise inspired by Singapore's public transport system. 

Net sales proceeds from the store go to the LTA Cares Fund, a fund dedicated to the transport needs of the disadvantaged.

The exhibition is open from Mondays to Fridays, from 9.30am until 5pm. Admission is free.