Tripartite effort needed to support mid-career workers in their 40s and 50s: Chan Chun Sing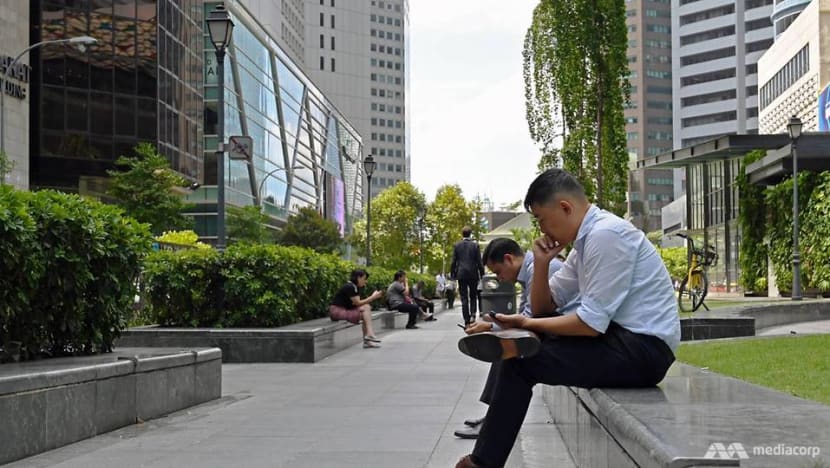 SINGAPORE: A "tripartite level" effort is needed to support mid-career workers in their 40s and 50s, amid concerns over job security among these employees, said Trade and Industry Minister Chan Chun Sing on Tuesday (Mar 3).
"They have significant financial commitments as they provide for their families, often with school-going children and retired parents. Many of them completed their formal education more than 20 years ago, moved on to establish their careers in one company, or various, and have not had the opportunity to reskill and upskill," said Mr Chan in his committee of supply speech. 
Those who are employed now are worried if they will still have a job in the near future because of keen job competition, he added. 
He cited 2018's labour figures, in which only 58.6 per cent of resident workers aged 40 and above managed to re-enter the workforce six months after retrenchment, compared with 70 per cent for those in their 30s.
"Those who have been retrenched are worried if they can re-enter the workforce and find a job that matches their skillset and pay expectations," he said.
Support for them must be done at a "tripartite level effort" of "businesses offering more employment and upgrading opportunities; workers making an effort to reskill; the Government supporting businesses and workers in their endeavours", he said.
"We are preparing for future jobs that do not exist now. The rate of technological change will only quicken. If we do not support our workers in refreshing and advancing their skills, not only will they lose employability over time, businesses will suffer - and our economy will lose its competitiveness," said Mr Chan. 
He highlighted three ways in which companies can play an important role in supporting this national effort – redesign, reskill and recruit.
In order to encourage businesses to redesign their jobs to create new opportunities for existing and new workers, they can turn to the enhanced Productivity Solutions Grant, which now includes consultancy services for job redesign. 
Previously, companies were only allowed to use the grant to purchase infocomm technology solutions and equipment at a S$10,000 cap. 
A financial incentive for employers to upskill their workers has also been introduced. 
Under the new SkillsFuture Enterprise Credit, eligible employers will receive a one-off S$10,000 credit to cover up to 90 per cent of expenses for either enterprise or workforce transformation programmes.
To encourage employers to develop their workers, S$3,000 of the credit will be set aside for job redesign and training purposes. 
From April this year, worker outcomes will be included as a mandatory condition for companies that apply for the Enterprise Development Grant funding, Mr Chan said. 
These outcomes may include wage increases, creation of skilled jobs for Singaporeans, job-redesign and worker training.
A hiring incentive will be given to employers who hire local jobseekers aged 40 and above through eligible reskilling schemes such as the professional conversion or place-and-train programmes. 
For each eligible worker, the Government will provide a 20 per cent salary support for six months, capped at S$6,000 in total.
"We are committed to sharing the benefits of economic growth with all Singaporeans and to improve their lives," Mr Chan said. 
"When we grow the economic pie, we create good jobs."
According to Mr Chan, more than half of Singapore's local workforce is made up of professionals, managers, executives and technicians, or PMETs.
It is one of the highest proportion in the world, he said, adding that the number of PMET jobs continues to rise – from about 1.2 million in 2016 to 1.3 million in 2019.
HELPING MID-CAREERS STAY EMPLOYABLE
Speaking later on Tuesday during her ministry's Committee of Supply debate, Manpower Minister Josephine Teo raised the career advisory system as an "important pillar" of empowering mid-career individuals.
This capability currently resides in several agencies, she said.
This includes the Workforce Singapore (WSG) and NTUC's e2i, which have been offering employment and training assistance for more than a decade.
The private sector was also roped in about three years ago, with the appointment of two foreign operators to supplement Government efforts in career matching.
WSG has also intensified support to job seekers through a "suite of high-touch career coaching programmes", such as the Career Recharger module, Career Catalyst module and Career 360 module, said Mrs Teo.
"In this regard, peer support can be very useful," she said.
"There is untapped potential in our professional communities where many seasoned professionals have rich experiences to share. They are plugged into the challenges and opportunities in their respective fields, have established networks and may themselves have navigated career transitions.
"We can therefore complement our team of full-time career coaches by building up a pool of volunteer Career Advisors," Mrs Teo said.
These career advisors will receive training to provide sector and occupation-specific career advice and outline career options. They will also be equipped with in-depth knowledge of resources and channels of support such as the Adapt and Grow initiative.
"In short, we hope that the Career Advisors can help to boost the confidence of their mid-career peers in charting the way forward," the minister said.
In her speech, Mrs Teo also provided an update about the Adapt and Grow initiative, which was designed to help Singaporeans affected by the economic slowdown and restructuring.
More than 31,000 job seekers found work last year through the initiative last year, similar to the number in 2018, she said.
Of those, more than half were aged 40 and above and nearly one-third of placements were aged 50 and above.
Since 2016, the Adapt and Grow initiative, which includes the Career Support Programme, has helped more than 100,000 job seekers find jobs, said Mrs Teo.