More water coolers available in public places, but many avoid them over hygiene concerns
Some people CNA spoke to were put off by seeing others spit or wash their hands at public water coolers.
SINGAPORE: More water coolers are now available around Singapore, but many avoid using them over concerns about their cleanliness and upkeep, people at hawker centres and bus interchanges told CNA.
The topic of water coolers was brought up in Parliament on Feb 7 by MP Leon Perera (WP-Aljunied). He asked if the Ministry of Health would make the installation of water coolers mandatory in areas with high footfall so that drinking water is readily available.
The ministry said water dispensers have been installed at all hawker centres and are also available at parks and bus interchanges. It also encouraged owners of other premises to install such dispensers.
But at three hawker centres CNA visited this month, many patrons did not know that water dispensers were available at all hawker centres, and that they usually bought a drink along with their meals.
Among those who were aware, some said they were put off by seeing people spit or wash their hands at the dispensers.
This is despite signs such as the one next to the water dispenser at Serangoon Garden Market that said it was to be used for drinking only, and that hand washing and rinsing are not allowed.
Food delivery rider Eric Yap, 57, said he would buy a drink or take his water bottle out with him.
"People wash their faces at the water cooler," he said in Mandarin. "It's not hygienic. Even if I need to refill my bottle, I wouldn't use it."
CNA also visited two bus interchanges, where people had similar concerns about using public water coolers.
Madam Shirley Hay, a security officer working at Eunos interchange, said she sees quite a lot of people using the water cooler there, but personally does not use it.
"I bring my bottle and put honey or lemon into the water," she said. "I bring enough to last me for the whole day."
She has seen people gargle their mouths at water dispensers and thinks they are not clean.
Mr Tang Chong Weng, who runs a drinks stall at Hong Lim Market and Food Centre, said he would not dare to use the water cooler there because he has seen how other people use them. He makes drinks for himself at his stall.
In response to queries from CNA, SBS Transit, which runs Eunos interchange, said water coolers are cleaned every day and regularly maintained.
SBS Transit currently has water coolers installed at 10 bus interchanges and terminals.
"We plan to progressively install more water coolers at our interchanges and terminals as part of our continuing efforts in serving our passengers better, particularly in our hot weather," said Mrs Grace Wu, the company's vice-president of customer experience and communications.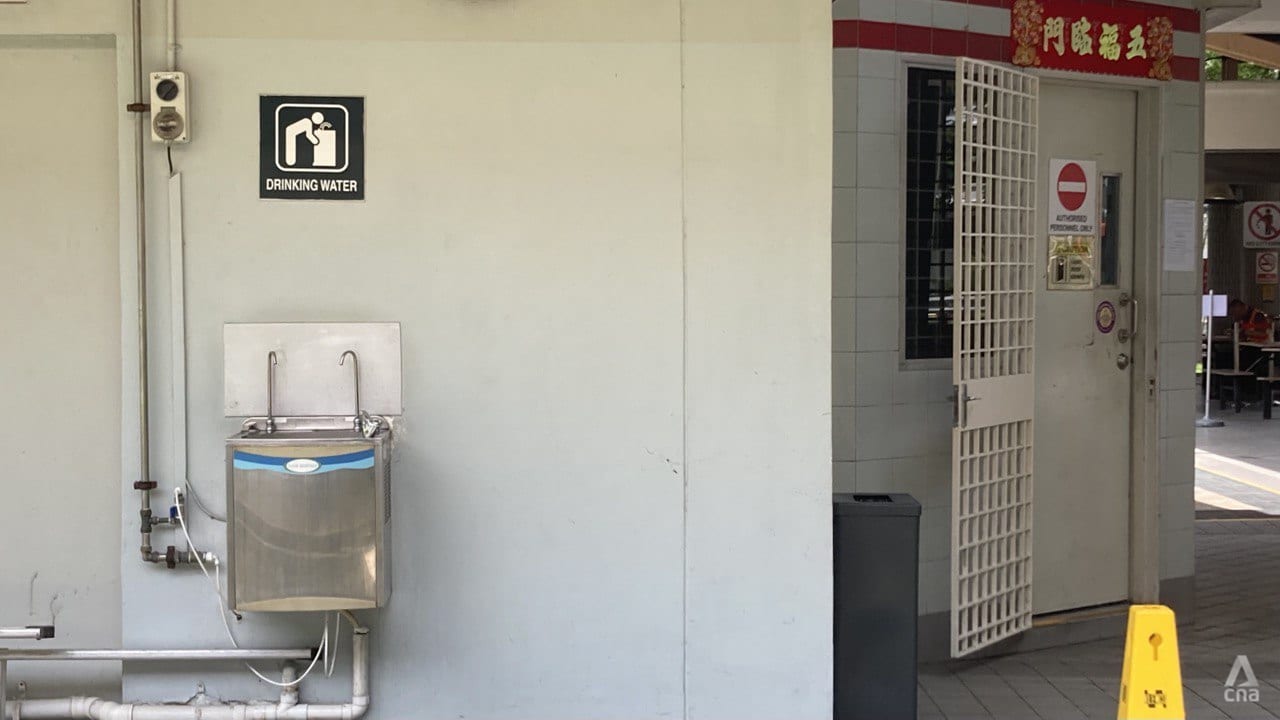 According to the Singapore Food Agency, Singapore's water quality standards are based on international guidelines, and drinking water providers must ensure the water is "unpolluted and wholesome".
It also said that those providing piped drinking water must follow PUB guidelines and the dispenser supplier's maintenance recommendations.
On CNA's visits to the hawker centres and bus interchanges, the water coolers available mostly looked clean apart from water stains. A grain of rice was found at one hawker centre's water dispenser, which was situated next to a tray return station. At Eunos Interchange, a bird briefly perched on the dispenser.
FREE AND CONVENIENT
Still, some people told CNA they use the dispensers regularly and enjoy the free and accessible source of drinking water.
Housewife Chew Ailin, who was at Serangoon Garden Market on Feb 16, said her family uses public water coolers and is not concerned about the cleanliness.
"We don't really think about that, we're people who drink tap water," she told CNA. Tap water is safe to drink in Singapore.
It would be nice if the water dispensed is cold, but the temperature varies, she said.
"It's a good thing to have water accessible," Ms Chew, 40, said. "I welcome it."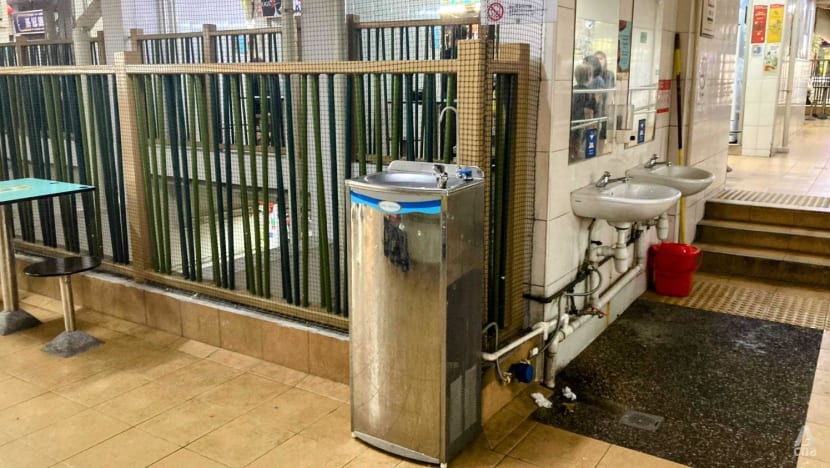 Deliveryman SK Ng, 65, said he does wonder how often the water coolers undergo servicing, but it does not stop him from using them.
"It's free, so I will drink it," he said in Mandarin. "If they want to put one under my block, I would use it too."
Bus captain Tiwari, who goes by one name, said he uses water coolers at interchanges every day.
"It's convenient, I don't need to go into the lounge (for bus captains) and queue up to use the dispenser inside," he said.
Asked if he is concerned about the cleanliness of public water coolers, Mr Tiwari, 55, said: "Singapore is very safe and very clean."