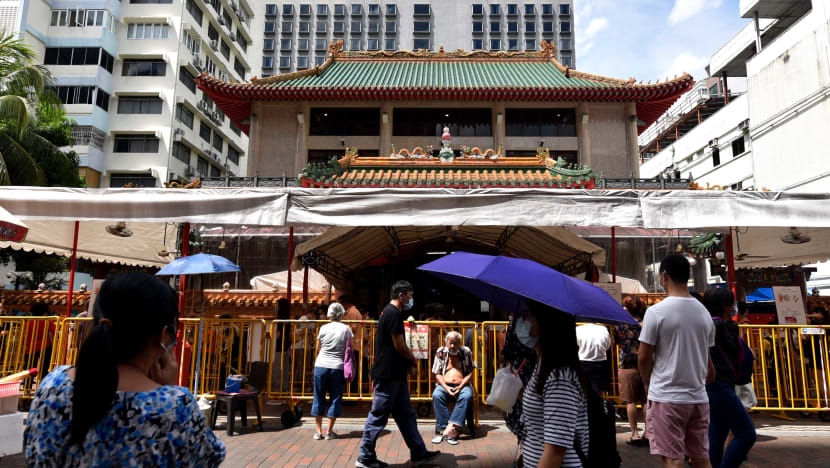 SINGAPORE: Vendors along the busy pedestrian walkway at Waterloo Street will soon have to pay rent as the Government tries to address public health risks amid COVID-19, the Singapore Land Authority (SLA) announced on Tuesday (Dec 8).

SLA said the area has become cluttered over the years with stalls squeezed together and discarded boxes that obstruct the pathway, creating health and fire hazards.

"With the current COVID-19 situation, it is not ideal to let this continue, which is why we have embarked on this exercise to ensure there are proper paving works done, to make it easier for walking, and also designating lots for existing vendors," Ms Thong Wai Lin, SLA's assistant chief executive said. 
The new plans along the Waterloo Mall stretch will ensure that there is a 6m-wide space for fire engine access, and the stalls will be spaced at least 1m apart as part of safe distancing measures.
The street vendors will have to ballot for a lot on Dec 14 and they will move into their designated space from Jan 4 next year. 

SLA decided on balloting to allocate the lots to ensure "fairness and transparency", it said in a media release. But flower vendors will be given a spot right outside the Kwan Im Thong Hood Cho Temple, since many devotees buy flowers from them. 

There are 41 street vendors, comprising 19 fortune tellers, 19 flower vendors, two reflexologists and one cobbler, according to SLA's figures. All will be allocated a lot, SLA said.
They will have to pay S$48.15 every month for a three-year temporary occupation licence for a 3 sq m lot. 

The vendors currently do not pay any fees for their space, although the flower sellers pay S$120 a year for a street hawking licence from the Singapore Food Agency.

To help the street vendors during the COVID-19 pandemic, SLA said it will only start collecting the licensing fee from Jun 1 next year. Vendors who face financial difficulties can approach the agency for help. 

No new lots will be issued, and the licence cannot be transferred to another vendor. 

VENDORS "NOT SURPRISED", SAYS SLA
Residents in the neighbourhood have complained about how cluttered the area is, SLA said. 

SLA said it did not conduct any formal consultations with the vendors about the plans, although it has spoken to the local Citizens' Consultative Committee adviser. An SLA spokesperson said the vendors were "not surprised" and there were "no adverse reactions" when they were informed about the move on Tuesday morning. 
"We have engaged the vendors during the COVID-19 period and through past census exercises. We will continue to assist them in the balloting exercise," Ms Thong said.
SLA started to draw up plans for the street in June, and there was a need to move quickly as various government agencies were involved in the planning, the spokesperson said. 
The agency will conduct "ground preparation works" in phases between Dec 15 and Jan 12. There will be no disruptions to the street vendors' businesses in the meantime, it said.