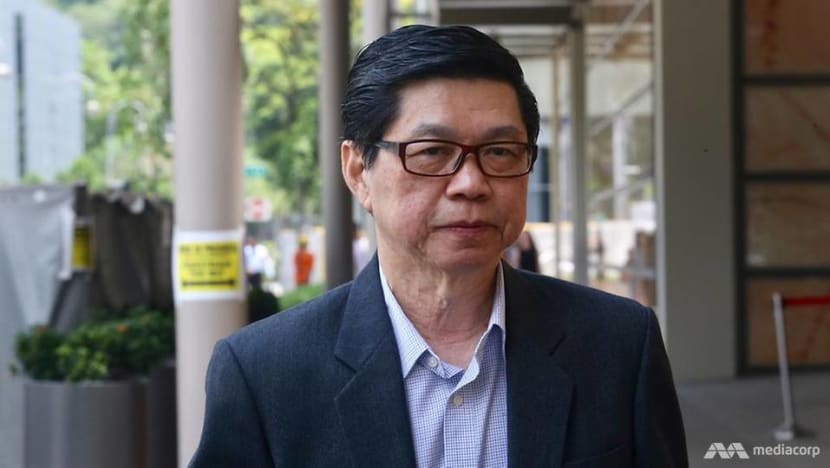 SINGAPORE: The wife of a doctor accused of raping a female patient in 2015 took the witness stand on Wednesday (Jul 11) and said that she had difficulty having sex with her husband that year in new testimony that the prosecution alleged was "an afterthought" to help her husband's defence.
Madam Quek Bee Nar, a real estate agent, gave evidence in the High Court through a Chinese interpreter.
She has been married to general practitioner Wee Teong Boo for 40 years, the court heard, and they have five children aged 20 to 39.
Wee, 67, is accused of raping a female patient, then 23, in a late night consultation on Dec 30, 2015, at his Bedok clinic.
The victim, who cannot be named due to a gag order, made a police report the day after the alleged crime took place.

Madam Quek had given a condition statement signed May 24 this year about the day's events, which was read in court on Wednesday. 
In it, she detailed how her husband arrived home on Dec 31, 2015, accompanied by Assistant Superintendent Razali Razak, and was later taken to the Police Cantonment Complex. 
She also described the phone calls her husband made to her later that day, saying he was going to be detained in the police lock-up. 
A few days later in early January 2016, Madam Quek went down to the Police Cantonment Complex and gave a statement to a police officer.
On Wednesday, Madam Quek asked for new points to be added to her condition statement dated May 24, 2018. 
Among these statements were two points that the prosecution cross-examined her on: First, that she had been told by ASP Razali in January 2016 that her husband may be charged with rape, and second, that another police officer had asked her about her sex life with her husband while taking her statement that same month.
The prosecution found that there were inconsistencies between Madam Quek's condition statement and the oral additions she gave in court on Wednesday and accused her of lying to help her husband.

However, Justice Chua Lee Ming dismissed the prosecution's application to impeach her as a witness, saying that any inconsistency was not sufficiently material for an impeachment.
"VERY FAST"
Madam Quek told the court that the police officer who took her statement in January 2016 had asked her about her sex life with her husband.
"I said 'very fast'," Madam Quek said. "He asked me what that meant. I said 'he's old'. I didn't say in detail why it was 'fast', because he was a male police officer."
When questioned by defence counsel Edmond Pereira, Madam Quek said that she had sex with her husband about once or twice a month in 2015.
She explained that in 2015, when her husband wanted to have sex with her, his penis would be "soft like a noodle" and he needed to use his hand to guide himself. He also had difficulty maintaining and achieving an erection, she said.

Wee had told the court in May that he had been seen by a urologist for erectile dysfunction and low libido.

PROSECUTION ALLEGES THAT MADAM QUEK IS LYING
Deputy Public Prosecutor Amanda Chong asked Madam Quek why she did not include this information in her statement before.

In response, Madam Quek said it was her first time giving such a statement and that she went over the statement repeatedly at home afterwards and discovered upon recollection that she had left out some things.
She denied that she had discussed this with her children or husband.
Ms Chong said: "In your mind, it was not possible for your husband to commit such a crime. So wouldn't you want to give all the evidence that would assist in clearing your husband's name?"
Madam Quek answered: "I didn't have the experience of giving a statement (before). Also, I firmly believed that my husband would not do such a thing based on his character. I was too naive, thinking that the law is fair."
DID NOT TELL POLICE ABOUT SEX LIFE AS SHE WAS EMBARRASSED
Madam Quek repeatedly said that she did not tell the police officer about the difficulties in her sex life with her husband as she was "embarrassed" and also did not think her husband would be charged with rape.
Madam Quek also said it did not occur to her that the questioning about her sex life had to do with the rape case. She said she thought the officer asked her that question to find out if their marriage "was cordial", which she said was so.
"You had the chance to tell the police that you were not always capable of sexual intercourse," the prosecutor said.
"If I had wanted to protect my husband I would have told them about my husband's erectile dysfunction earlier," Madam Quek retorted.
"I put it to you that you are lying in court about your husband's inability to achieve rigidity," the prosecutor answered. She added that Madam Quek was "creating all these details because you knew that your husband is accused of raping this girl while his hands were on her legs".
Madam Quek, who has been director of the clinic since 1984 but is not actively involved in clinic operations, disagreed. 
"If your husband truly had all these barriers, you would have told the police," the prosecutor said. "The fact that none of these details were in your statement shows that you are lying in court today."
Madam Quek appeared emotional at this point. She said: "I disagree. I am someone who does not like to lie. And it is difficult for me to disclose the secrets between my husband and me. If I knew they were going to charge my husband, I would have told (the officer) our bedroom secrets. Because he was a male police officer and it was my first time meeting him in a small room, it was hard for me to reveal my secrets."
When questioned by defence counsel Edmond Pereira, Madam Quek said she did not make the additions to her statement to defend her husband, but because she had forgotten to add them in. She added that she did not know she could ask for a female police officer to be present during the taking of her statement.
She also said she did not think the matter was "so serious" as she believed in her husband's character.
"His clinic usually has many people and he leaves first, the nurses leave last. He also really loves his job and is good to his patients," she said. 
Justice Chua asked Madam Quek why she thought the situation was "not serious" if she felt concerned about her husband when he was detained.
She answered: "Other than his character, given that his penis is so soft, how could he rape the victim?"

The trial continues on Oct 18.